Announcing our Newest Package: "Wild About Humans"
We'd like to announce our newest package: Wild About Humans.
This package offers wildlife a Once-in-A-Lifetime opportunity to observe, up close, the annual migration of humans from around the world to their vacation habitat of Yellowstone National Park.
Discover the Humans of Yellowstone
Wildlife now has the opportunity to explore Yellowstone in a whole new way in this exciting package! Whether you're a bison, wolf, bear, or elk- this package is for every species! Daily excursions include human watching in areas like Old Faithful, Grand Canyon of the Yellowstone, Mammoth Hot Springs, and Lake Yellowstone.  You'll observe them using their lenses to capture photos, taking "selfies" with small glowing devices they hold to their ears, gathering in large groups in the Upper Geyser basin every 90 minutes (plus or minus 10), eating prepared food with utensils instead of their hands, and driving around in immense four-wheeled vehicles.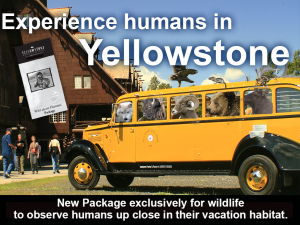 Activity Level – None- just sit back and enjoy the ride. However outside the vehicle walking or running may be required should the human approach too close. Note: it's recommended to keep at least 500 feet away from the humans, especially if they have selfie sticks.
Package Includes
Unlimited nights accommodation on dirt or grass with abundant views
Full access of all thermal features, buildings, and roads
Buffet style lunches featuring local fauna, insects, plants, and small delicacies
2016 Package Rates and Rates
FREE! For animals of all species and ages. Ever since 1872, wildlife can access national parks for free.
While open year-round, the best observation is during the summer as the population of the human species explodes in Yellowstone.
Fine Print: April Fools! Have a great day.
---