Dangerous! Damaging! Dumb! (And totally disrespectful!)
**Shortly after initially posting this article, another incident occurred that resulted in the death of a young man who chose to leave the board walk at Norris Geyser Basin in order to "dip his toe in the hot water."  The young man slipped into a hot spring that was 199 degrees Fahrenheit and highly acidic.  With this we can add one more "D-word" to the title of the article…"deadly."
Petting an adult bull bison is dangerous (and happened recently). Walking across a geothermal feature to get a social media photo is damaging (and happened recently). Taking a selfie within four feet of an elk is dumb (and happens all too often).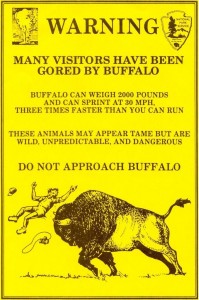 It is all disrespectful to the park, its employees and other visitors, and the wildlife. These might appear to be innocent actions, but they're actually dangerous to people and wildlife, and can permanently damage our fragile and critical natural resources.
With the increase in visitation has come an increase in inappropriate behavior.  We're reaching out to visitors and guests in hopes of discouraging/preventing additional bad behavior. If you witness inappropriate behavior, we encourage you to tactfully and courteously intervene, or contact an NPS Ranger.
Every time one person gets away with bad behavior, another thinks he/she can as well. We've seen it time and time again. In fact, one woman who was injured last summer by an adult bison while taking a selfie noted that she'd seen someone else do it minutes earlier and figured it must be ok.
There's a reason it's called, Wild!
WILD life
We know most visitors have never been around wildlife in natural settings. These animals are what brings so many visitors to Yellowstone.  Yellowstone is the best place in the continental U.S. to see free-roaming wildlife. The vast majority of visitors enjoy the park and treat it with respect. They abide by the rules, which are in place for good reason.
Sadly, there is no shortage of tragic examples of what happens to visitors who decide to ignore the safety guidance and/or their own common sense.  Some incidents involve a scare. Some lead to serious injury and death. In some cases it leads to the death of the animal as well. It's all preventable just by maintaining recommended distances from wildlife and adhering to the rules.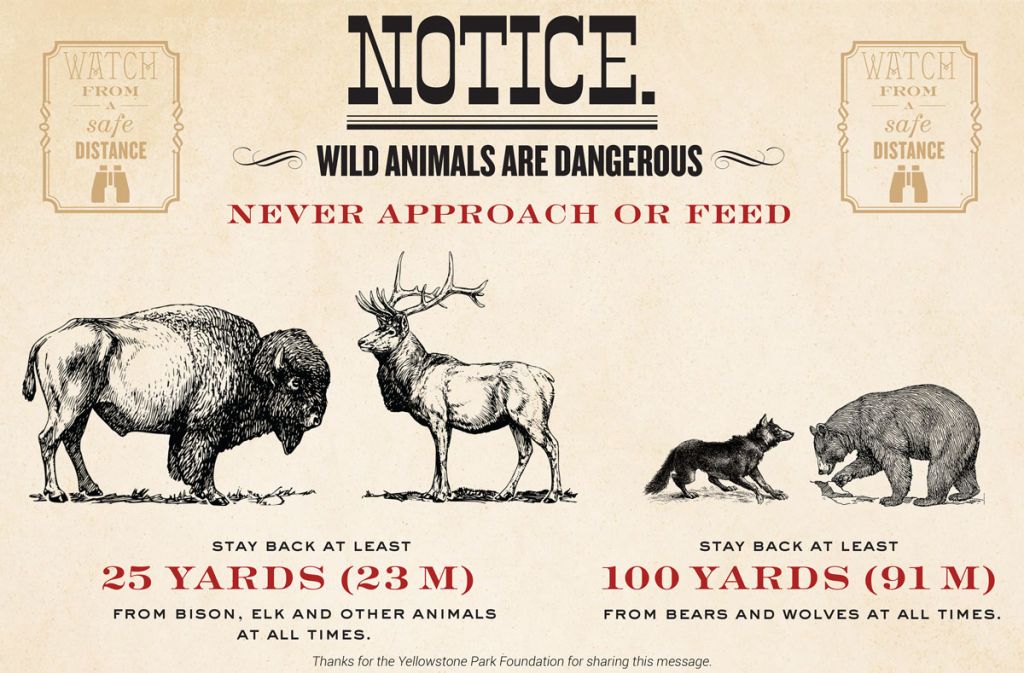 WILD lands
Yellowstone is comprised of 2.2 million acres of wildlands. These acres include high elevations, extremely cold lakes and fast-moving rivers, rugged mountains, dynamic and sever weather, and more geothermal features (geysers, hot springs, steam vents and mudpots) than anywhere else in the world.  These thermal features are incredibly delicate, and dangerous. Damage to a thermal feature from visitors leaving the boardwalks and trails can be long-lasting, if not permanent. Damage to a human body that has fallen into a thermal feature can be just as permanent and even deadly.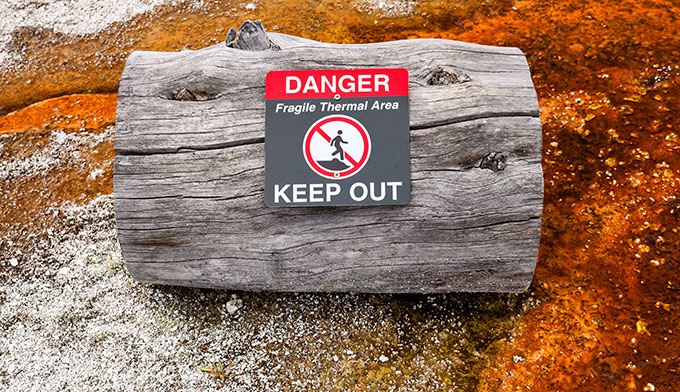 Yellowstone is known for creating amazing and powerful life-changing experiences for its visitors and employees. To make the most out of your experience and help to preserve and protect this beautiful, wild land:
Please be kind and respectful to the park, its resources and inhabitants.
Give wildlife their space (minimum 100 yards for bears and wolves and 25 yards for all other wildlife.)
Carry bear spray, and know how to use it, when hiking in the backcountry (away from developed areas.)
Stay on designated boardwalks and trails, don't take anything (including wildflowers) from its natural setting in the park.
And encourage other visitors to do the same.
Written by Martin R. Houser
(Additional National Park Service visitor safety information can be found here.)
---