Discover Mammoth Hot Springs Hotel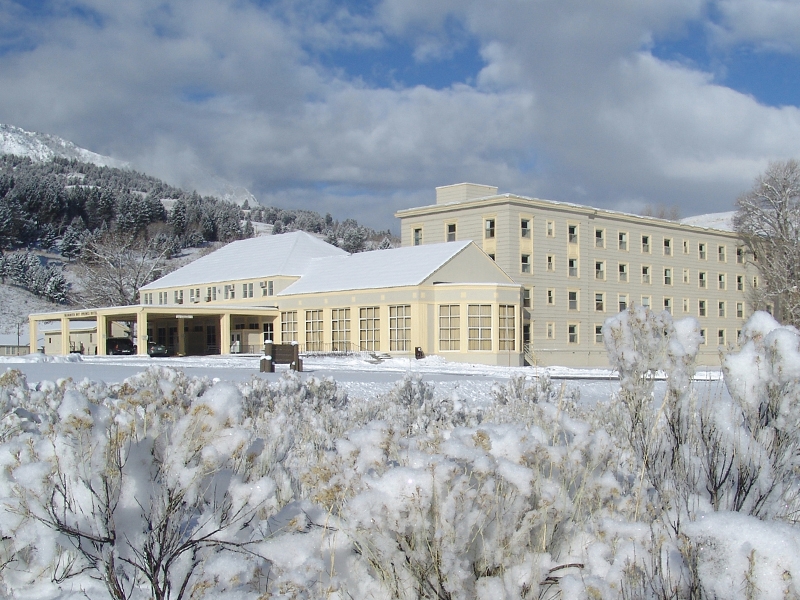 Near the north entrance of Yellowstone National Park, you'll find Mammoth Hot Springs Hotel and Cabins. During the winter months, Mammoth is the only lodging in the park that's accessible by automobile, making it a center of the action during Yellowstone's frostier months. Open for the winter season, Mammoth is the perfect home base for Yellowstone's winter visitors, with a wealth of activities, things to do, and wildlife watching all located close by.
Mammoth Hot Springs Hotel has been welcoming guests for more than 100 years. The present-day hotel, which now features a main lodge and rustic cabins nearby, was built in 1936, but the wing of guest rooms was originally built in 1911. A highlight for hotel guests is the Map Room, where you'll find a large wooden map of the United States made from 15 different types of wood from nine countries.
During the winter season, guests can eat at the Mammoth Hotel Dining Room, where diners often catch a glimpse of grazing elk and/or bison from the windows. The restaurant also serves box-breakfasts and deli lunches to go, for guests who are heading out early in the morning for a day of exploring. The Mammoth Hotel Dining Room is Xanterra's first restaurant to be certified by the Green Restaurant Association, recognized for its sustainable operations through improvements like a major restroom remodel, energy-saving lights and fixtures, and sourcing of local and organic cuisine.
Mammoth is a hub of winter activities from December through the end of February. Explore the area on cross-country skis or snowshoes or spend an afternoon ice skating – you can rent all the necessary equipment onsite, though ice skates are free. It's also a great access point for viewing some of Yellowstone's winter wildlife. In the evenings, relax in the cozy lobby with a good book, a deck of cards, or a board game, the perfect way to wind down after a long day of exploring. Prefer something a little more private? In addition to hotel rooms, guests can reserve one of four hot-tub cabins, ideal for warming up at the end of a chilly day.
Be sure to check out one of Yellowstone's winter packages, such as the Frosty Fun Getaway Package, Old Faithful Winter Expedition Package, or the Winter Wolf Discovery Package. Browse all of Yellowstone's winter packages here.  See you soon at Mammoth Hot Springs!
---