Feast on This Winter Fare in Yellowstone!
Yellowstone Winter Menu
Winter in Yellowstone National Park ushers in a slower, gentler pace. But that doesn't mean visitors' appetites wane. The park's lodges dish up tasty and hearty meals to match the season.
Indeed, cold weather and robust outdoor activities, like snowshoeing and cross-country skiing, can leave active travelers downright ravenous.
Not to worry. The staff at Yellowstone National Park Lodges, which operates the park's lodgings and eateries, isn't about to let guests go hungry.
The winter menu boasts more pasta options to sate carbo-loading outdoors enthusiasts. Hearty, braised meats also find a spot in the lineup. And lunch menus take on a ski chalet theme, with locally sourced burgers, bison chili, and hearty sandwiches, says executive chef Mike Dean.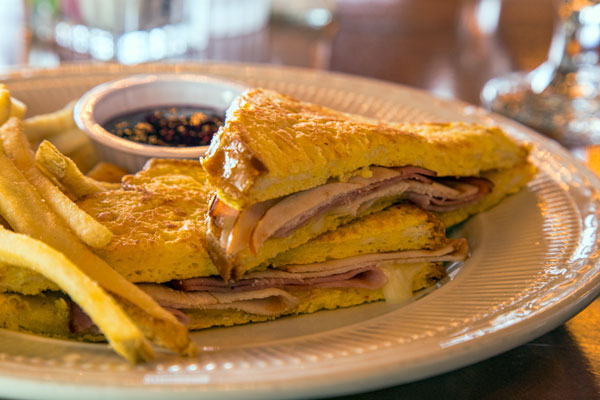 But "unlike our summer business, we see a lot of return guests to Yellowstone every winter, celebrating Christmas or other family events and traditions," Dean adds. "Because of the return guests, we tend to stick to the tried-and-true."
Among popular fare: Moose Drool Braised Bison Short Ribs (named for a local brew, not the animal secretion); Tuscan Chicken Linguini; Pork Osso Bucco and Montana Morado Cornmeal Crusted Trout. Another long-time favorite: the Mike Dean Sandwich — grilled turkey on parmesan-crusted sourdough.
Desserts also get richer in winter. Servers at Old Faithful Snow Lodge's Obsidian Dining Room still scoop local Big Dipper brand ice cream, a top seller throughout the park in summer. But winter delights, like Sticky Toffee Pudding Cake, are guaranteed to satisfy.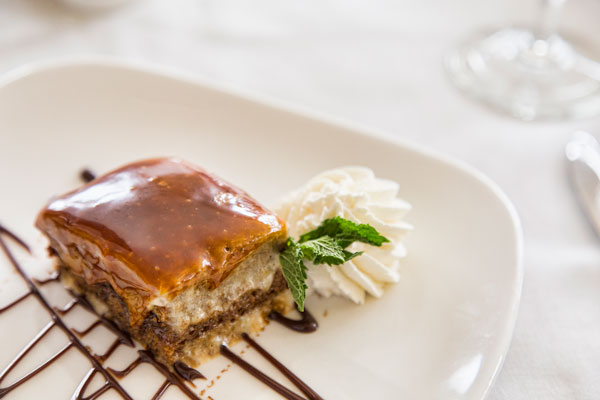 Two lodgings, Old Faithful Snow Lodge and Mammoth Hot Springs Hotel, remain open for the winter season, which runs from mid-December to early March.
Old Faithful Snow Lodge, accessible via specially designed over-snow vehicles, will be wining and dining guests in fine style, however. The staff prepares in advance, stocking non-perishable items in a warehouse at Old Faithful. Produce, dairy, and other perishable fare is delivered every two weeks in special vehicles.
If Yellowstone isn't on your calendar this winter, here's a recipe to tide you over until your next visit.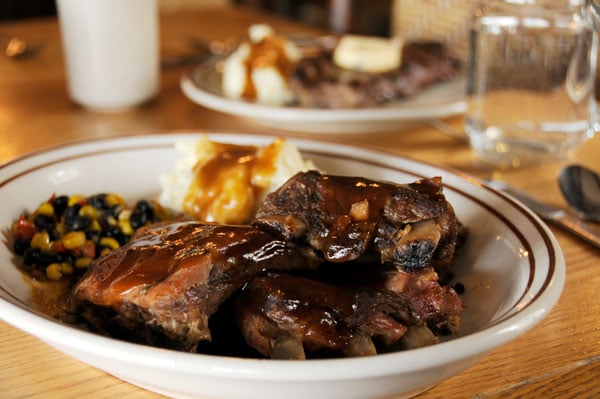 Moose Drool Braised Bison Short Ribs
Prep time: 30 minutes Cook time: 6-8 hours
Yield: 8 portions Portion: 1 rack (3 bones)
Ingredients
10 pounds bison short ribs
1 cup all-purpose flour
1 tbsp kosher salt
2 tsp black pepper
½ cup vegetable oil
½ pound diced onions
2 tsp minced garlic
½ pound diced carrots
¼ pound diced celery
1 tsp fresh, chopped thyme
4 oz tomato paste
2 cans Moose Drool Brown Ale (or similar)
1 cup Burgundy red wine
2 qts water
1 qt demi-glace, prepared from mix
parsley for garnish
Method:
Heat the vegetable oil in a skillet. Combine the flour, salt and pepper, then dredge the bison ribs in the mixture. Sear both sides of the floured ribs in the heated pan, cooking to a deep brown color. As ribs are seared, remove from skillet and stand on end in a 4″ deep pan for braising. Do not sear too many bones at one time, or the skillet will cool too much and they won't brown properly.
When ribs are browned, remove excess oil from skillet, leaving the fond from searing the ribs. Add the diced onions, carrots, celery and minced garlic, cooking until tender.  Add the thyme and tomato paste. Add one can of Moose Drool, red wine, and 2 quarts of water to deglaze the pan, and add the seasonings. Evenly divide this braising liquid into the pans containing the seared ribs, barely covering the ribs. Cover the pans with a sheet of parchment paper and aluminum foil, then place in a 275°F oven and braise for about six hours, until the meat is fork-tender and pulling away from the bones. Once the ribs are tender, carefully remove from the liquid and keep warm; stir in the remaining can of beer and the prepared demi-glace mix into the liquid to slightly thicken and enrich the jus.
Serve with creamy polenta, or mashed potatoes. Make sure to serve plenty of the braising liquid and vegetables to accompany the ribs. Garnish with parsley.
Washington, DC-based freelance writer Jayne Clark has been a travel reporter at USA TODAY and several other daily newspapers.
For more travel experiences to Beautiful Places on Earth™ available from Xanterra Travel Collection and its affiliated properties, visit xanterra.com/explore.

Want to experience Yellowstone in-depth? See what makes Yellowstone National Park a great place to work for a season or longer!
---