Happy 100th Birthday to the NPS!
On August 25, 2016, the National Park Service is turning 100 years old. Throughout the country there will be special events and free admission to all 412 national parks from August 25 through August 28.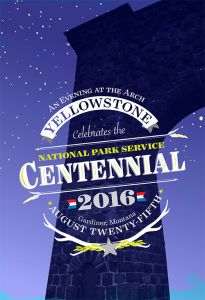 In Yellowstone, we'll be having a special celebration on August 25th to kick off the second century of the National Park Service in front of the historic Roosevelt Arch in Gardiner, Montana. An Evening at the Arch will feature a talented line-up of performers: Emmylou Harris, John Prine, Leyla McCalla, the children's chorus The Singing Angels from Cleveland, Ohio, and Teddy Roosevelt reenactor, Joe Wiegand. Local, state, and national dignitaries will also speak. The celebration will be a zero waste event and we're proud to be a part of the team leading this environmental effort. While the event is already sold out, you can watch it live online and on social media.
There will also be various celebratory events throughout the month in nearby Livingston, MT. The Yellowstone Association is offering a new field course Foundation of the National Park Service on September 10-13th. Through field trips to historic sites throughout the park, history will come alive as you gain a deeper understanding of Yellowstone, and the evolution of the American ideal of national parks.
In celebration of our friends at the National Park Service turning 100 years old, we've compiled a Top 10 List. Enjoy!
Top 10 Signs the NPS is 100 Years Old
#10 Wrinkles are much more visible.
#9 Drooling is common. 
#8 You're a little "gassy". 
#7 You can't help but share photos of the cute 'grandkids'. 
#6 Seems like things itch a lot more…in awkward places…
#5 You're refered to as "historic" and it's a compliment.
#4 Falling is easy, getting up is hard.
#3 You reminisce about the good ol' days.
#2 Napping. All the time. Everywhere. Anywhere. 
#1 You have to go more often (every 90 minutes +/- 10). 
The National Park Service is encouraging everyone to #FindYourPark / #EncuentraTuParque for the centennial! Xanterra Parks & Resorts is a proud participant of Find Your Park campaign, which encourages every American to get out and explore the National Park System. It's about making great connections, exploring amazing places, discovering open spaces, enjoying affordable vacations and enhancing America's best idea—the national parks! Together we can connect and create the next generation of park visitors, supporters and advocates.
---