Lunch (Ski) Break
Nothing compares to the feeling I get from clicking into my Nordic skis at lunch. The bite from the cold air entering my lungs, the faint ache in my shoulders from altering pole plants, and diamond dust glittering around me, it's all sheer bliss. Sometimes, there are no words for the freedom I experience being the only heartbeat on the quick 1.5 mile ski around the Upper Terraces.
Working in the Reservations department, we sit for the majority of our shift. Many people combat that with walks at break and tracking their steps, but for me, I ski. We are quite lucky in that we get to take up to a 55 minute lunch, and with my 55 minutes, I race to get in a ski and scarf down a sandwich.
Mammoth Upper Terrace drive is turned into a ski loop every winter and is located within a 5 minute drive from the Reservations building. When the clock strikes 1201, I'm in my car on my way to the Upper Terraces to get in some "me-time."
By engaging in a lunch break ski, I get the chance to shake off the busyness of the call-center and incorporate Xanterra's value of Health & Balance into my daily routine. When I walk back into the office after skiing, I am refreshed and renewed. I am reminded of the beauty that surrounds me and the endless opportunities that Yellowstone presents, and I get to share it with our guests. In fact, one of my very favorite conversations to have with guests is that I just skied on my lunch break and how much of a beautiful day it is here in Yellowstone National Park. The general response is utter fascination and an even larger drive to pay us a visit.
Yellowstone's employees often live by the 'work hard, play hard' mentality, which is imperative to finding a work/life balance. But beyond that, we must remind ourselves to engage in self-care. To me, that is the marriage of exercise and freedom that I find through skiing. I am so thankful to have the opportunity to experience that bliss every work day on my lunch (ski) break.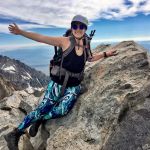 This summer with be Cache's 5th season at Yellowstone. Cache is one of the Assistant Managers of Housekeeping at the Lake Hotel. When she's not working, Cache insists on being outside. Her favorite place to hike is in the Tetons and she hopes to break 500 Miles this summer!
Want to experience Yellowstone in-depth? See what makes Yellowstone National Park a great place to work for a season or longer!
---