Lights, Camera, Talent!
At  Yellowstone, we enjoy creating memorable experiences for our guests in one of the most beautiful places on earth. The Yellowstone Co-Op Employee Recreation Program (YCERP) takes it a step further by offering a range of services and programs that connect Yellowstone employees to each other and to the park itself. One of their marquee events of the summer is the Parkwide Talent Show.
The Parkwide Talent Show is made up of the top two acts from their individual location talent shows. It is a joyful night of celebration, with a friendly spirit of competition in the air, where friends and co-workers come from across the park to support their location winners.  A panel of five judges assessed each performer based on five categories: Creativity/Originality,  Stage Presence, Technical Ability, Audience Appeal, and Entertainment Value.
A variety of acts performed this year that included singing, stand-up comedy, playing the piano and guitar, yo-yoing, dancing, and juggling. Between acts, the energy of the crowd was kept up by the emcee's who provided color commentary throughout. This year's incredible show featured that talents of:
Emily Lehman (Old Faithful)
John Elstad (Grant Village)
Zane Mcniece (Grant Village)
Spencer Wilson (Canyon)
Bobby Wyler (Lake)
Kiara Huemer (Mammoth)
Lauren Renner and Hailey Skinner (Canyon)
Jonathan (Jay) Birks (Old Faithful)
Andy Stern and Claire Morris (Mammoth)
Austin Albers and Julia Beck (Lake)
After the judges tallied up the scores  (drum roll, please!)…Kiara Huemer was announced as the 2018 winner. Kiara worked in Mammoth in the kitchen. Kiara sang an original piece that was made up of her observations of the various departments of Yellowstone. The unique aspects of working in Laundry, Maintenance, Reservations, Employee Dining Room, Recreation, and more were set to popular show tunes. The crowd went wild as each of their departments was called out in the song.
Kiara, in her first season in the park, and from Madison, Wisconsin, says her favorite thing about working here is "working, living, and recreating with such a fun, goofy, quirky, and diverse community of friends." It was these friends who helped her to perfectly capture the nuances and uniqueness of working in Yellowstone National Park. Congratulations to Kiara and her Mammoth community for winning the 2018 Park wide Talent Show.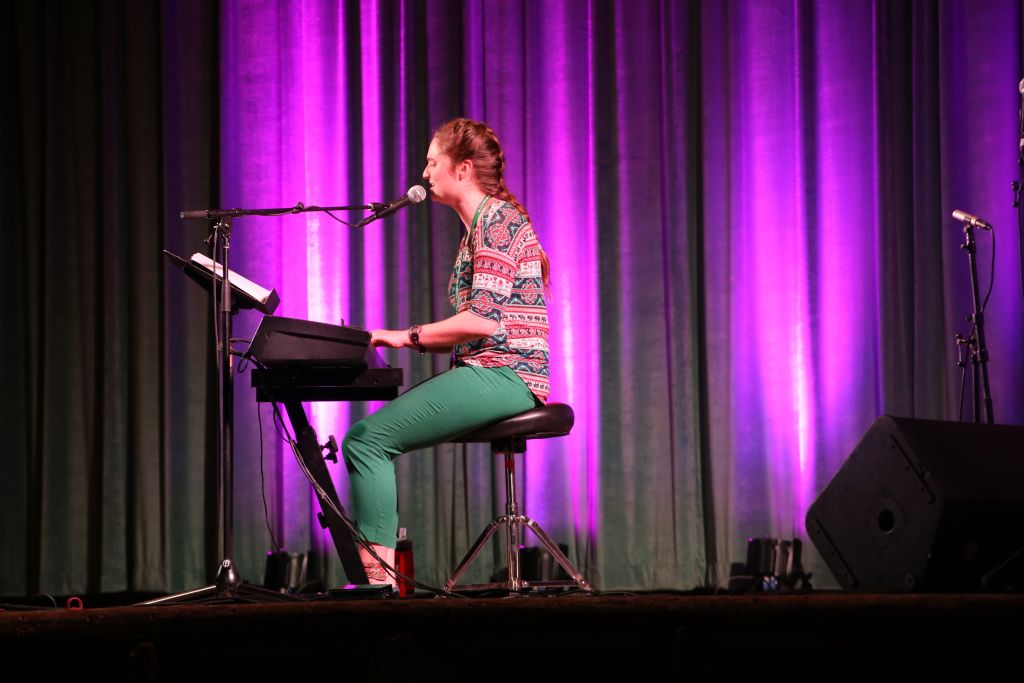 Working in Yellowstone National Park promises a particular kind of employment experience that is naturally different than many other traditional companies. Interested in sharing your talents with the Yellowstone community?
Want to experience Yellowstone in-depth? See what makes Yellowstone National Park a great place to work for a season or longer!
---