Spring Babies: It all begins in Yellowstone!
By Chelsea DeWeese, naturalist and outdoor instructor for the Yellowstone Forever
Perhaps nothing is more rewarding than watching a bison calf take its first few wobbly steps—or spotting a speckled elk calf bedded in concealing grasses. Tumbling bear cubs bring a smile to visitors' faces, and bighorn sheep lambs elicit gasps with their high-elevation antics.
Yellowstone in spring offers a plethora of young animals to view, from owlets to grass-eating ungulates to soon-to-be carnivores. In fact, there is hardly a better place to view wildlife rearing young on the planet. "As the snow finally starts to melt away and the springtime blossoms begin to peek out on the branches, a wonderful array  of babies begin to appear on the Yellowstone landscape," says Shauna Baron, a Yellowstone Forever Institute instructor who teaches programs on wildlife watching. "Springtime in Yellowstone is like no other time of year, as it all begins here!"
As is the case with all wildlife, it's important for visitors to maintain a safe distance from these animals to avoid disturbance. "Yellowstone National Park is a wonderful place to see wildlife, but it does require some extra caution to enjoy safely," says Amy Bartlett, a spokesperson for Yellowstone National Park, who emphasizes a required minimum distance of 100 yards from bears, nesting birds, and wolves, and 25 yards from all other animals. "Animals may be in a developed area, along a trail, or in a geyser basin, but Yellowstone wildlife is truly wild and should not be approached regardless of where they are encountered. Visitors need to be willing to alter their plans or change their route to maintain the required minimum distances. We want visitors to come and enjoy the wildlife Yellowstone has to offer, while keeping themselves and their families safe."
Excerpted from Yellowstone Quarterly, the Yellowstone Forever's publication filled with engaging stories about wildlife, history, science, and culture. To read similar articles, you can become a supporter of the Yellowstone Forever.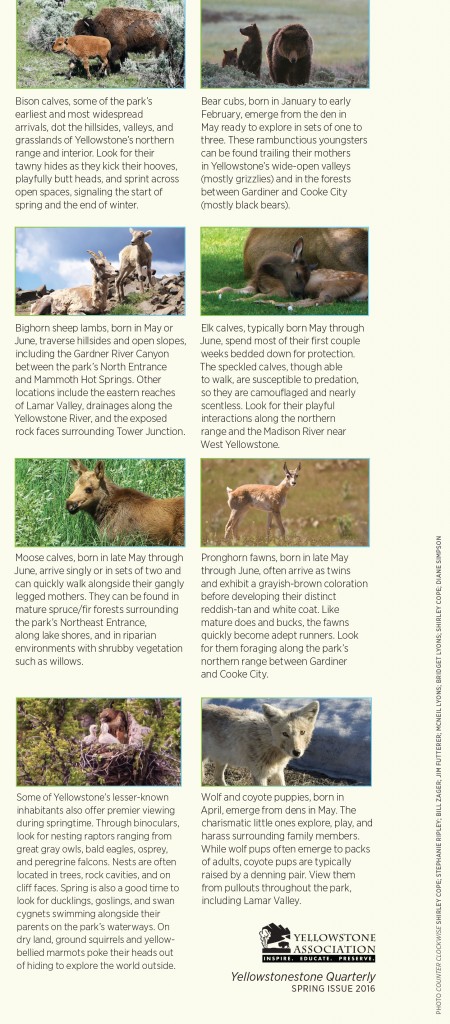 ---