What's Different and What's the Same in Yellowstone this Summer
Yellowstone is Open
There is no doubt that this summer has been different. COVID-19 has changed our lives in many ways. While you visit this summer you will notice some things are different and yet there are several things that have remained the same.
WHAT'S DIFFERENT
A Little Space Goes a Long Way
When traveling in Yellowstone, it's essential to stay at least 6 feet away from other people.  Throughout the park you'll notice signs and markers that serve as reminders and some indoor locations are controlling access to comply with distancing standards. While these developed areas can be busy at select times, if you visit early or late in the evening, or venture off the main road, a majority of the park is still wild and free. Yellowstone is over 2.2 million acres with 900+ miles of trails. That's a whole lot of space to keep at least 6 feet from you and other visitors. But let's do some math:
An acre of land equals 43,560 square feet, which means that 1,210 people can fit in one acre while maintaining 6 feet of social distancing. Considering that there are 2.2 million acres in the park, that means 2.6 TRILLION people could responsibly social distance in the park at any given moment. Another way to look at it, with over 900 miles of trails, 792,000 people could hike socially distanced!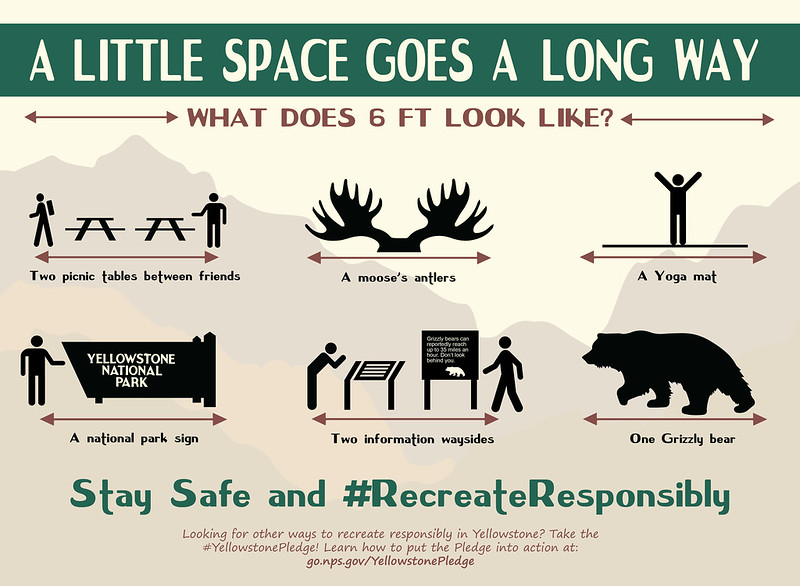 Mask Up
While there is plenty of fresh air to breathe in Yellowstone, visitors are masking up this summer. As part of our commitment to provide a safe environment for our employees and customers, Xanterra decided to require all visitors to wear face coverings while in the indoor public areas of our facilities and in outdoor areas where proper distancing is not possible. These areas include, but are not limited to, lobbies, hallways, gift shops, restaurants, offices, indoor/outdoor queueing lines, and sightseeing vehicles and boats.
NPS has no mask mandate outdoors, but it is highly recommended to wear them outside where social distancing is impossible. Boardwalks and congregations of wildlife watching are a prime example of places to mask up!
Show some flair with your mask while traveling. You can go western themed with a bandana, grab a buff for some versatility in the outdoors, or grab a stylish, Yellowstone themed design!
Limited Indoor Services
If you venture indoors, you'll note a number of limited services and closures. Select lodging and campgrounds have reopened but National Park Service campgrounds are still closed (backcountry camping permits are being issued). Furniture has been removed in hotel lobbies to comply with distancing standards and the Old Faithful Inn lobby remains closed (guests staying in the East Wing check-in at the Old Faithful Snow Lodge).  The National Park Service visitor centers remain closed.
Our iconic Historic Yellow Buses, Stagecoaches, and Scenicruise boat are getting a rest this summer as all road-based tours, Scenicruise tours, Stagecoach rides, and the Old West Cookout aren't being offered. There are some in-park tours and activities available (bike rentals at Old Faithful, horseback rides at Canyon Lodge, charter fishing and sightseeing trips and boat rentals on Yellowstone Lake).
Select gift shops are open with controlled access to comply with distancing standards. Select dining in the park is grab and go, and no indoor sit-down dining that means more picnics! Luckily, with the abundance of beautiful scenery and over 52 designated picnic areas with tables, there is no shortage of places to enjoy your meal with a view!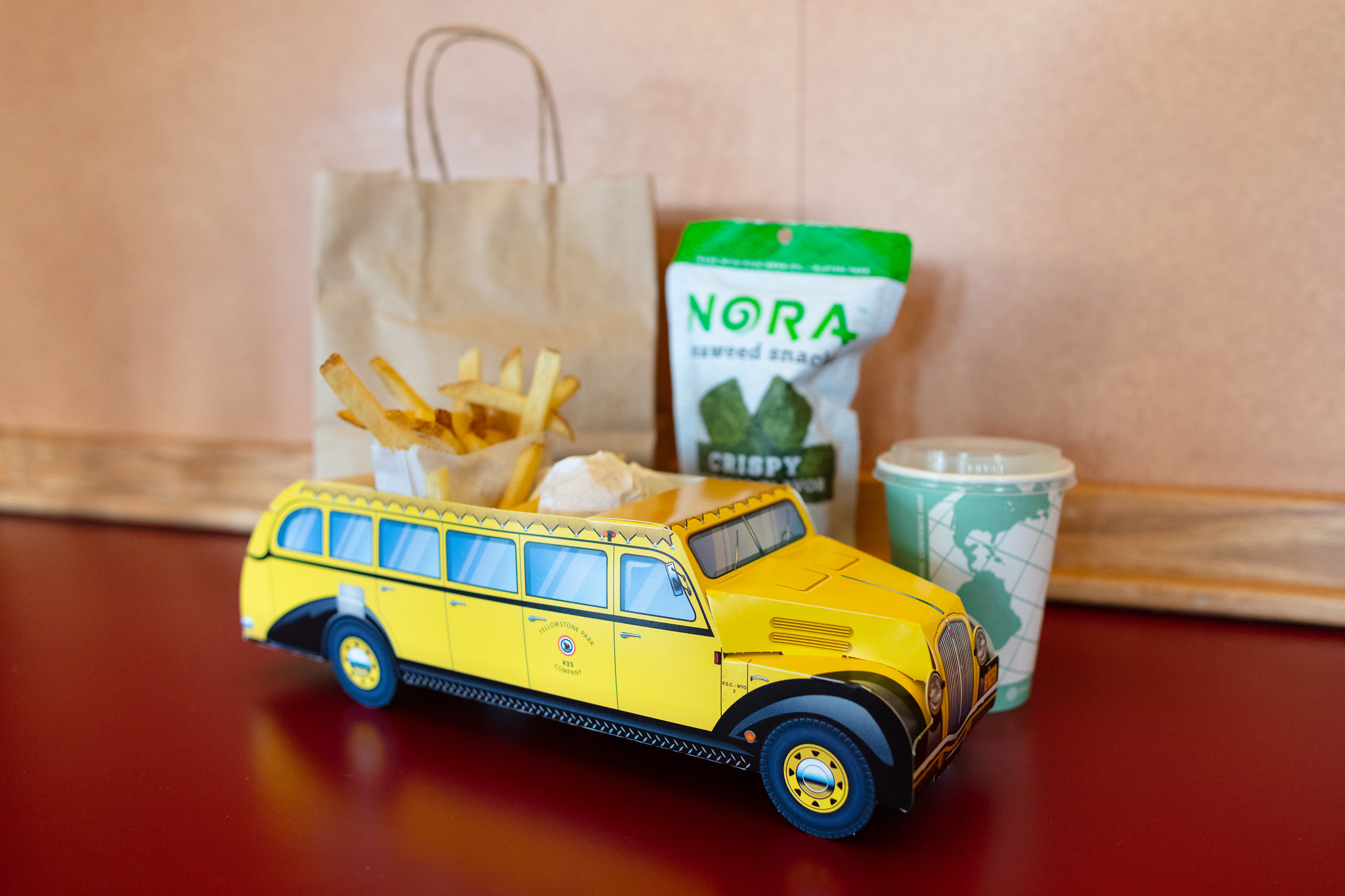 Enhanced Safety
In addition to the efforts mentioned above, Xanterra is exercising increased vigilance in cleaning public spaces and guest rooms. Furniture has been removed in lobbies to maintain a clean public space and follow distancing protocols. Our operations use cleaning products and protocols that meet EPA guidelines and are approved for use as a suite of solutions effective against viruses, bacteria, and other pathogens. In guest rooms, we pay particular attention to high-touch areas. All bed linen and laundry will be changed between stays and continue to be washed according to COVID-19 Interim Guidance put forth by the Association for Linen Management (ALM) and following CDC guidelines. Additional in-room procedures are implemented for the safety of our guests and employees: some in-room items are no longer available (coffee, paper cups, notepads, pens, magazines, extra pillows, and blankets), stay-over housekeeping is not available, and public ice machines and campground showers are not available.
All our employees are wearing masks, and other appropriate PPE. All employees receive training on COVID-19 safety and sanitation protocols with more comprehensive training for our teams with frequent guest contact.
Washing your hands is also more important than ever these days! If you stay with us this summer, you will notice one complimentary adorable, sudsy bear soap in your room in addition to the standard pump soaps. Our bear soaps are proud to serve and keep you safe. They are so beloved they even have an Instagram page! We suggest you use the liquid soap on your hands and save your bear soap for a souvenir! Please follow and post your bear soap photos with #BearSoapsofYellowstone. You'll also find hand sanitizer stations throughout our properties.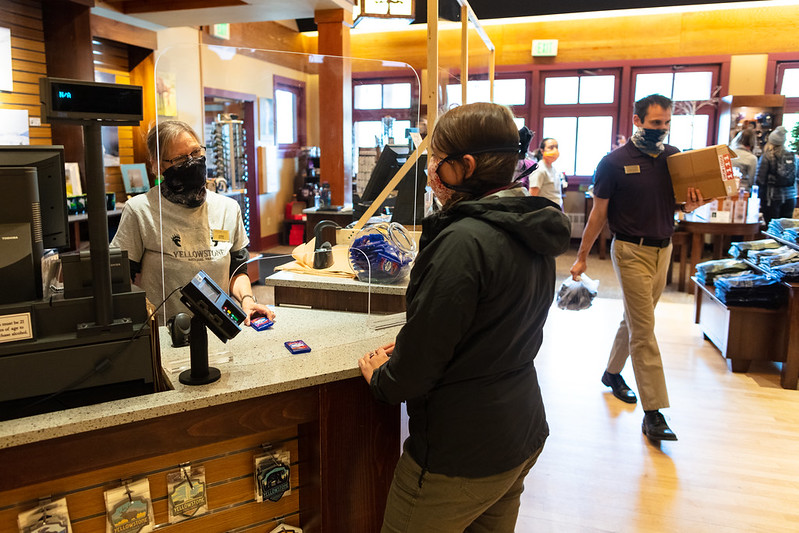 WHAT'S THE SAME
As the world's oldest national park founded in 1872, Yellowstone has endured a number of global events, including 2 world wars, several recessions, 9/11, and the 1988 fires. Since that time, while some of the services and infrastructures have changed, the wonderland that is Yellowstone hasn't. Here are a few things about the park that remain the same:
Abundant Wildlife
Bison, bears, and elk, oh my! Known as America's Serengeti, Yellowstone is home to the most free-ranging wildlife in the lower 48 states. There's no better place to watch nature undisturbed.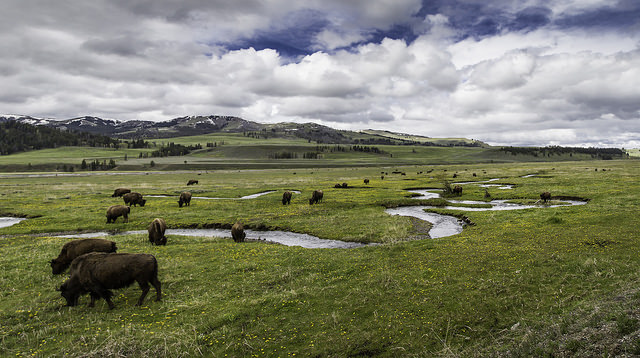 Spectacular Scenery
Several mountain ranges, hundreds of waterfalls, the largest, high alpine lake in the lower 48, longest free-flowing river, a grand canyon, and more. Yellowstone is full of spectacular scenery.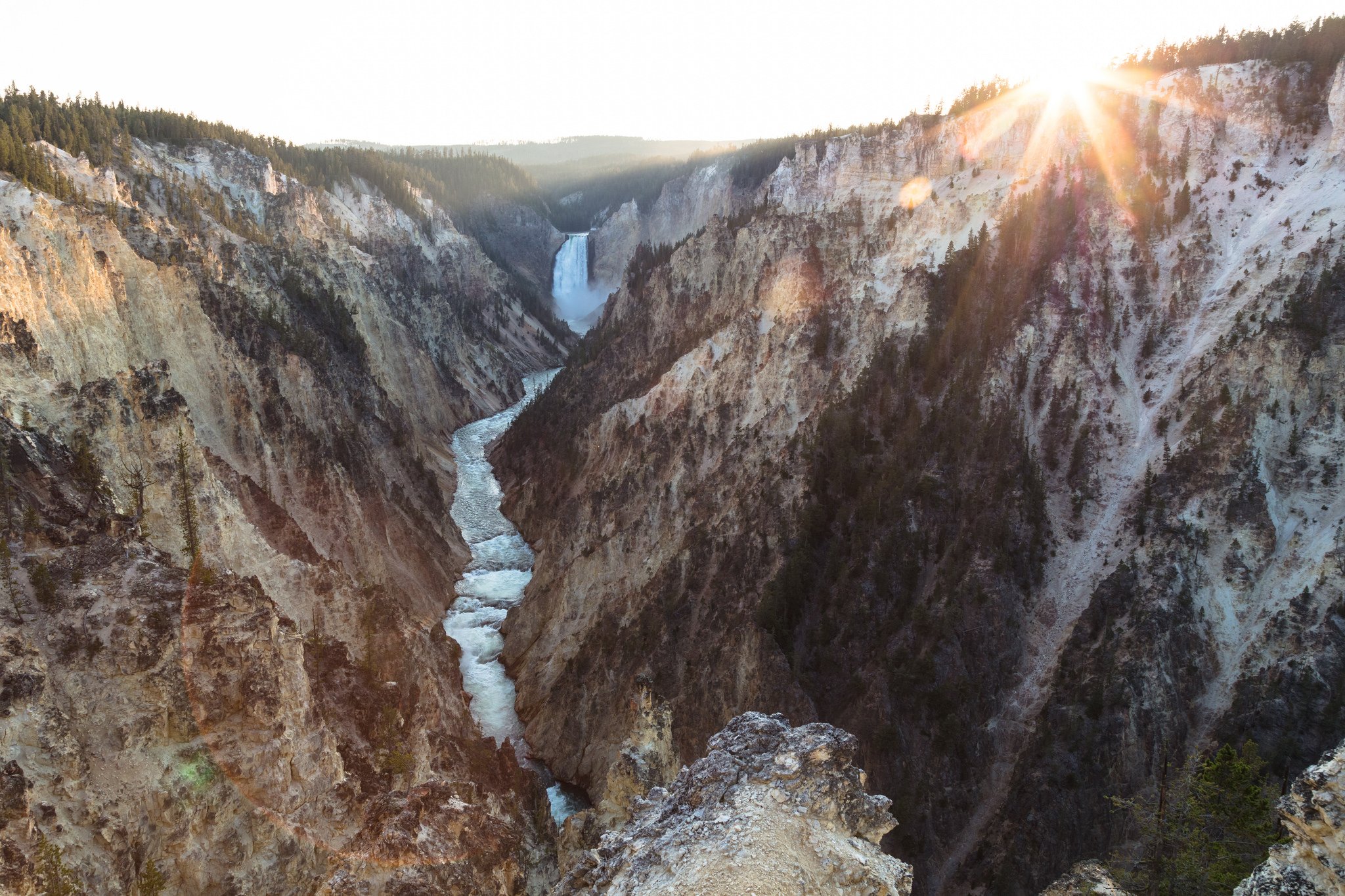 Extraordinary Thermals Features
Yellowstone National Park preserves the most extraordinary collection of hot springs, geysers, mudpots, and fumaroles on Earth. More than 10,000 hydrothermal features are found here, of which more than 500 are geysers.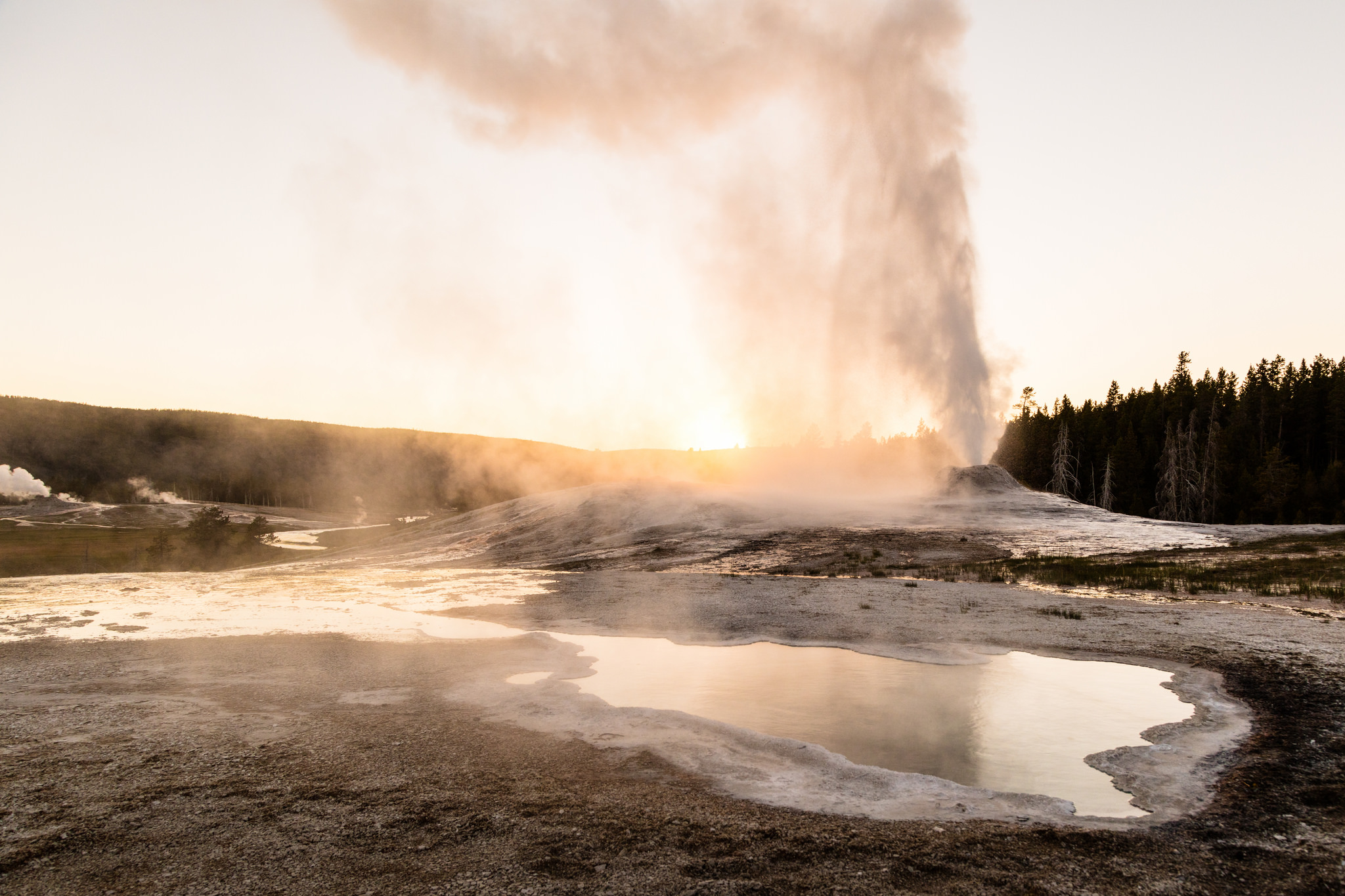 For the Benefit and Enjoyment of the People
One final thing that isn't different is the National Park Service works hard to protect Yellowstone and needs your help to ensure it's here for future generations to enjoy. One way you can do this is by taking the Yellowstone Pledge. It's a personal promise you make to yourself and the park. It can be taken anywhere: it doesn't need to be taken out loud or in front of anyone. Tag #YellowstonePledge and encourage others to do the same.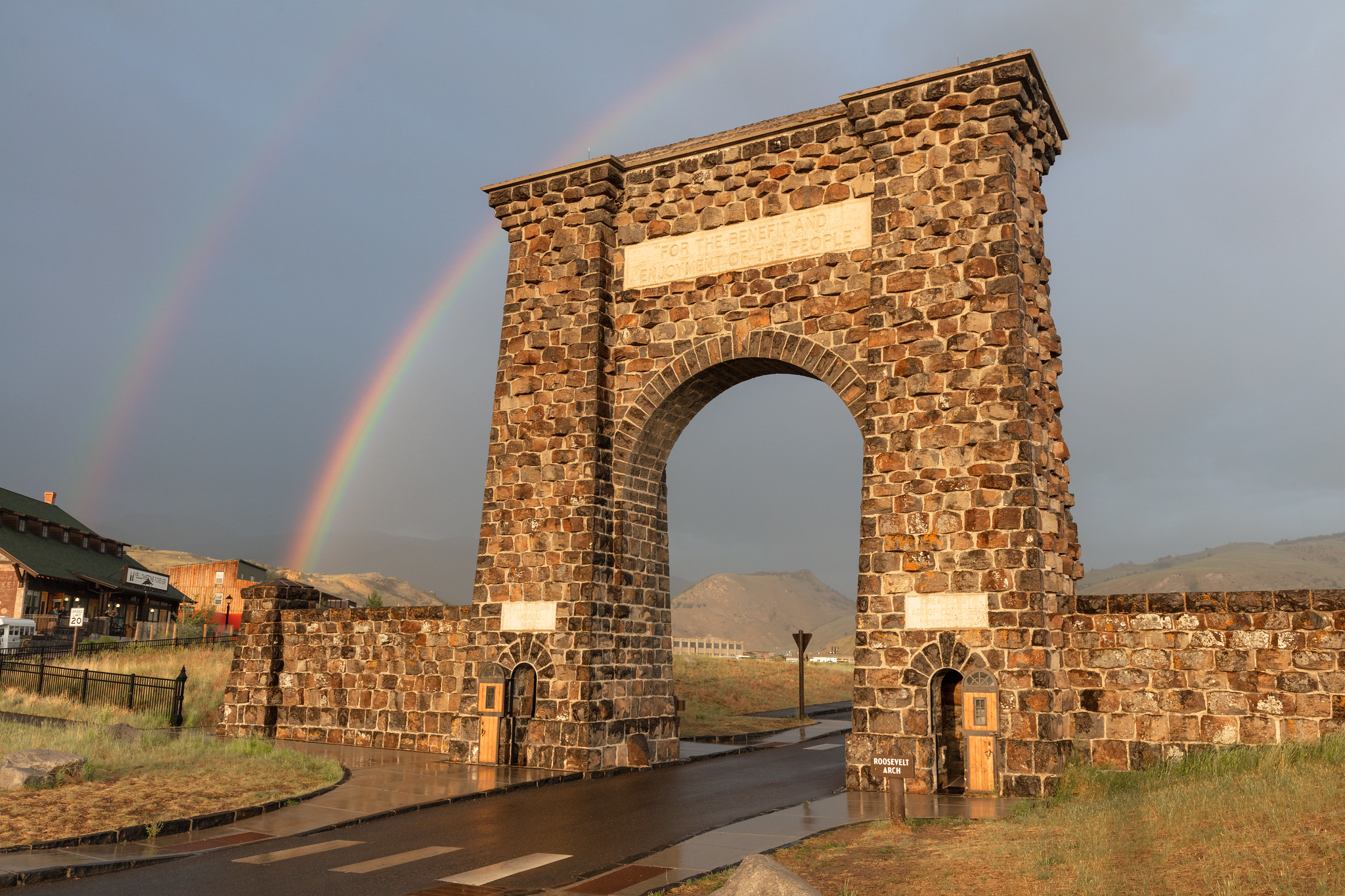 While it has been a strange year, it's comforting to know that as inscribed on the Roosevelt Arch, Yellowstone is here "For the benefit and enjoyment of the people".
For more travel experiences to Beautiful Places on Earth™ available from Xanterra Travel Collection and its affiliated properties, visit xanterra.com/explore.

Want to experience Yellowstone in-depth? See what makes Yellowstone National Park a great place to work for a season or longer!
---