Top Yellowstone Stories of 2016
2016 was a big year in Yellowstone National Park with a number of celebrations, events, and stories. We've compiled the top stories to recap!
Bombardiers Final Run (March 2016)
With the close of last year's winter season came the end of a great and lengthy run for the park's Bombardier snowcoaches. They delivered their last winter passengers on March 1. There has since been a variety of worthy tributes to the "Bombs" but none more fitting than that of long-time Yellowstone guide, and driver of the Yankee Clipper, Leslie Quinn.
Read more about the iconic bombardiers and their final run.
Lake Yellowstone Hotel Anniversary (May 2016)
She's the 'Grand Old Lady of the Lake': the oldest hotel in the oldest national park. And this summer she celebrated 125 years. On May 13th we gathered together to celebrate.
Read more about the history of the Lake Yellowstone Hotel.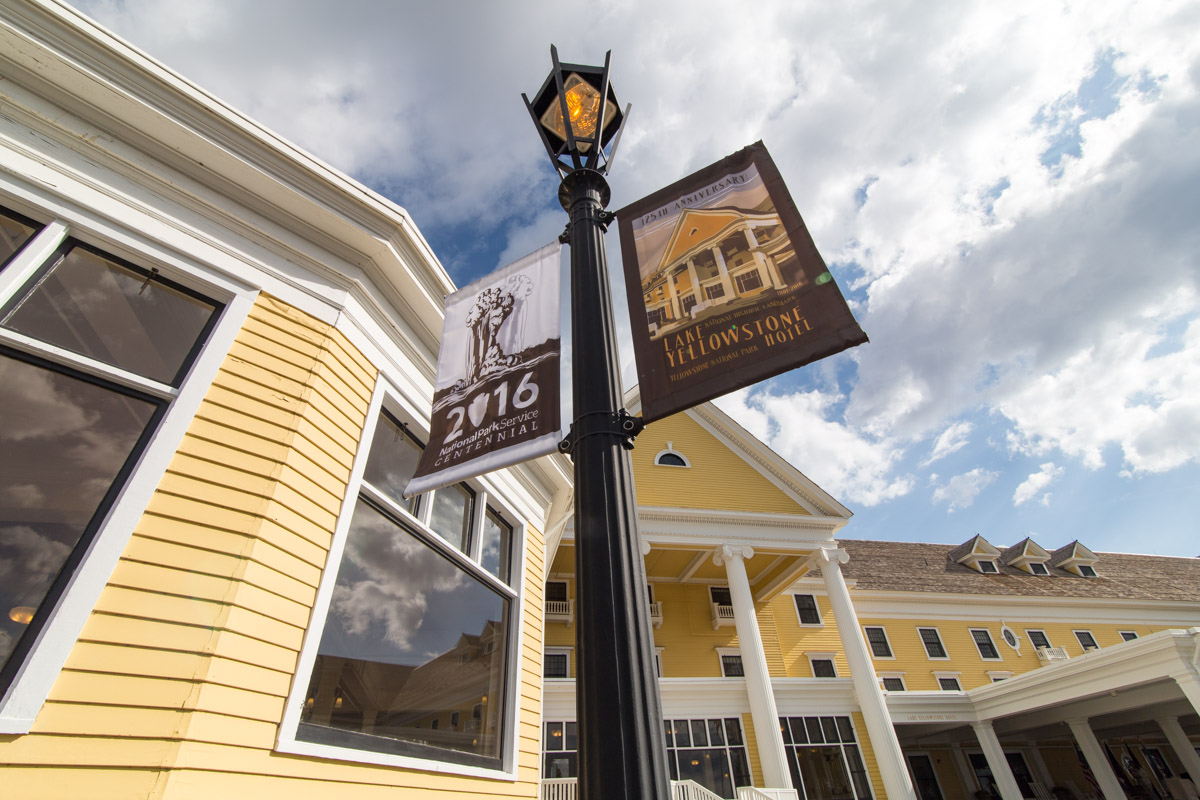 Yellowstone Featured In National Geographic (May 2016)
The May 2016 issue of National Geographic is all about Yellowstone National Park. In addition to stunning photos and videos of the park, the online edition features in-depth articles about Yellowstone's land use, tourism, wildlife restoration and management, geothermal features, and much more.
Read more about our favorite features from the online issue.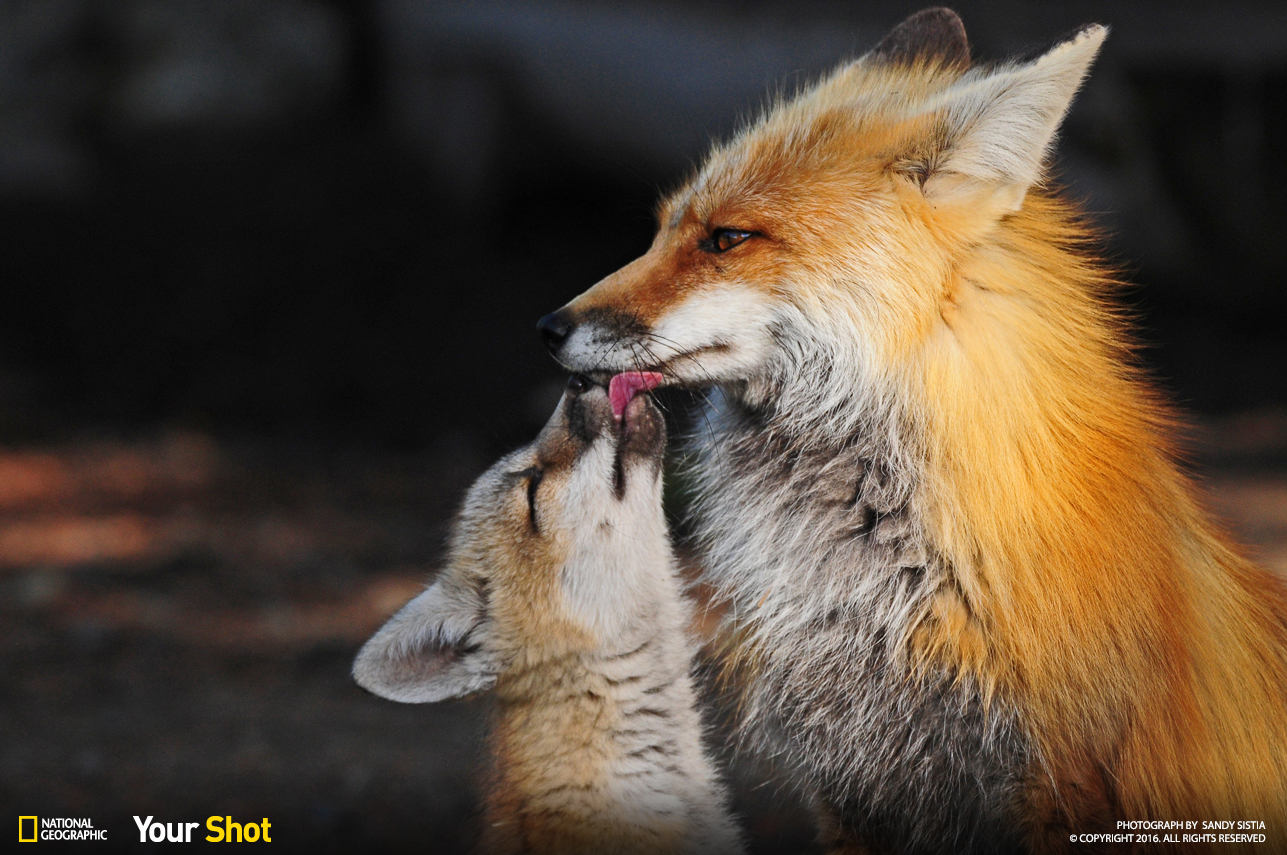 Yellowstone Gets Stamp of Approval (June 2016)
In celebration of the 100th Anniversary of the National Park Service, the Postal Service unveiled the National Park Forever Stamp Series in a ceremony at the Mammoth Hot Springs Hotel on June 2nd. The Forever stamp depicting a stunning photograph of two bison silhouetted in Yellowstone National Park's winter morning sun was dedicated among a pane of 16 stamps to celebrate the National Park Service.
Learn more about the stamp series.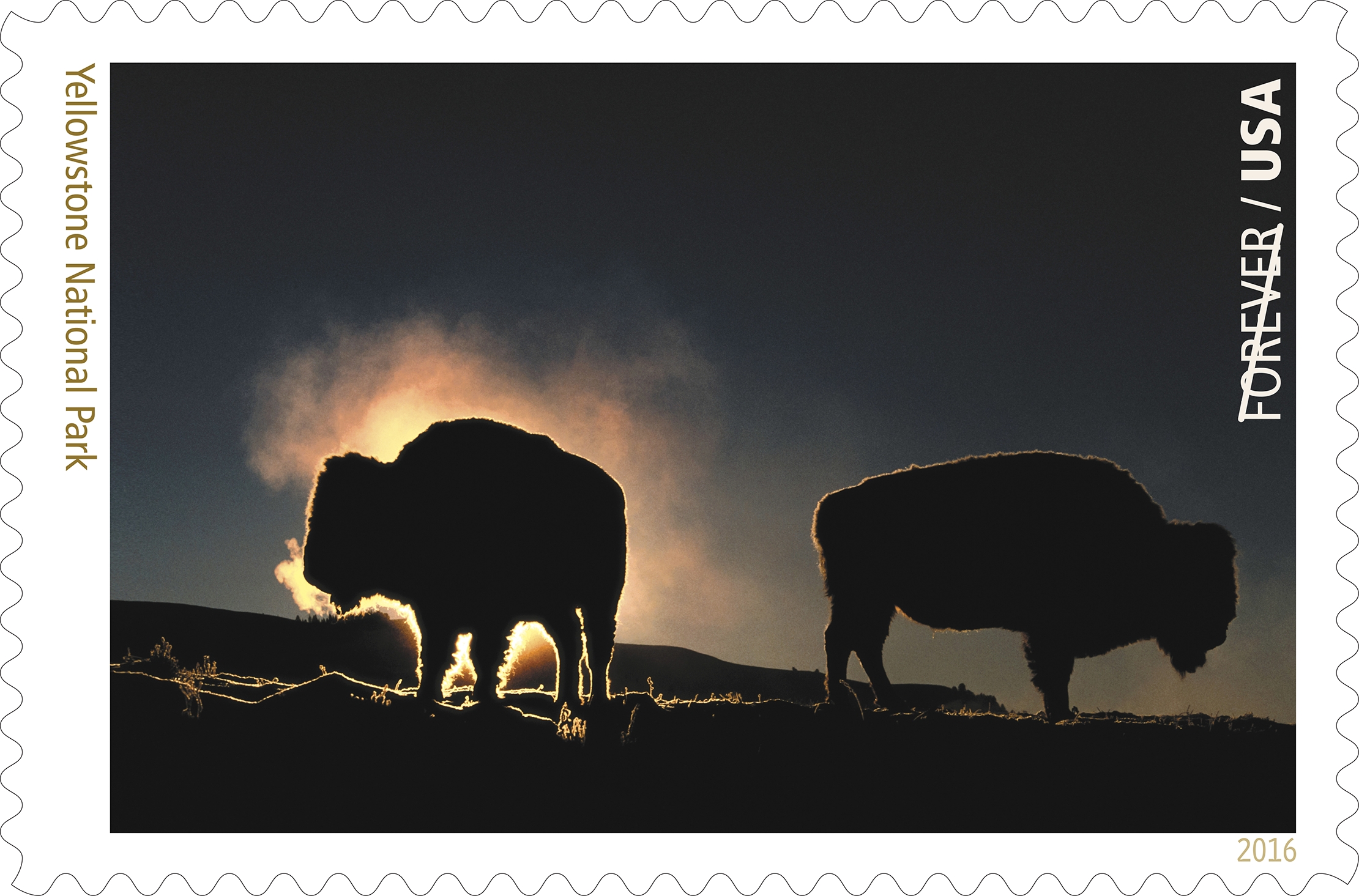 Dangerous Visitor Behavior (June 2016)
This past summer saw a rise in dangerous and inappropriate behavior with wildlife and thermal features. From petting an adult bull bison, walking across a geothermal feature, or taking a selfie within four feet of an elk all these actions prove to be dangerous and even deadly in some cases.
Learn more about the importance of keeping safe in Yellowstone.
To increase the number of people carrying bear spray this year, Yellowstone National Park unveiled a new engaging, celebrity-filled campaign called "A Bear Doesn't Care." Whether you are a hiker, backpacker, angler, photographer, wolf watcher or geyser gazer, the campaign encourages you to carry bear spray – no excuses!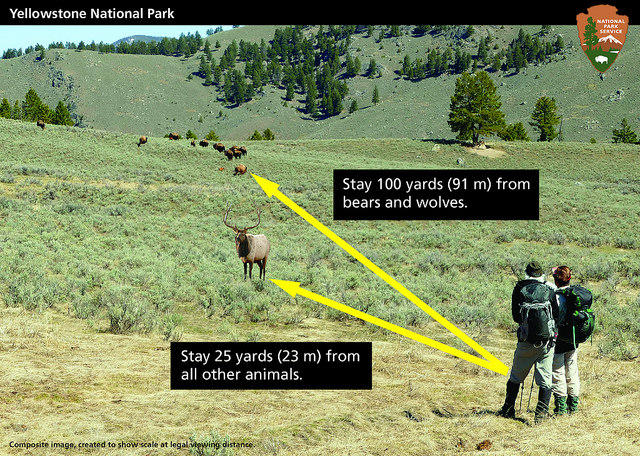 National Park Service Celebrates 100 Years (August 2016)
When it came time to choose a location for the National Park Service's biggest birthday bash, the choice was clear: Celebrate where it all began, in the world's first national park. On August 25, 2016, Yellowstone and its partners hosted a memorable event commemorating 100 years of the National Park Service and recognizing the many ways in which parks enrich our lives.
Learn more about the Centennial Celebration and view our celebratory countdown of the Top 10 Signs the NPS is 100 Years Old.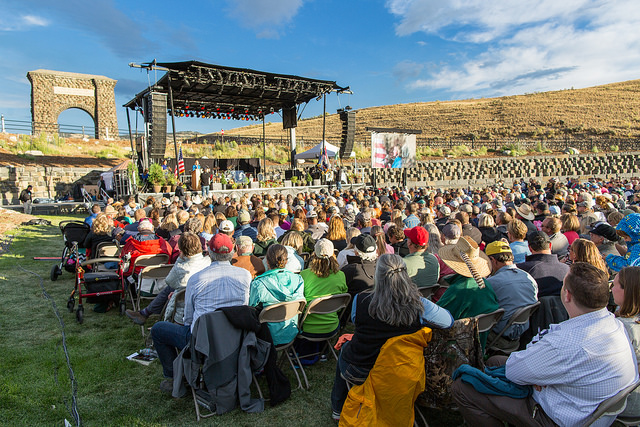 Significant Wildfire Season (September 2016)
In 2016, 22 fires (human and lightning-caused) burned more than 62,000 acres in Yellowstone National Park, making it the highest number of acres burned since the historic 1988 fire season when approximately 800,000 acres burned.
Learn more about the significant wildfire season.
In other natural incidents in Yellowstone this year, the Yellowstone River outside the park in Montana saw unprecedented spread of a fish-killing parasite. While the issue did not affect Yellowstone National Park, it reminds of the threat of invasive, nonnative species to Yellowstone's native fish communities.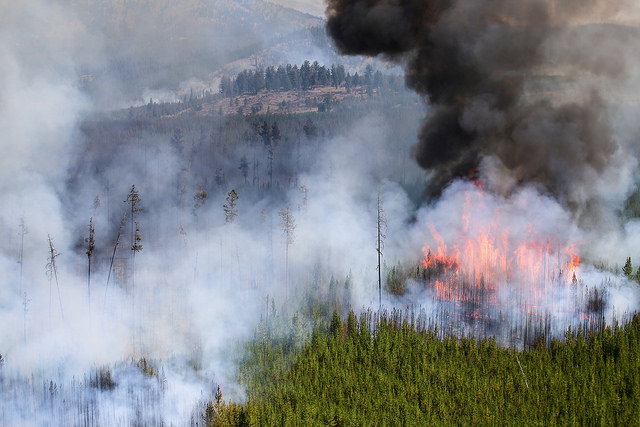 Yellowstone Stagecoach Built (October 2016)
This year something special was built in our Gardiner, Montana shop: a stagecoach. The stagecoaches in Yellowstone are a historic and beautiful remnant of past transportation before engines and paved roads. These days guests can still hop on a replica of the original stagecoaches in Yellowstone at Roosevelt Lodge.
Read more about the building of the stagecoach.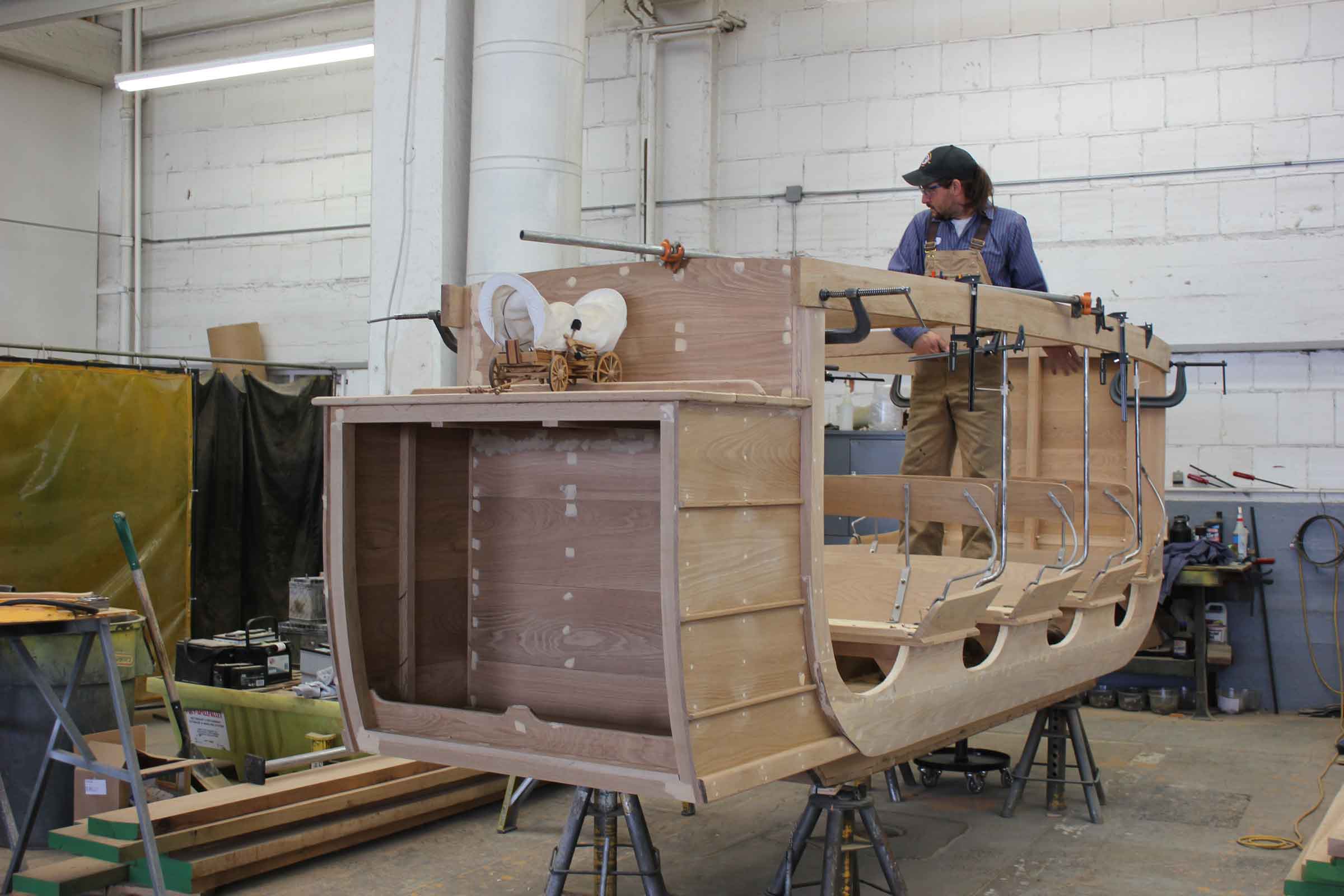 Yellowstone Nonprofits Merge (November 2016)
Our longtime nonprofit partners, the Yellowstone Association and Yellowstone Park Foundation recently announced the completion of a merger and official unveiling of the new organization as Yellowstone Forever (Yellowstone.org).
Learn more about the merger and how we partner with the nonprofit. 
The New Canyon Lodges Completed (September 2016)
The final two lodges in the Canyon lodging redevelopment project were finished this fall. The first guests of the last two completed lodges were received on September 2nd at the new Washburn and Rhyolite lodges. The project started two years ago in an effort to build accommodations that would complement the "Mission 66" and rustic architectural styles of the area, be long-lasting and reduce the environmental impacts during construction and later in their operation.
Learn more about the New Canyon Lodges. 
In other park project news, the Gardiner Gateway Project saw the completion of Phase 2 improvements, Artist Point at the Grand Canyon of the Yellowstone is undergoing extensive renovations, and Yellowstone won a Partners and Preservation grant of $250,000 through the #VoteYourPark Initiative.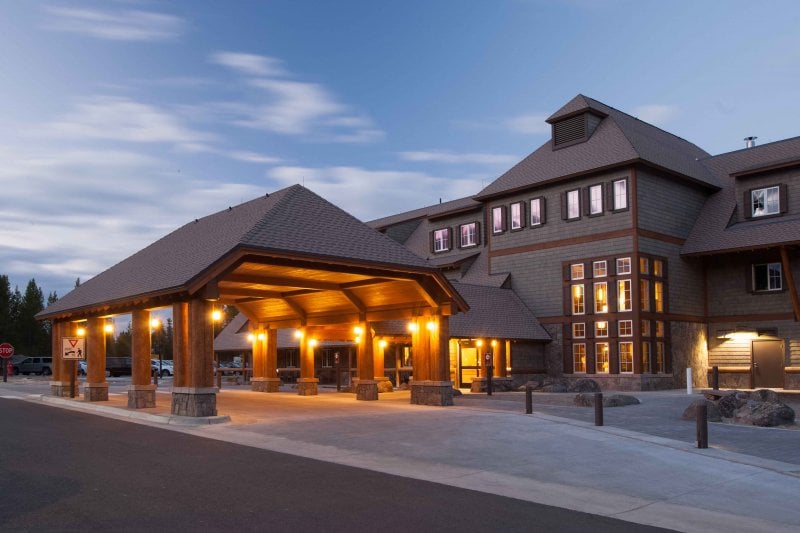 Mammoth First Four-Star Green Restaurant In National Parks (December 2016)
Mammoth Dining Room was officially certified as a 4-star Green Restaurant by the Green Restaurant Association, upgrading from 2-Stars awarded in 2013. It is the first restaurant in a national park to achieve this level of certification, and one of only twenty-five 4-Star Green Restaurants in the world.
Read more about the certification. 
A number of other sustainability accomplishments were made in 2016 in Yellowstone including:  Glass Recycling, Propane Recycling, Eco-Friendly Pavement, and more.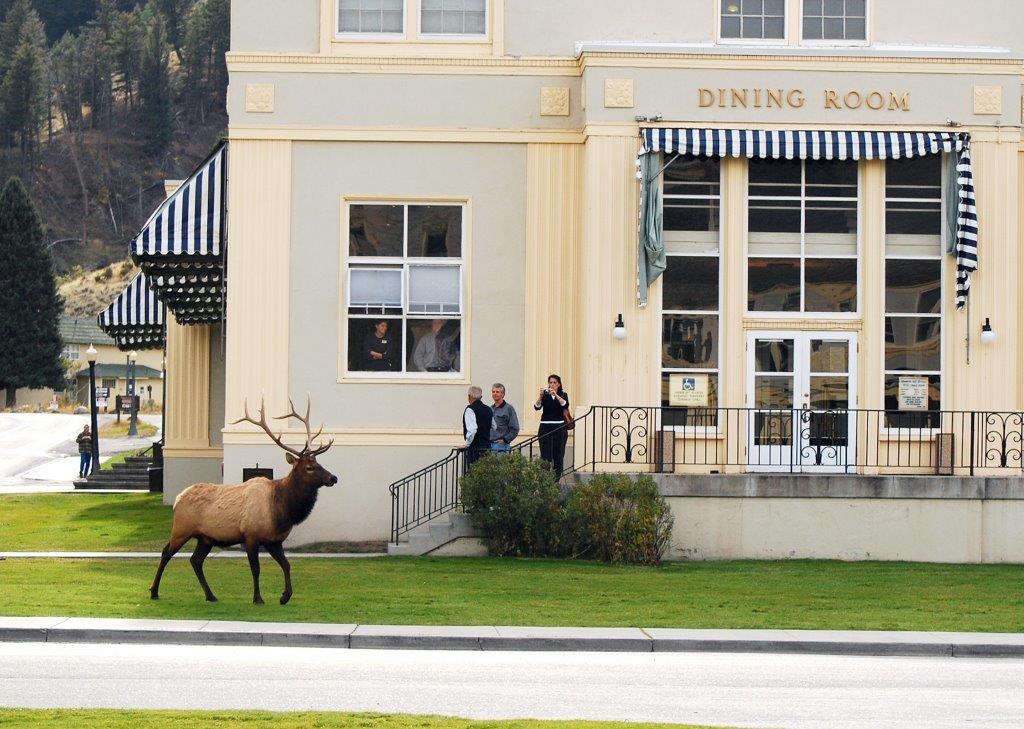 Happy New Year from Yellowstone!
As we look toward the new year, we hope you'll join us in adopting a new resolution this year by taking the Yellowstone Pledge:
To be a steward and help protect myself and the park, I pledge to:
Practice safe selfies by never approaching animals to take a picture.
Stay on boardwalks in thermal areas.
Protect hot springs by not throwing anything into them.
Park in designated areas and avoid blocking traffic.
Stay with my car if I'm stuck in a wildlife jam.
Follow speed limits and pull over to let cars pass.
Travel safely in bear country by carrying bear spray, making noise, and hiking in groups.
Keep my food away from animals.
Recycle what I can and put my garbage in bear-proof containers.
Report resource violations by calling 911 or talking to a ranger.
Take the pledge on social media by hashtagging #YellowstonePledge and tell all your friends. To learn more about the Yellowstone Pledge, click here. 
Photo credits: Lake Hotel- Yellowstone Forever/Matt Ludin, Wildlife/Centennial-NPS Photos.
---