Re-Opening Plan For Lodging, Dining, Other Services In Yellowstone National Park
Yellowstone RE-OPENING
Operations in Yellowstone National Park including lodges, campgrounds, dining and tours will begin a phased re-opening on a limited basis starting June 1.
The decision to re-open was made after closely monitoring the guidance and recommendations of public health agencies such as the Center for Disease Control (CDC) and World Health Organization (WHO) as well as federal, state and local governments. The National Park Service (NPS) began the first phase of reopening Yellowstone National Park on May 18, opening the South and East entrances in the state of Wyoming. On May 28, it was announced that the remaining three entrances (North, Northeast, and West) will open on June 1 at 10:00 a.m.
The current schedule for Xanterra operations in Yellowstone National Park has cabins with private baths, campgrounds, take-out food service, gift shops and select tours and activities available as part of a  phased approach to opening beginning on June 8. Opening and closing dates are subject to change based on future conditions and public health guidance as well as the ability to maintain a safe environment for visitors, employees and NPS staff. To learn more about Xanterra's sanitization measures and ongoing efforts to keep employees and guests safe including physical distancing, ongoing cleaning, employee training, personal protective equipment and more, visit https://www.yellowstonenationalparklodges.com/health-and-safety/.
Visitors should come prepared and follow all CDC and local health guidance including practicing good hygiene and social distancing, wearing facial coverings in public spaces, and staying home and not visiting the park while sick.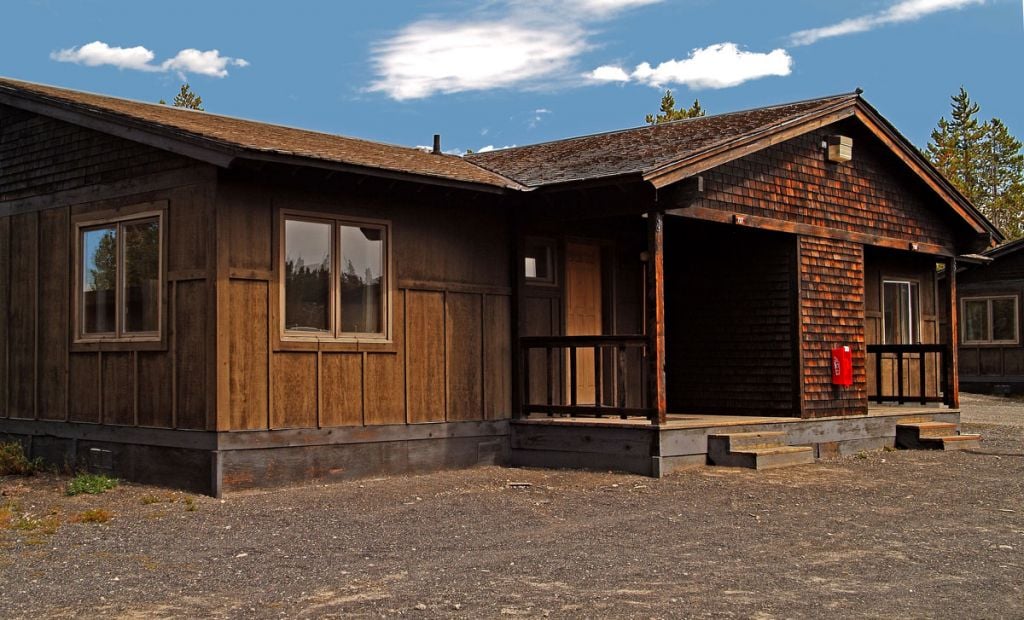 Lodging
At this time, only cabins with private baths are scheduled to open at the following locations. Old Faithful Inn, Grant Village and Roosevelt Lodge are currently closed but may reopen in 2020 if conditions allow.
Campgrounds
Xanterra campgrounds are currently scheduled to open as follows:
Dining
Select dining outlets as outlined below will be open with "take out" options only. Based on current public health guidelines, dining room seating and dinner reservations are not available.

Limited Guided Activities and Tours
Tours and activities will be limited to guide boats, boat rentals, backcountry shuttle, and dock slips at the marina, horseback rides at Canyon Lodge Corral, and bike rentals at Old Faithful Snow Lodge. Road-based tours, Scenicruise tours, Stagecoach rides, or the Old West Cookout will not be offered. Pricing and other details can be found online.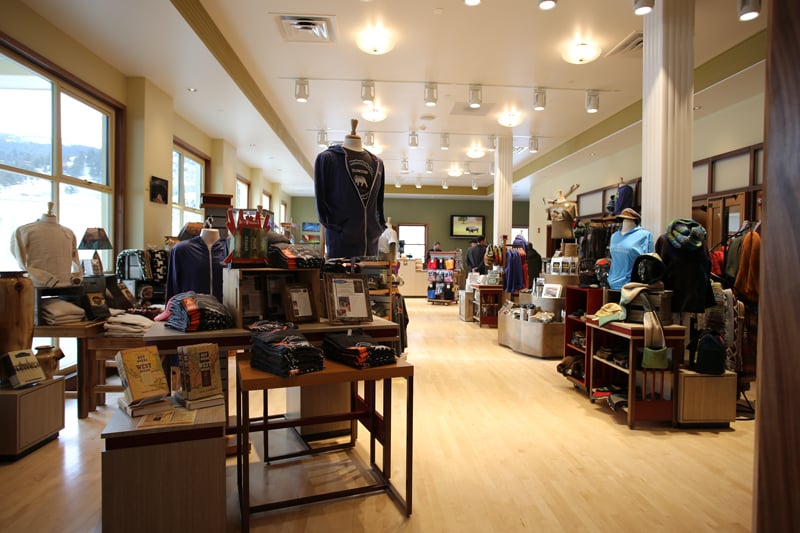 Shopping
Select Xanterra gift stores in the following locations will be open, but with controlled access to comply with distancing standards:
Mammoth Hotel (June 1-Oct. 12)
Old Faithful Snow Lodge (May 22-Nov. 1)
Old Faithful Lodge (June 8-Oct. 4)
Lake Yellowstone Hotel (June 17-Oct. 4)
Canyon Lodge (June 19- Oct. 12)
Lake Lodge (June 17-Oct. 4)
Madison Campground (June 15-Oct. 18)
For updates on the opening of Xanterra operations in Yellowstone National Park, visit https://www.yellowstonenationalparklodges.com/health-and-safety/. For reservations on or after June 8, visit https://www.yellowstonenationalparklodges.com/, or call 307-344-7311. For updates on the three-phased plan for re-opening Yellowstone National Park as well as the latest information on NPS operations in Yellowstone, visit www.nps.gov/yell.
Park Roads
Yellowstone National Park will open its Montana entrances on Monday, June 1 at 10 a.m. The Montana entrances include West Entrance (near West Yellowstone), North Entrance (near Gardiner), and Northeast Entrance (near Cooke City). The opening of Montana's entrances coincides with the Governor's lifting of out-of-state travel restrictions and will provide visitor access to all five entrances of Yellowstone National Park (the Wyoming entrances opened on May 18).
The entire Grand Loop Road will be accessible for day use, excluding the segment between Canyon and Tower, which is closed for road construction (see map below).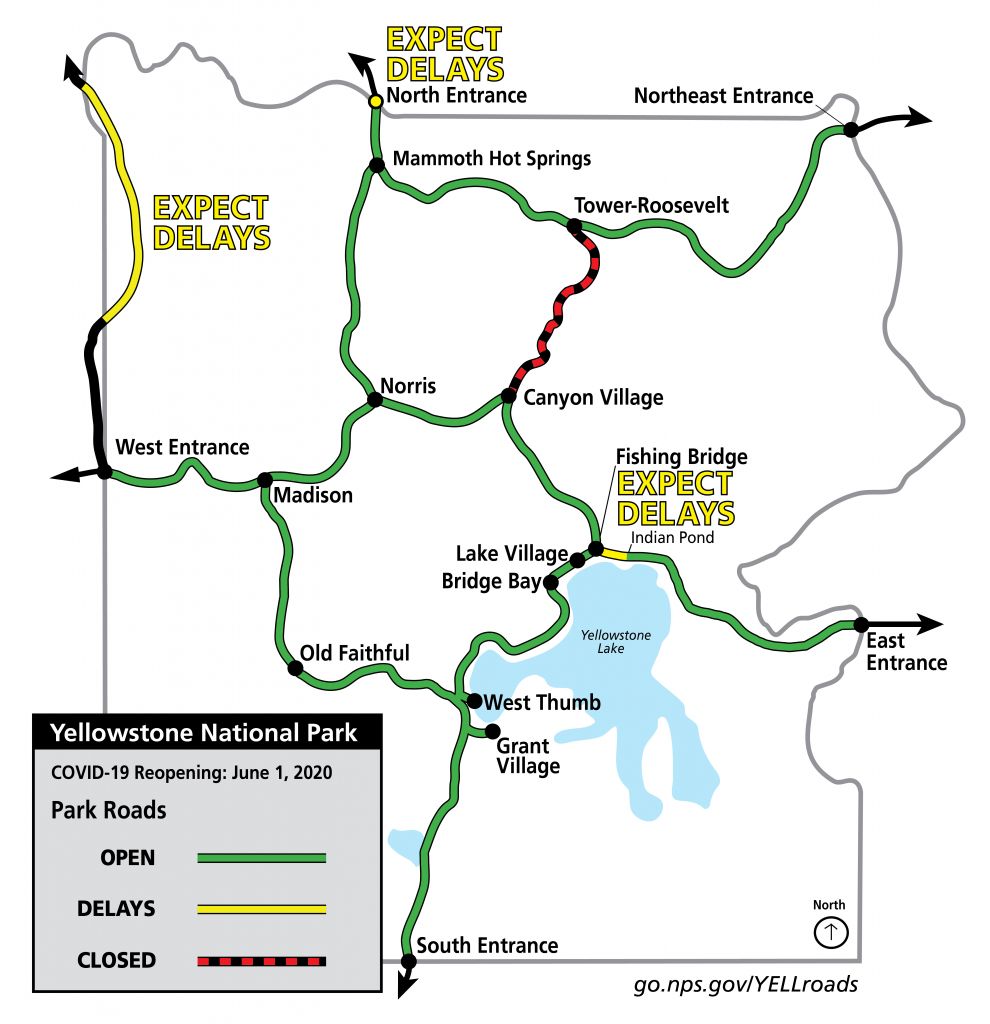 ---