Inspired by Yellowstone Presents:
Masterclass Workshops with artist, DG House
Contemporary Native American Artist DG House of Bozeman, MT has been inspired by Yellowstone for forty-two years. Her paintings based on adventures in the Park are currently on a three-year tour of six Montana art museums and centers. She considers herself a storyteller.
"Yellowstone completely inspires everything I do, including moving halfway across the country to be there. Yellowstone is the essence of everything I do. Every painting I create is based on a story, a real story that happened in Yellowstone Park at some point."
WILDLIFE PAINTING CLASS
Love DG House's iconic colorful wildlife paintings? Join her for this one-of-a-kind workshop and create your own wildlife painting – we will inspire each other with our own stories of Yellowstone.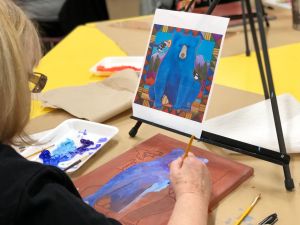 Saturday, February 11, 2023 – 11:00 am to 3:00 pm
Mammoth Hot Springs Hotel
Price: $75 and includes:
All art supplies
Instruction from DG House
A completed canvas to take home
Box lunch
Coffee/tea/water during the workshop
Limited to 12 participants
Contemporary Native American Artist DG House of Bozeman, MT boasts a career spanning over 28 years, with her art having been exhibited in galleries all across America and even in the permanent collections of celebrities such as Sir Elton John, Sir Paul McCartney and Michael McDonald. DG is an associate member of the Women Artists of the West and American Women Artists. She was also recently named the first Honorary Ranger for Grand Teton National Park.

Read more about DG House on our blog: Painting the Soul of Yellowstone or visit her website www.dghouseart.com