Guests write in often to share their memorable vacation experiences, in large part due to the staff they encounter during their stay with us. This past month, a guest from Eugene, OR was provided Legendary Hospitality by Snow Lodge guide Marc Schnurr. We caught up with Marc to learn a little more about him and his own Yellowstone experience.  But first, the letter.
Dear Rob,

I wanted to send you some feedback on your staff. Yesterday I was on the afternoon shuttle from Mammoth to Old Faithful. There had been some weather so we were in a sort of caravan with several vehicles. I was the only passenger of Marc Schnurr. Of course, he was great company and we shared many stories.

A ways out the vehicle in front of us got stuck. No big deal—Marc and the other driver hooked up the strap and we pulled him out to a place where they could get some traction and we proceeded on.

Then we experienced a winter event. We busted through some drifting snow in good form but the vehicle behind us was not so fortunate. It got stuck. We went back and tried to pull them out several times but were unsuccessful in spite of the valiant efforts of everyone involved. This also resulted in us getting stuck. The Tucker arrived shortly thereafter and easily pulled us out. What amazing machines those are. We arrived at Old Faithful with no further issues.

I'm writing to give my heartfelt thanks to your staff. Throughout this adventure, I was impressed by their calm professionalism, expertise, positive attitude, and knowledge. I'm old — just retired after over 35 years working in higher ed. Along the way, I helped write a leadership book that has done well. I've studied leadership, organizations, and teamwork for decades. The teamwork your staff displayed was exceptional and the contributions of all were appreciated by me. I was also struck by the strong leadership shown by Marc Schnurr—cool, collected, smart, skillful, and possessing great emotional intelligence. The safety of all involved was his priority as it should have been. Many leadership lessons were on display yesterday in the late afternoon/early evening. Your staff and you should be proud of the work they did then and every day.

So thanks to all involved. You all represented yourselves and your organization very well.

Most sincerely,
Tim McMahon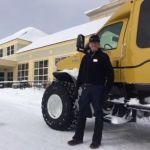 Marc was born and raised in Calgary, Alberta with dual citizenship. His mom is an American, Dad a Canadian. He called Redlands, CA home for 20 years then Clearlake, TX for the next 12 years. Most recently, Marc hails from Whitefish, MT.
In his high school and college days, Marc was a ski patroller and ski instructor. He also spent much of the year working as a fishing and hunting guide along with teaching swimming lessons.  His extended studies at the University of Calgary  (in physical education and business) landed him a job with the US government working in the Middle East, South America, and Mexico.  Marc's career took him into law enforcement and then finally onto Risk Management Consulting (primarily around security, surveillance and loss prevention).
Marc's Xanterra journey began in 2016 working at Glacier National Park for their security department.  He enjoyed his experience there so much that he decided to give Death Valley a try. He spent 10 months (in the hot desert) working for Fire, Life, Safety, and Security department.  In the summer of 2017, Marc (finally!) made his way to Yellowstone and joined the Old Faithful Maintenance team.
Marc shared some thoughts with us about his Yellowstone experience:
"This is an incredible park. Greatest natural show on Earth.  So much to explore, see, enjoy and learn about. A college of all sciences plus a fascinating history. "
Marc observes that his life has truly gone full circle now that he is back guiding, interpreting, and enjoying all the smiling faces that look to him for a magical (and safe) park experience of their own.  He hopes to enjoy many years of guiding and creating spectacular experiences for our guests.
Marc will be staying on with the Transportation Department for Summer 2018 driving the BIG BUSES and guiding which suits him just fine as he has thoroughly enjoyed the Transportation Department, the marvelous management, training and his co-workers.
We are grateful to have Marc's experience and commitment to guest service here in Yellowstone and wish him the best of luck in his summer gig!