An Interview with Cody Lockner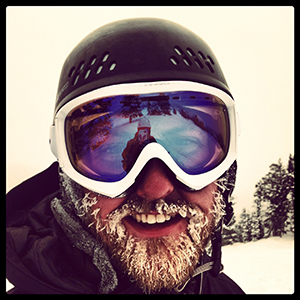 Meet Cody Lockner, Regional Operations Manager of the Old Faithful Area, who came to Yellowstone via Lansing, MI.  A close friend of his (and fellow disc golfer) worked in the park back in 2006, loved it, and talked Cody into giving seasonal life a try. So, in 2007, he made the trek from Michigan to tend pub at Canyon Village.  The son of a trained chef who grew up in the kitchen piping cakes and preparing homemade food, Cody was in his element.  As someone who likes being outdoors, he was also looking forward to hiking as much as possible.
As his first summer came to a close, he quickly began scheming winter plans and ended up at the 19th Hole at Death Valley. Yellowstone called him back to the pub the following summer which was the start of his summer/winter cycles in Yellowstone.  Cody spent seven winters at Mammoth waiting tables and two more summers as a dining room manager.  Then, inspired by the desire to make a difference and be challenged professionally, he made the move to Operations and never looked back. His role in operations has given him the opportunity to cultivate his skills in problem-solving, quick-thinking, and helped him progress as a human being both personally and professionally.  Cody's prowess in the kitchen caught the attention of Elise (Hansen) back in 2008. His ability to make the "best cheesy pretzels" earned him a date and the rest is history.  They made it official in 2015.
Cody sat down with us in between ice rink spraying duties and answered a few "bigger" questions:
What keeps you up at night?
The challenging situations with guests that are hard to resolve and make right for them (sometimes due to lack of resources). I don't want anyone to walk away unhappy.
What does a typical day on the job look like?
A typical day consists of following up with guest service issues, analyzing revenue and labor usage, mentoring management teams and line staff, identifying potential issues and working to address them before they cause a guest service issue, and speaking with guests and seeking feedback on the goods and services we provide. I'm continuously following up with management and line staff to ensure they have the tools to be successful.  The highest priority item each day is generally guest service (internal and external) or life safety issues that present themselves.
What or who has been a source of inspiration or motivation for you?
My mother was my inspiration.  She was a single mother of two working multiple jobs to provide for us.  She never gave up on anything and always worked towards achieving her dreams.  Her greatest words of wisdom were to live life with no regrets and to make the best of every day and situation.  She taught me to remain positive even in the worst of times.
What has kept you here?
Yellowstone National Park and the Greater Yellowstone – it's an awe-inspiring place where every weekend feels like a mini-vacation.  We are routinely asking ourselves, "What adventure do we want to plan next?".
Favorite Season?
Winter – hands down! Both the skiing and clientele (big lovers of Yellowstone typically) are great.
Favorite Area?
Pine Creek Falls in Paradise Valley, Electric Peak, backcountry thermal areas. Really too many to name!
Superpower and Childhood hero?
Hero – GI Joe.  Superpower –  problem-solving and deflecting negative energy (and not getting emotionally hijacked by things).
Pro-tip?
Just get out there. Do something you've never done before.
A good day in the office for Cody means he is out and about working with departments and guests rather than with his computer. Let's hope Cody gets lots of those days this winter (along with numerous epic ski days)!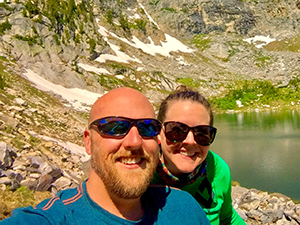 ---