Love in the Time of COVID
A pandemic did not stop at least four couples from proceeding with their wedding plans in 2020 – two of the four romances sprouted in Yellowstone, one at another Xanterra property, and the other just beyond its borders. Since February, when we honor St. Valentine, let's take a moment and celebrate these couples and their big day!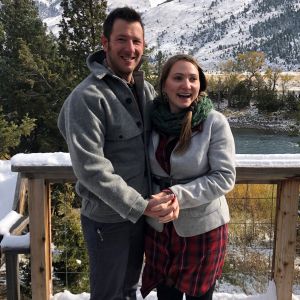 This past fall, Sarah from marketing married her longtime boyfriend Nate in a tiny cabin by the Yellowstone River in Paradise Valley, Montana. Outside, the sun was shining, fresh snow was glistening, and the last leaves of fall were lingering. Inside, the wood stove was burning while a young-ish couple, pastor, dog of honor, best dog, and two witnesses gathered to hear the exchanging of vows and declaring of love. While they were sad that they couldn't share the occasion with more friends and family due to Covid, they were happy to have two Yellowstone savages as their witnesses: Rick Hoeninghausen and Mary Hagemeyer. They also were grateful to have a simple wedding and not have to deal with all the stress and complication! Once the pandemic blows over, they plan on having a large bonfire to celebrate.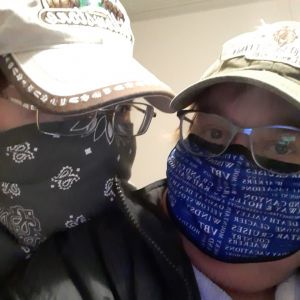 Christa Valdez met her husband, Isaac Schicker, at Canyon in 2010. She was a Night Auditor and he was the Warehouse Lead. They would meet for dinner at an outside picnic table in the afternoons during Isaac's break and right after she woke up. The next year, they met again at Canyon and were in the same jobs. A bout with pneumonia sent them to lower elevations to recuperate. Christa was able to stay with his family at a lower elevation in Utah. That winter, they moved in together in Salt Lake City. Christa found herself in the seasonal rhythm of working summers in YNP and winters in Salt Lake City.  In 2019 Christa landed a job with our IT department, she and Isaac moved into a residence in Emigrant, MT, with their two felines, and the rest is history! They officially became hitched on May 5, 2020.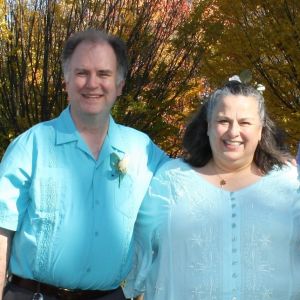 Kim and Karl Hallowell's romance began in the winter of 2016/2017. They had known each other years prior as Kim happened to work with Karl's parents in the Campground Department. Visiting his parents, Karl and Kim were introduced, then continued to cross paths from time to time. He followed in his parent's footsteps and came to work in Yellowstone himself, taking an audit clerk job the following summer. Their first date was at Colter Bay to view the Solar Eclipse of 2017. Fast forward to 2019. Karl popped the question and a plan developed to get married in Ohio the following fall. A Yellowstone wedding was off the table since Kim's grandma and dad couldn't travel. Of course, there were many last-minute changes – they had to cut the guest list by 80%, the ceremony went to Zoom, and then was made "legal" at the local courthouse. In the end, they were blessed with a sunny, 70-degree day – a rare event for Ohio in the fall!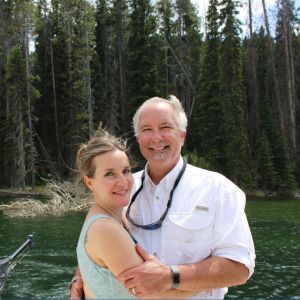 Jill and Chris met in the Spring of 2017 at former Xanterra property, Crater Lake, Oregon, where Chris had worked for several seasons in the Boat department and Jill had just relocated from Minnesota. Their shared love of the outdoors, camping, hiking, and fishing made them quick companions. By the following spring, they were co-owners of a mobile abode to support their new shared life adventures. When the contract ended at Crater Lake, they spent the winter at sister property, The Oasis at Death Valley, but preferring waterfalls and lakes over deserts and sand dunes, they hit the road for Yellowstone as soon as the temps inched into the 90s. While the pandemic challenged their plans to wed with their families by their sides, they went with the next best option and got married on Chris's fishing boat on Lake Yellowstone. They were graced with a gorgeous summer day and several hours of lake trout and cutthroat fishing. They look forward to celebrating with their family and friends when it is safer to travel again.
---