Out of Hibernation: Opening Yellowstone for the Season
Opening Yellowstone
When the calendar changes to spring in Yellowstone, most people think of seasonal events like birds migrating, bison calving, and bears emerging from their dens. But many don't consider the events undertaken to get lodges, restaurants, gift shops, and other operations up and running after being shuttered for at least six months. In a typical year, our summer season begins in late April when all nine facilities begin to open on a staggered schedule and ends in September and October as facilities close.
Emerging from hibernation is no easy task for our team members. Learn more about what each department goes through to get Yellowstone National Park Lodges up and running for a summer season.
Maintenance
Before work can even start, the first order of business for our staff is just getting on location. Most park roads are closed to vehicle traffic in the winter and access to the park interior is only available by over-snow transportation. In mid-March, plowing crews begin clearing a winter's worth of snow.
After National Park Service plows have passed through, the Heavy Equipment Crew (with assistance from location's maintenance team) will move literally tons of snow to gain access to structures. Once the snow has been removed, the Fire Systems Crew will test and commission approximately 125 sprinkler and alarm systems park-wide, making it safe to put heat, electricity, and water into the buildings.
After fire comes water. Each village has a complex water distribution system that includes scores of main domestic water supply and drain valves. To ensure water quality, those valves must be operated several times before being brought into service. At Canyon Village alone, there are more than 10,000 valves! Each room has a tub/shower, sink, and a toilet (i.e., 5 valves in each room) and each fixture valve must first be closed in order to air test the building's domestic water system for leaks or freeze breaks. When water is brought into each building, each valve must then be opened to vent the air and flush the system until clear water and chlorine are flowing.
Canyon Village has more than 500 guest rooms across seven main lodges and 21 multi-occupancy cabins. In addition, there are four employee dorms with 200 rooms, a full-service Camper Services building with public showers and laundry facilities, a 276 site visitor campground with 15 comfort stations, and 52 watering points as well as the historic main Lodge with a large commercial kitchen and an attached Activities Building and gift shop annex.
At Grant Village, there are roughly 1700 building valves (not including fixtures such as sinks, showers, and toilets). Just a half dozen trips to the second story of every Grant building is 132 flights of stairs (that's nearly a mile of stairs)!
IT
Another department that is early on location is IT. One of their initial tasks is getting about 200 pieces of networking gear talking so the Fire Systems Crew can make sure the buildings are safe. This means IT is working in buildings that may not have power, heat, or running water. Once that is done, over 1000 computers and computer accounts are set up to enable Lodging, Food & Beverage, and Retail staff to run their operations.
Lodging
It is often only a matter of weeks between the Heavy Equipment Crew clearing a property of snow and welcoming the first guests of the season. It takes less than two weeks for the Lodging department to complete their tasks – uncovering furniture and cleaning and polishing all carpets, rooms, restrooms and lobbies at each location. Staff from the Laundry facility in Gardiner, MT process and deliver thousands of pounds of sheets, blankets, pillowcases, towels, and more to stock each facility. Hundreds of staff (many of them new to Yellowstone) are trained in all facets of their jobs including safety, guest service, and technical job skills. When the Lodging department is running at full capacity, they serve all the guests staying in over 1,400 campsites and 2,200 rooms and cabins that are available each night.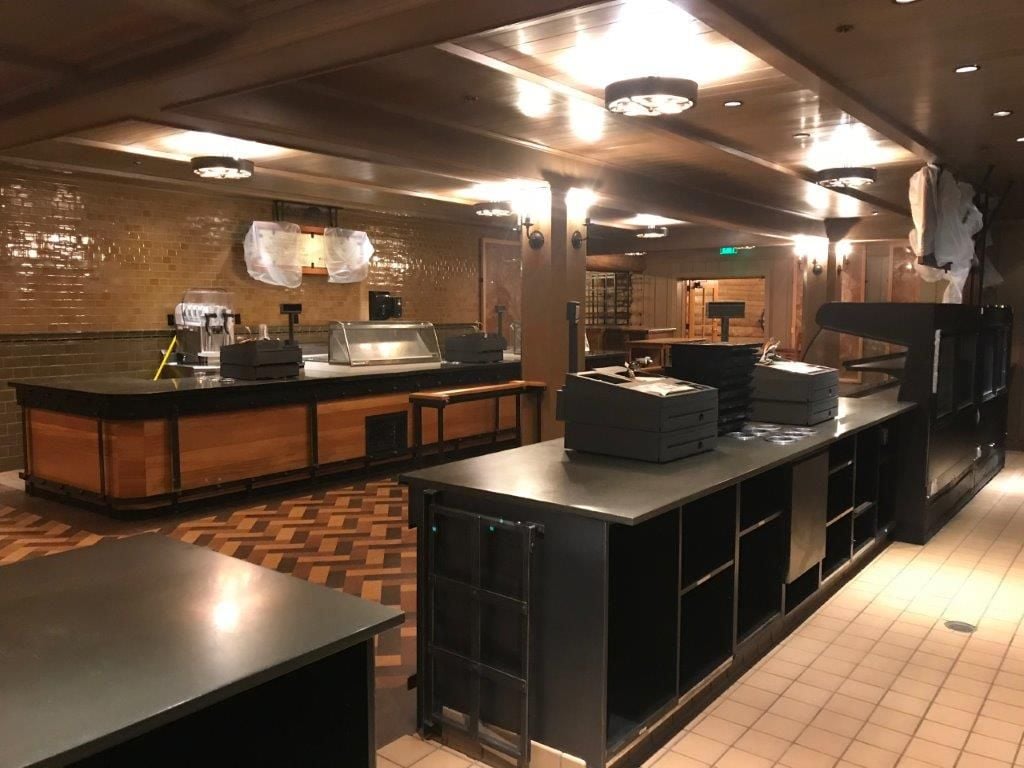 Food & Beverage
Food and Beverage, the park's largest department, supports more than 51 different venues, including over 30 guest-facing outlets ranging from cocktail lounges and espresso carts to ala carte dining and fast food. Their first order of business is ensuring that the buildings and kitchens are cleaned and sanitized so the warehouses and kitchens can be stocked with food and beverages. Part of their opening operations also includes training more than 900 employees in over 25 different job functions so staff are ready to serve over 2 million meals to park visitors.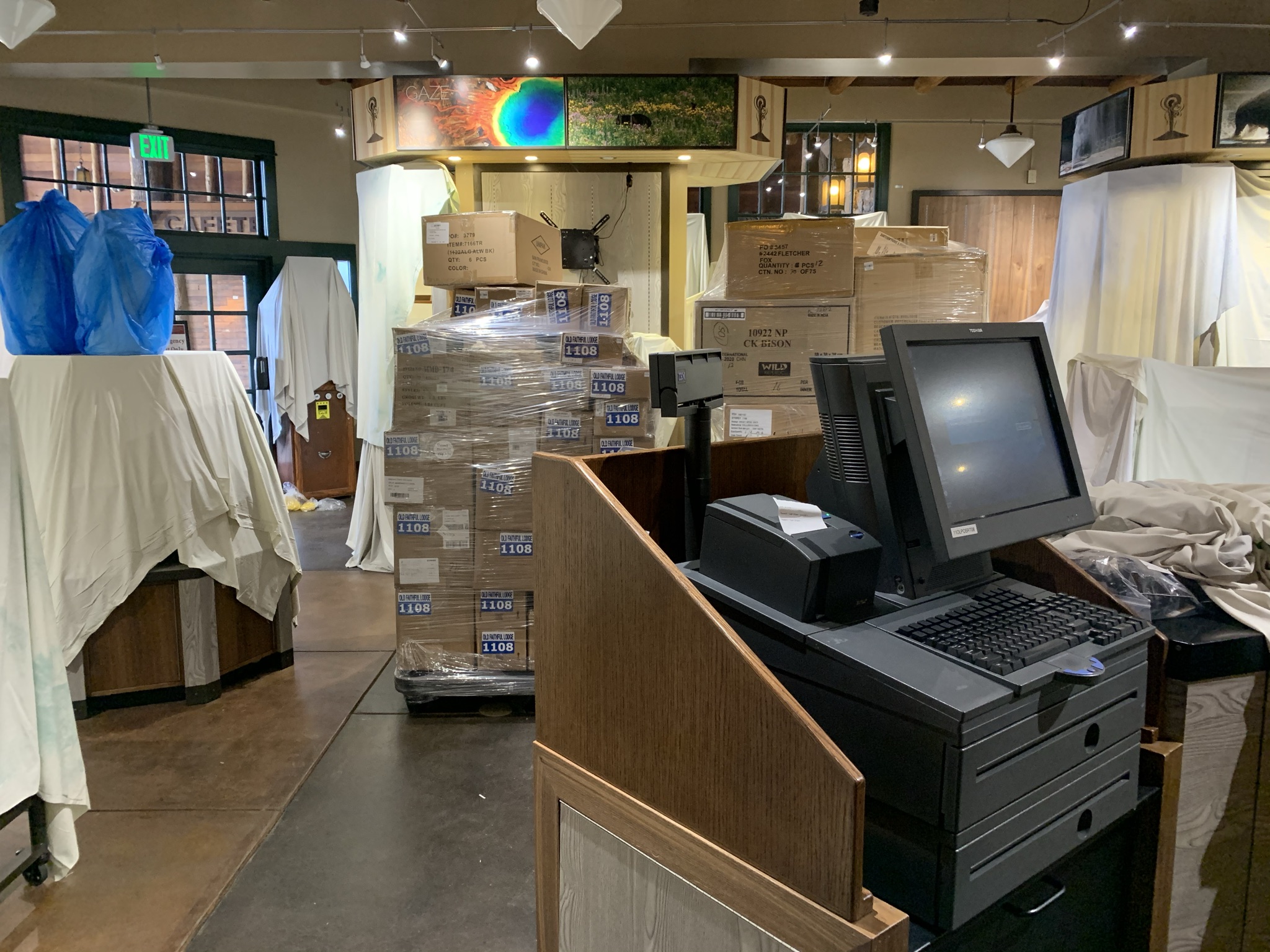 Retail
The Retail department is responsible for opening ten gift shops in the park. Hundreds of pallets of merchandise, and tens of thousands of boxes, are received at the Gardiner warehouse, and then distributed throughout the park. Whether it is crucial necessities for the travelers, like bear spray, water bottles, and sun protection, or carefully curated specialties ranging from local artists' Yellowstone inspired prints, paintings, glassworks, custom pieces, or mouth-watering huckleberry specialties, our team of over 125 retail employees sets up and stocks the stores to ensure a memorable guest experience.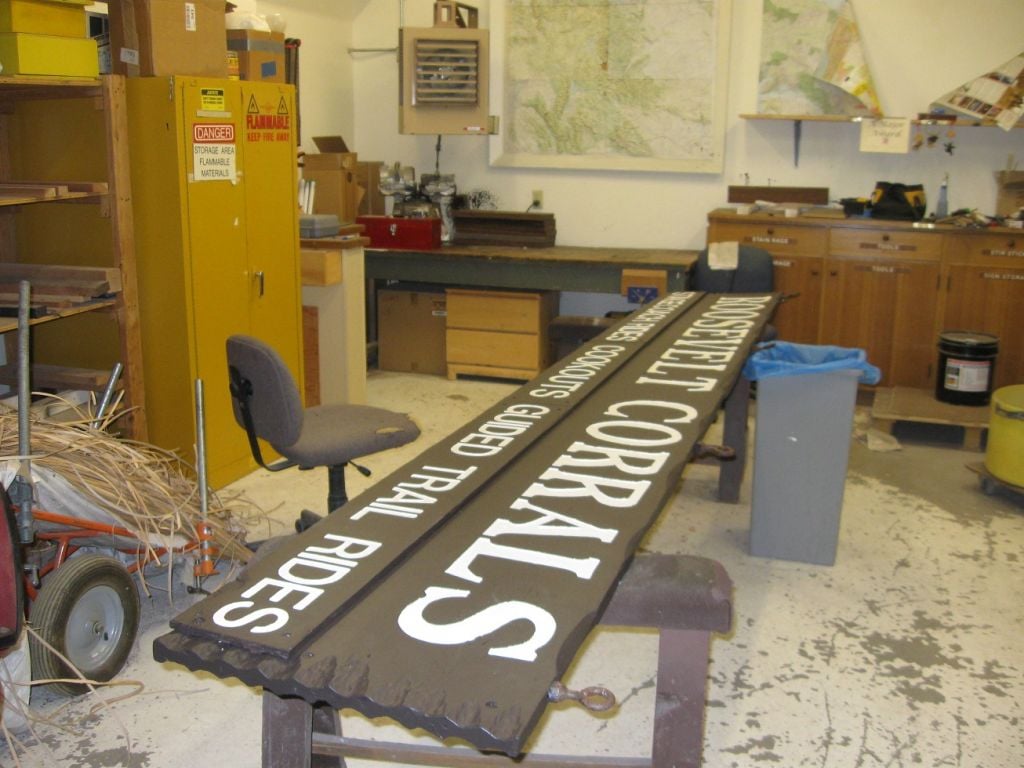 Other Departments
Support Services helps out with many tasks include building mug displays for the gift shop, giving a fresh coat of paint to signage, printing materials for both guests and employees at the Print Shop, and reconditioning and re-upholstering modern and historic furnishing for the 2,200 rooms and cabins.  Transportation gets their fleet of vehicles (including Historic Yellow Buses, boats, and stagecoaches) cleaned and maintained after a long winter's storage. Sustainability ensures that back-of-house and front-of-house waste collection containers are in place, clearly identified, and ready to divert material from the landfill. While each department has its role in bringing a property out of hibernation, many work collaboratively to accomplish tasks. In particular, Human Resources and Learning & Development assist all departments with hiring, onboarding, and training the 3,500+ employees that are hired each season.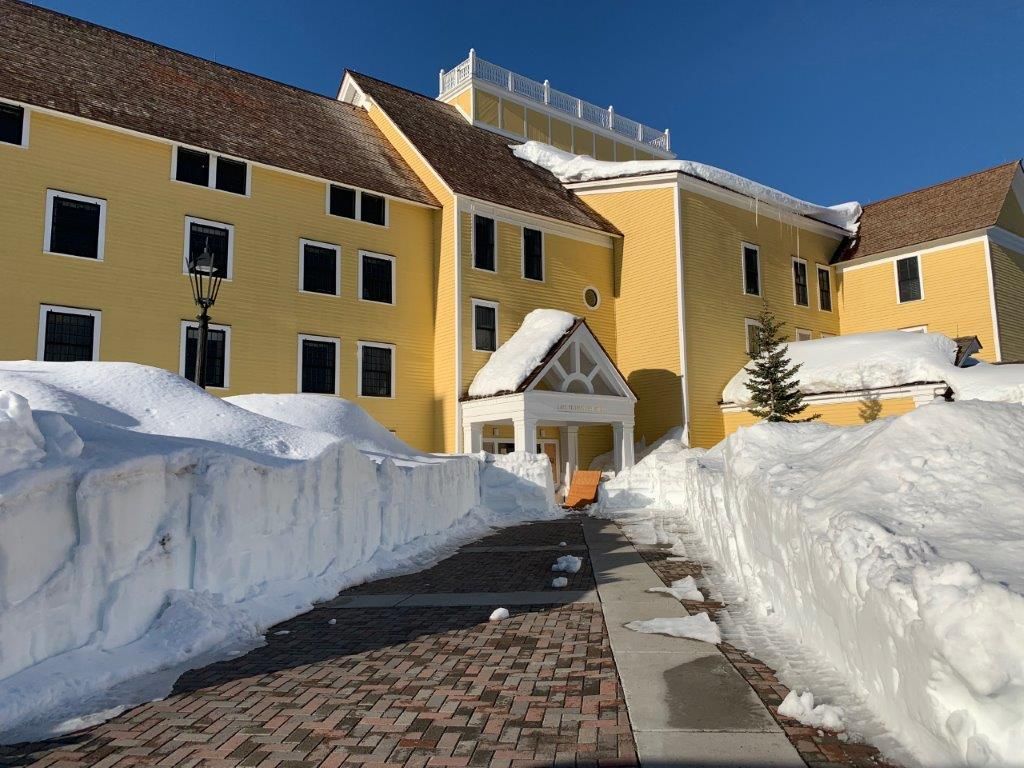 These are just a sample of all the activities that Yellowstone National Park Lodges performs  to take a location from hibernation to full operation. Multiply it by all locations in the park and the numbers are huge! Cody Lockner, Regional Manager at Old Faithful, summarizes the enormous task succinctly: "most people will never experience [a process] like this once in their life… and we do it annually."
Special thanks to Dillard Westmoreland, Lu Harlow, Karen Tryman, Dylan Hoffman, Diane Hilborn, Denise Pope, Virginia Morris, Cody Lockner, and their teams for contributions to this blog.
---