Staff Spotlight: Pam Beachum, Grant Village Front Desk
Experiencing Yellowstone during a milestone year (its 150th) adds to the specialness of the experience. For Pam Beachum, it is the icing on the cake of her Yellowstone adventure.
Originally from Pennsylvania, Pam Beachum is a graduate of Colorado State University.  She first worked in Yellowstone during those college years back in the early 70s. Yellowstone Park Company was the main concessionaire at that time. The summer tourist season was shorter (June-August) and most of the staff were college students without cars who were happy to work six days a week.  The park was seeing just over 2 million visitors during the summer season as the winter operation didn't begin until 1973.
It wasn't long before young Pam met a fella from Texas who worked for YPSS (Yellowstone Park Service Stations). Romance blossomed like the wildflowers in the park and another Yellowstone marriage was in the making. Pam spent a total of three summers (71, 72*, and 73) mostly working at Canyon Village. Her last season was spent as a "Yellowstone Girl" at the Travel Information Desk where she sold lodging and activities for Yellowstone, the Tetons, and Glacier, earning a commission for her sales.  *Yellowstone's 100th anniversary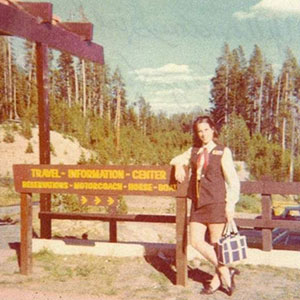 With busy work weeks and no car, she doesn't recall much park exploration but lots of social activity with the community. One of her standout memories is of Carlos Santana approaching the front desk looking for a place to play with his band. She connected him with the hotel manager and spent the rest of her shift listening to the musical icon jam. Only in the 70s and we've not corroborated this story with Santana's manager.
Pam graduated from college in 1973, married that nice young fella, and had two beautiful kids. She lived in Seattle and Dallas until finally settling in the mountains of New Mexico. After an 18-year career with the Centers for Disease Control and a 22-year career with Southwest Airlines, Pam heard Yellowstone calling her back and she thought it would be a "hoot" to work in the park again.  In 2021 she returned. Realizing 2022 would mark the 150th anniversary of Yellowstone gave her an excuse to come back this summer. For her second Yellowstone chapter,  she has been working at Grant Village front desk, hiking more, and soaking in the healing aspects of the park.  She enjoys the guests and coworkers – "both can be challenging  and wonderful." Pam recalls the 100th celebration ("The 100th Anniversary of the National Park Idea") as having a similar tone to the 150th – a low-key approach with the recognition that the park had no problems attracting visitors.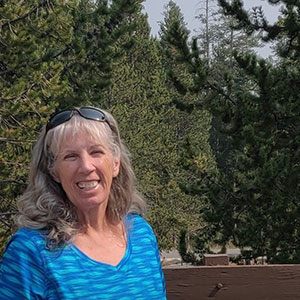 Pam has an infectious enthusiasm and loves sharing he passion for the park with everyone.  Like many Yellowstone staff, Pam loves to travel and has taken full advantage of the perks from her airline career visiting Machu Pichu and Vietnam  (twice). A recent travel highlight was visiting Yellowstone during the winter season with her current partner.  As a volunteer at West Thumb Geyser basin in the summer, it was a treat to travel on the Across the Great Divide Tour and see the basin under a blanket of snow in cold temperatures.
Of course, since she worked three summers in the 70s, we think it makes sense for her to do the same in the 2020s.  While Pam does find herself missing her awesome cabin in the mountains of New Mexico, wanting to travel more along with spending more time with her family and partner, she is still cooking up a plan to come back for a shorter stint next fall. "Yellowstone is in my heart and I just love it."
Fast forward to 2072 – how many of you might find yourself back in the park reliving the memories of your youth and creating new ones? We suspect Pam makes up a small but special group of "parkies" that are lucky enough to experience the magic of Yellowstone at two very different life stages.
---