Q&A with Yellowstone Executive Chef Mike Dean
MIKE DEAN
During your visit to Yellowstone National Park, one thing's for sure: you're going to work up a big appetite! Lucky for you, there are plenty of dining options to satisfy every palate. Whether you're indulging in a leisurely gourmet dinner or choosing a quick grab-and-go option for a day of exploring, there's always something delicious cooking at Yellowstone.
To get an insider's perspective on Yellowstone eats, who better to ask than the Yellowstone executive chef Mike Dean? He generously took some time out of his busy schedule planning and preparing nourishing, tasty meals for park guests to answer some questions about dining at Yellowstone. Read on to learn about must-try restaurants, what makes Yellowstone dining special, and even an exclusive recipe straight from Mike's kitchen!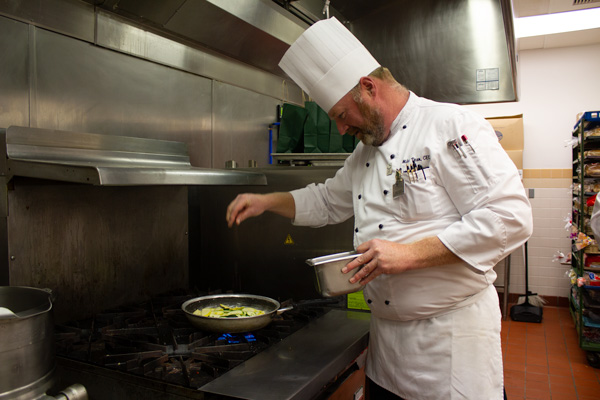 Yellowstone Hot Spot: How did you get your start working at Yellowstone?
Mike Dean: I first came to Yellowstone as a seasonal employee, working first as a dishwasher at the Old Faithful Inn. I came for a summer break, after graduating from college, but before I went somewhere to put a biology degree to work. I found I loved the park, enjoyed the kitchen atmosphere and camaraderie, and came back for a second year. That's turned into a 32-year career!
Explore Jobs in the Food & Beverage Department
YHS: How would you describe the dining options available at Yellowstone? How do you think they contribute to the overall experience of visiting the park?
MD: I think one of our strongest attributes is the diversity of what we offer. Our guests can choose from fine dining to more causal environments, historic buildings to newer renovations, a la carte operations to cafeterias to quick service. I appreciate that we try to find a balance of food styles to accommodate all guests, appealing to visitors from around the world, but also focusing on items produced in our own backyard of Wyoming and Montana. I think a guest enjoying the wonders of Yellowstone should also be able to enjoy a quality meal in the middle of nature.
YHS: Can you provide some information about locally sourced ingredients and foods served at Yellowstone? How/why did this come into play and where are most things sourced from?
MD: The idea of using and providing locally produced goods has become something of a culture here at Yellowstone National Park Lodges. The whole idea of nature, sustainability and conservation started with the first National Park, so it only makes sense to continue and enhance that practice. We try to source as many products as we are able locally, and work with growers, ranchers, and distribution companies that have the same practices in mind. Many of the local producers are small, family ranches or farms, who can't necessarily provide the volume we need for a full season, so we'll find niches or specific menu offerings to showcase their products. (A specific example is the shepherd's pie at Roosevelt Lodge, using beef grown within 40 miles of the kitchen, and only used for that one menu item. We don't expect the Northern Range folks to provide us tons of product, but a few hundred pounds will make an excellent offering on our menu, and they get the support to continue working their ranch.)
We're trying to work with even more local producers in Montana and Wyoming, supporting them where we are able, and finding excellent products to offer our guests.
YHS: For a first-time visitor to Yellowstone – where would you recommend they eat?
MD: I would always recommend three favorite places, for different reasons:
Since I started my career here in Yellowstone, I'll always have a soft spot for the Old Faithful Inn. The rustic and natural appearance of the dining room (and rest of the building) is also somewhat glamourous in its own way. The menu at the Inn tries to showcase several locally-produced products; the braised Montana family ranches meatballs have become a popular item.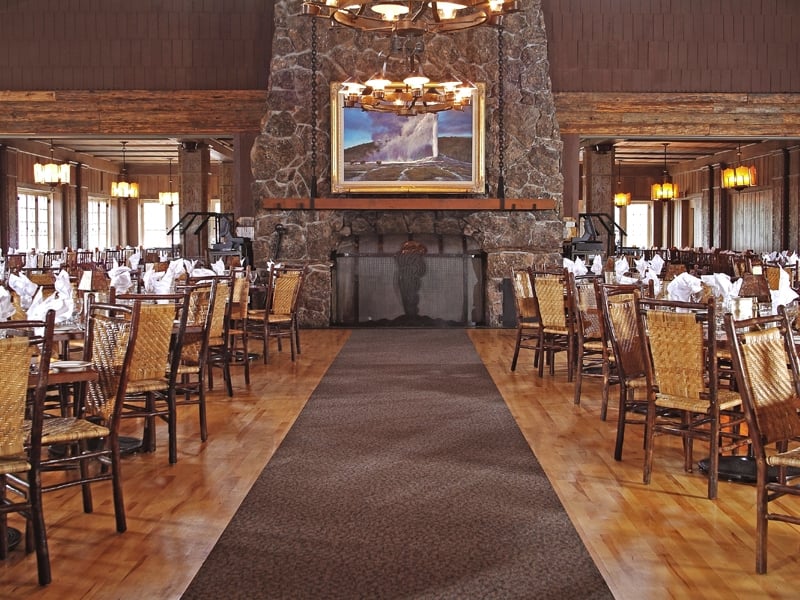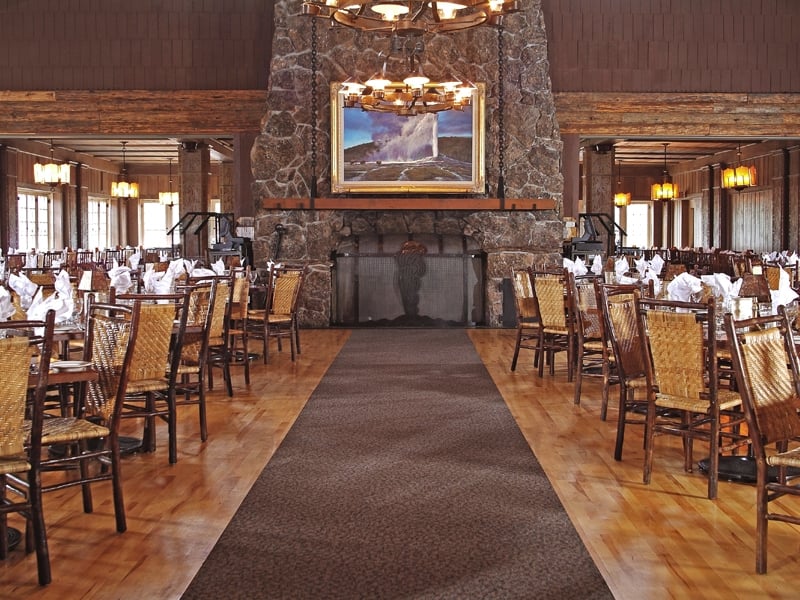 Roosevelt Lodge is always a great place to spend some time, and to enjoy a meal. More rustic and western in selection and service, the menu features applewood smoked pork ribs, house-made pork carnitas, a terrific shepherd's pie made with northern range grassfed beef (from just a few miles north of Yellowstone), and a hickory-smoked half chicken, prepared in our kitchen. Top the meal off with a slice of our mud pie!
Lake Yellowstone Hotel has always been one of our flagship operations in Yellowstone, and showcases glamour and elegance on the shore of Lake Yellowstone. The menu there features a grilled bison tenderloin filet with a crimini mushroom and sage demi-glace; this summer we'll also be featuring a locally-produced (Cody, WY) New York strip steak that promises to be a wonderful cut of beef.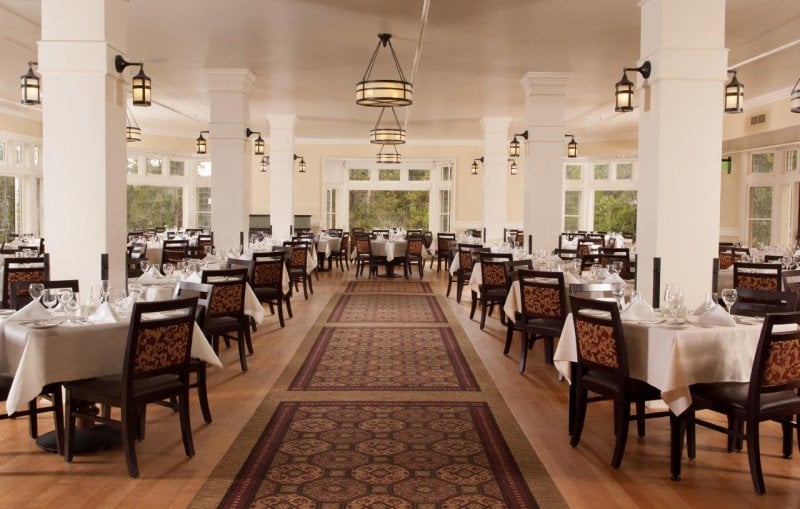 YHS: What do you love most about Yellowstone National Park? (Not necessarily food-related!)
MD: I love the park environment, the fact that I've been able to live and work here for over three decades, having a hand in meals served to millions of people from around the world. I met my wife here in Yellowstone, and both of my daughters were born here (Bozeman and Livingston, MT) and have grown up in this amazing place. The fact that I live here, while all of our visitors have Yellowstone as a "bucket list" destination, has always been a source of pride and wonder for me.
YHS: What's one signature dish that you love to prepare? (Bonus if you could include a recipe that our readers could replicate at home!)
MD: As much as I enjoy many of the local fish and game meals that we prepare, one of my favorites will always be the Tuscan chicken linguine, served at our Grant Village Restaurant. A fairly simple dish of linguine, topped with sliced, grilled chicken breast, is finished with a terrific Italian sausage and fennel cream sauce. The richness and depth of flavors in the sauce have made it one of my favorites for years!
Recipe: Sausage and Fennel Sauce

Yield: 6-8 servings

Prep time: 1 hour

Cook time: 1 hour

Ingredients:

1 pound Italian sausage

5 ounces diced onion

5 ounces diced green peppers

1 ½ teaspoons dried oregano

½ teaspoon dried thyme

½ teaspoon red pepper flakes

4 ounces white wine

4 ounces water

2 teaspoons fennel seeds

¼ cup chopped cilantro

2 teaspoons minced garlic

Pinch of salt and pepper

1 pint heavy cream

1 ½ tablespoons cornstarch

Method:

Brown sausage in a pan, using a spatula to break up the large chunks. When all color has been cooked out, add onions, peppers, and spices, and sauté until vegetables are translucent. Add wine and continue cooking, stirring often until liquid has been reduced by half, about 20-30 minutes.

Add water and remaining spices to mixture, bring to a simmer, and cook covered for about 30 minutes to allow flavors to blend.

Combine cream and cornstarch to form a slurry. Add this to the sausage mixture, stirring to incorporate very well. Allow to cook until the cream begins thickening and forms a smooth sauce with the sausage and vegetables. Adjust seasonings with salt and pepper, then hold hot for service, or rapid chill for future use.
For more travel experiences to Beautiful Places on Earth™ available from Xanterra Travel Collection and its affiliated properties, visit xanterra.com/explore.

Want to experience Yellowstone in-depth? See what makes Yellowstone National Park a great place to work for a season or longer!
---