Staff Spotlight: Gianna Speare
In winter, working in Yellowstone is regarded as a remote, more isolated experience, even for Mammoth Hot Springs staff who can easily drive to town. This solitude is what many of us love most about winter. Then there is the Madison Warming Hut, an outpost of civilization conveniently nestled along the West Yellowstone to Old Faithful corridor. There is no employee dining room, pub, or rec office for the one Xanterra employee who calls it home for the winter season.  Signing up for an epic Yellowstone winter, Gianna Speare, a long-time retail employee, has fully embraced her role at the hut.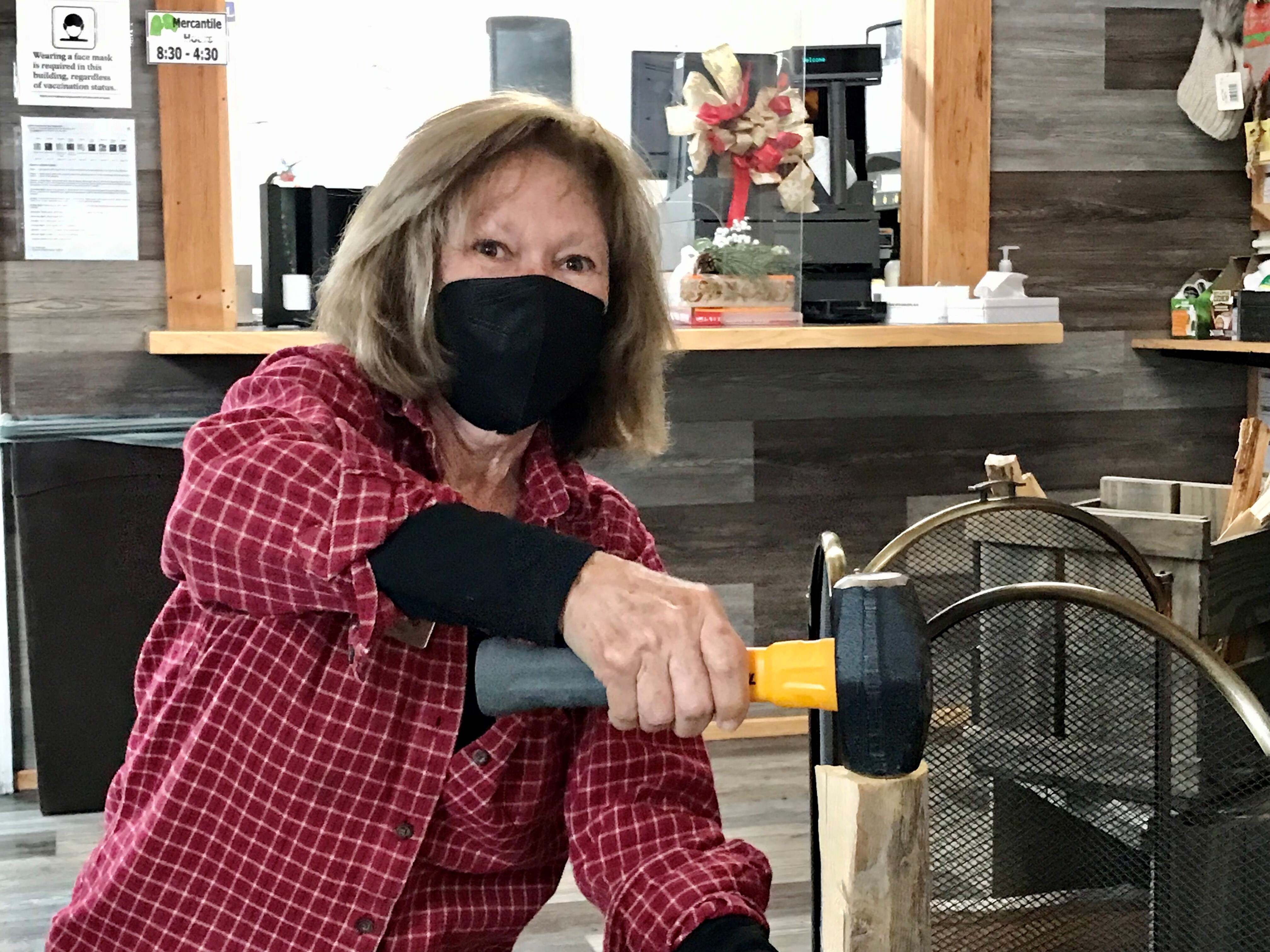 Born in Stockton, California, Gianna has lived all over the US, calling Maui, Hawaii, home for most of her adult life. The Yellowstone seed was planted when she visited the park with her son. An employee Gianna will never forget at the Delaware North store suggested she work here (a reminder that everyone can be a recruiter!). Like so many, she came to Yellowstone thinking she would travel to other parks but returned year after year.
Gianna has worked all around the park in the Retail Department since 2010. This is her first season at the Madison Warming Hut. As the attendant, her job and "privilege" is to welcome everyone into the warming hut. Whether it is guests coming in and out of the park on snowmobiles or coaches or tour guides and drivers, all are greeted with a smile (behind her mask), a hot fire, and a warm beverage. The hut is a refuge from the cold before they continue their journey. After working at different locations across Yellowstone (winters in the Mammoth and Old Faithful, and now Madison), Gianna feels she scored one of the best locations and positions in the park.
Her season even kicked off with an unexpected adventure! On her first night, Gianna locked herself out of her apartment, which is about a mile from the warming hut. With phones not working, she sent an email SOS. Gianna ultimately decided she'd be sleeping in the hut and made a bed out of a blanket and a pile of cardboard, then found a can of chili and went to sleep. About 10 pm, she heard the door rattling and ran out to find an NPS ranger. After receiving her email, her colleague Joe Lekan called the Comm Center, and Gianna was rescued!
Besides the social aspect of the job, she gets plenty of exercise walking to and from work, shoveling snow, navigating bison, and chopping wood for the fire. When she first arrived, Gianna received an ax that looked like it belonged to Paul Bunyon along with a log splitter. She loves showing off and demonstrating to the guests who have never seen one before. 🙂
Gianna likes to embrace relaxation on her days off – sleep in, cook, eat, read, take a nature walk, and eat again. She is a birder so sighting a bird is always a special experience. She has had the opportunity to see a lot of swans and bald eagles (along with her two ravens that come to visit daily).
Gianna poignantly shared, "On our journeys, it is not all about getting there. The history, the beauty, the wildlife, and the people we meet on our way are all part of the experience. The Madison Warming Hut gives us a moment in time to come together with each other and share our experiences and expectations. I have loved this journey and adventure and do not want it to end, but if it doesn't end, then how does another begin? This is by far my favorite winter memory."
---