The Hands that Recycle
Recyclers in Yellowstone
Ever wonder whose hands your recycling goes in after you toss it in that bin? Well in Yellowstone, our lodges have a staff throughout the park who collects the items. These stellar employees go around emptying the TONS and TONS of recycling from the lodges, food outlets, and dorms every day. We interviewed three of these recyclers: Bill, Tyler, and Patrick. They work in Old Faithful, a place which accrues a whole lotta recycling. Take a moment to read their stories, and perhaps you'll be inspired to follow in their footsteps.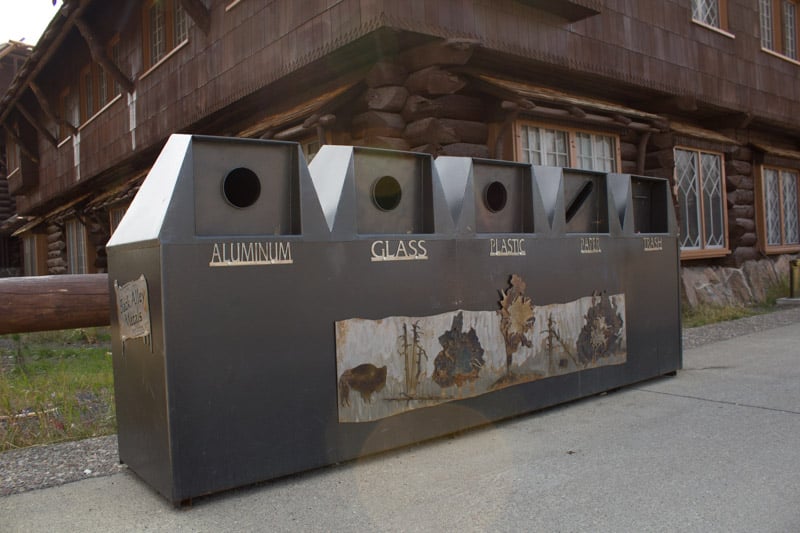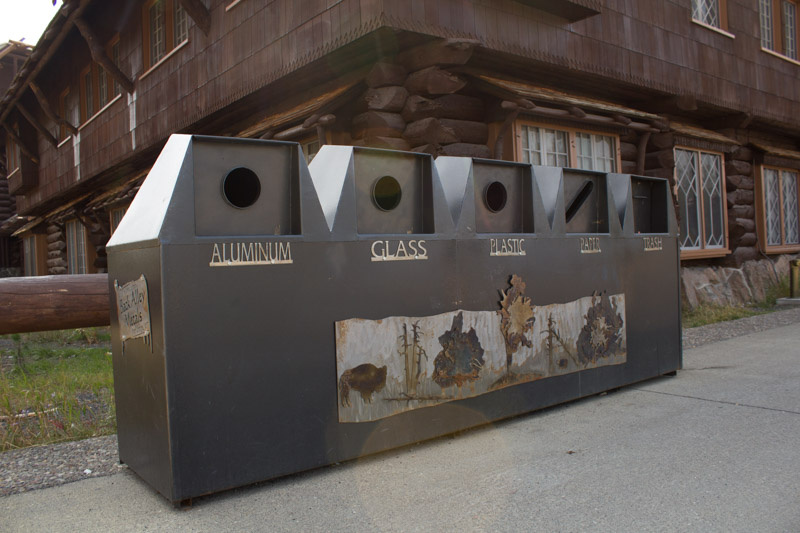 Life In Front of the Computer: Patrick
How many hours do you sit in front of a computer? For Patrick, it was too many. "I would be at work all day and didn't enjoy myself. I would go home unhappy." Patrick loved the idea of a seasonal position: the variety, the change, the simplicity. He could work one job for 6 months, then decide to return to the same job, work a different job, or change locations. He applied to work in Yellowstone as a seasonal recycler.
"At first when I got here, no one was in the park. I was able to walk around the geyser basin and really see the park. It's just you and your other staff members. Slowly it starts to come alive. You see and experience the things that make it special."
Soon enough the visitors started to show up and Tyler found out that where there are people, there is trash. But where there is trash, most of it can be re-used. Patrick sees the change in people every day. While he says there is still a lot of waste and laziness, all it takes it letting a person know there is a better way by recycling that plastic bottle or cardboard. You start to see the change, there are a lot of employees who care about it, always asking questions. Everyone wants to know how they can do their job better. Patrick says "It's an important thing for the park, it's an important thing for the planet."
"It's definitely different- in the best way. It's not necessarily a step up in pay, but it's a step up in enjoying life."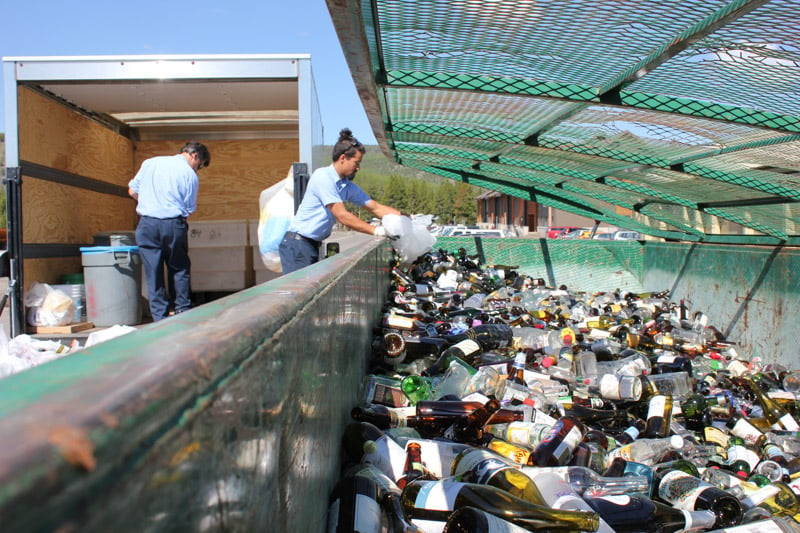 It's Never Too Late for a Change: Bill
Bill had been in the same job for 40 years with a family wholesale produce business outside of DC. "The money was good, but I was never happy during the work. We sold the business and I got out of the business. And then at the same time, I was getting divorced. So I asked myself – Okay now what do I do?"
He always enjoyed visiting Yellowstone and wanted to be back out West. "I decided I had to do something." So he started looking at positions in Yellowstone and happened upon the recycler position. "When I first got here I was wondering if I had done the right thing. As the weeks went by, it just kept getting better". Last week, Bill took a hike on his own up Purple Mountain. Once he reached the summit, he was the only one up there. At that moment he stood in awe of this beautiful place. "Everywhere you go, it's something new. I remember having that experience in New York City. You go around the next corner and it's like 'Aha'. That's what I get here. It's always these aha moments."
The recycling work he has been doing has been incredibly rewarding. By helping to soften the footprint of visitors through recycling, he's helping ensure the preservation of Yellowstone and pass this place on to future generations. "This is one of the most cooperative places I have worked. Everyone wants to help. It's been a really pleasant experience….The great thing about this place is there are people from everywhere. And everyone has a different background. In DC, everyone is the same: cookie cutter. Out here, you never know who you'll meet." He also found there is very little pressure here in comparison to his old life. "I do the job, do it well. And after 40 years of high pressure, I found that to be very nice."
In the end it's shown Bill the possibilities ahead. "It's opened up all these options for me: different jobs, different parks, meeting different people."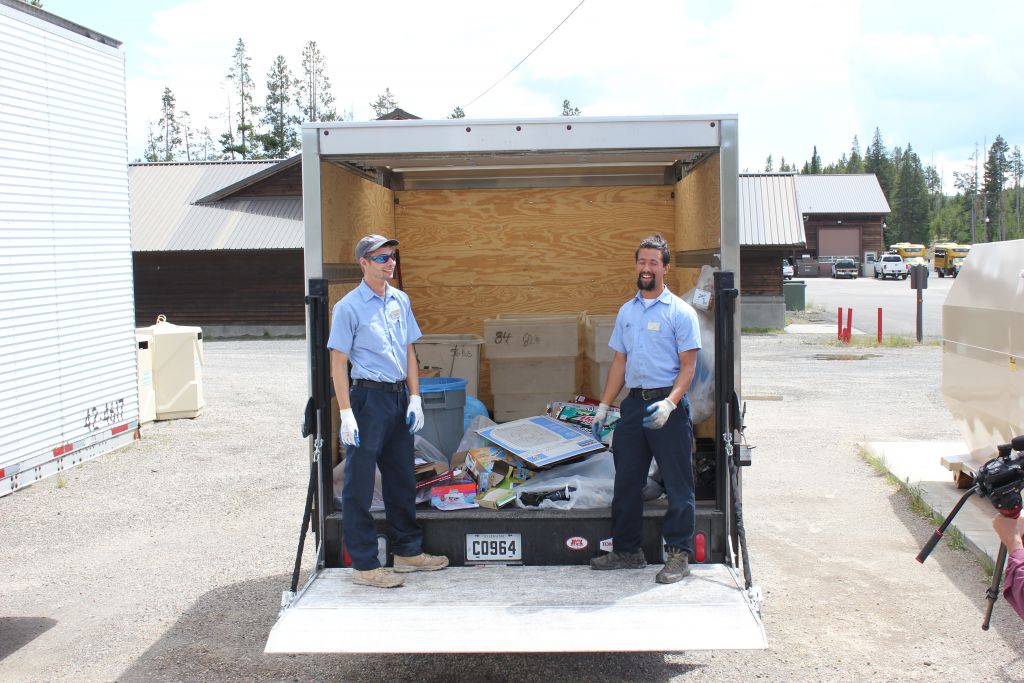 New Friends, New Adventures: Tyler
A year ago, Tyler, was sitting at his desk in Detroit, Michigan where he was a loan manager at Quicken loans thinking "Is this going to be my life until I am 60?" Longing for a new adventure, he had a friend who worked seasonally in a national park and raved about it. So he applied to Yellowstone, got hired, and a week later was packing his bags to work a job where he makes a little bit less than he would be making as a mortgage banker. But it sounded amazing.
After working recycling for a week, he found out how much was coming through and how much we could re-use. At the end of the day, he feels proud knowing his work is helping the environment and making sure Yellowstone as sustainable as possible.
As a social butterfly, he says the social life is great. You get to know people from all over the world: hiking, hanging out, living together. On his time off he goes hiking, backpacking, and seeking new adventures with his new friends. "The friends I've made here will be lifelong friends."
Tyler's advice for those who are interested in working in Yellowstone: Do it. If for some reason it's not for you, you can always go back to your life in Detroit, Michigan. But for most he says "It will change your life. It's changed mine forever, and I've only been here for three months. I've gained so much out of it."
Join Our Team
---