Women of Engineering
Traditionally, women make up around 10-15% of the facilities/engineering field. Here, a little over 60% of the Mammoth Engineering Office are women. While all of us who get to work and live in Yellowstone are woven into the fabric of Yellowstone's story, March is the month to shine the light on these five sassy women who help shape, improve, and elevate our facility operations through the park.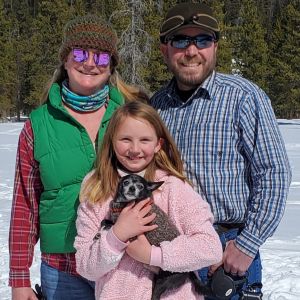 Greetings from the Engineering Office!
My name is Sara Taylor. I have held the Facilities Maintenance Process Manager position within the Engineering Office for a little over a year. During the past year, I have had the opportunity to draft the opening and closing procedures for all park locations, assist in the development of multiple Standard Operating Procedures for the parkwide crews, aid in the composition of crucial asset management processes, and develop and maintain our park-wide asbestos and lead-containing materials reports and documentation.  Most recently, I have the essential role of maintaining the Summer 2021 Opening Schedule, which supports Location Maintenance Managers, Parkwide Trades, Parkwide Crews, and our Operations Team in defining opening priorities to adapt to ever-changing conditions and deadlines.
Before working in the Engineering Office, I worked for a year as the Special Reservations Coordinator in the Reservations Office. Before coming to Xanterra, I may have scooped your ice cream, blended or frothed your latté, or assisted you with a purchase at the Yellowstone Perk and Gardiner Pharmacy.  Our family moved to Yellowstone in April 2018 when my husband accepted a position with NPS as a Mobile Heavy Equipment Mechanic.
Some of the fun job titles I have had in the past include Horseback Guide in the Sequoias, Forest Firefighter in the Sequoia/Kings Canyon, Police K-9 and Protection Canine Trainer, Pet Store Manager, Animal Control Officer, and Bar Owner.
In my many working experiences in predominately male industries and environments, I have never felt oppressed or any less valued or respected by my male counterparts. In my opinion, it's a much livelier, expressive atmosphere working with my male colleagues.
My interests outside of work are primarily family-focused – my favorite "job title" will forever be "Mom."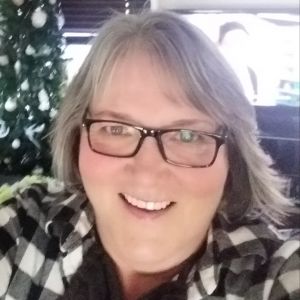 Hello! I'm Denise Pope – Engineering Office Manager, R&M Inventory Manager, the master of all things Maximo.  I began my call of duty in Engineering as an Administrative Assistant and the position has steadily "morphed" over the past few years.  I see my most important responsibility as providing cohesive, positive support in the day in and day out operation of the Engineering Office and all maintenance departments throughout the park.
I am embarking on my 13th year in Yellowstone.  I woke up one morning with the realization that my children were grown and I would be able to fulfill a lifelong dream of moving to Montana.  I started searching for jobs in Montana and ynpjobs popped up.  How perfect!  I could have a job and a place to live to start my new life out west. I have never looked back!  The mountains called, I went, and I stayed!
I got my start seasonally in the Gardiner laundry as an office assistant and receiver (unloading linen from trucks at 4 am, followed by working in the laundry office).  Then, I took a full-time position as the Uniform Room Manager, followed by the Laundry Operations position the next year.  There were also a couple of other shorter stints in HR, Retail, and GAO before finding a home in the Engineering department.  For years, I felt like laundry was my most challenging position (running production with seasonal employees is quite the feat!) AND the most successful position.  I apparently find myself drawn to challenging positions as Engineering has proven to fit the bill!
I have always felt the Engineering Office is very inclusive and I have always been made to feel like a valuable part of the team.  I've made some great friends throughout all the maintenance departments!
Camping and gardening are simple pleasures that fill my off time.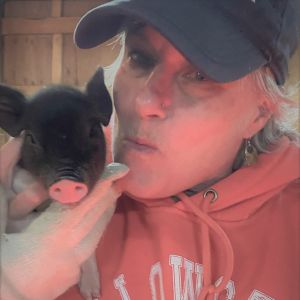 I'm Kirstin Abersold!  I have been here at Yellowstone for three years, working as an Administrative Assistant, creating contracts, paying bills, coordinating line locates, and supporting Engineering, ParkWide Trades, and our NPS Concessions partners.  I got my kids raised and decided it was time to live and work in a beautiful place.
Previously, I spent 17 years in healthcare, primarily as a patient financial advocate. It was challenging and rewarding.  Just before I moved here, I ran packages for UPS during the holidays – exhausting, but we got great treats!  Since moving to Montana, I've learned to love pigs and have gotten a taste of farm/ranch life. I love being outside and being out on the river. I have made some amazing friends. During the summer months, there is a good chance you will find me at the Old Saloon community center dancing, hanging out with friends, and enjoying the view.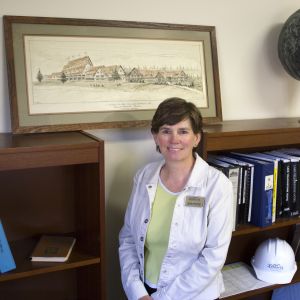 Meet Addie Wickam – the person who has the most longevity on the team and can share a little bit of history with us!
As a Construction Project Manager, I provide leadership & support for any construction project assigned to me.  It could be as simple as a water line replacement or as complicated as the Canyon Area Lodging Redevelopment project.  With all my past history in Yellowstone, I am also currently working with the NPS Heritage Center reviewing & archiving all of our old blueprints.  These get scanned & put into the NPS collections for all to access.
I started working in the park, seasonally, in 1976.  At that time, you were allowed to be 16 and work, IF you lived at home (which you still can!).  I rode the school bus up & down the hill from Gardiner and then worked weekends as the "Head Housekeeper."  Since I was born in Mammoth, at the old hospital that was torn down in the early 1960s, working for the Concessioner, NPS, or other companies were all options.  My Aunt Adeline, who worked for the company for 44 years, suggested Yellowstone Park Company & I jumped at the opportunity.  Needless to say, I am going on my 45th year.
I quickly moved over to Reservations, part of the team that took us from a totally "paper" system to a computer system.  Yes, the switchboard had all the old-fashioned wires, etc. & yes, I knew how to run it.  My most interesting job was when I was the Transportation dispatcher in our office in Jackson Hole.  Training bus drivers on how to safely maneuver Teton Pass in the winter was quite a challenge.  When I transferred to Engineering in 1989, I knew nothing about the trades.  The Director of Engineering took the time to educate me on all aspects of construction by using his old Texas A&M college textbooks.  He would say, "you are going to learn all about concrete, asphalt, electrical, plumbing, masonry & then there will be tests."  It was like a college education while working in the field every day.  I have had only good experiences with contractors, architects, and engineers.  They all seem so willing to share their knowledge, and of course, they LOVE to work in Yellowstone.
For years I had an outfitting business in Jackson Hole where we took summer horse-pack trips and then hunting in the fall. I've never been without a horse until recently when our last horse died of old age. My husband Phil & I have traded in the horses for a 5th wheel to see way more of the US. We also enjoy spending time with our two children and twin grandchildren!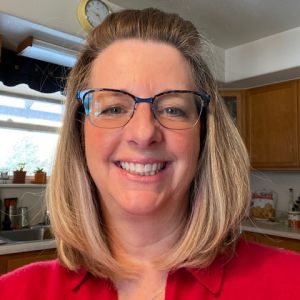 Welcome to our newest member of the Engineering Department – Kelly Vroman! We'll give her the proper introduction she deserves as she embarks on her new adventure! Kelly recently started as the Facilities Maintenance Operations Manager – "FMOM" for short. She'll be working with the parkwide trades staff, ensuring engineering efficiency and competency around the park. Kelly is no stranger to the park as she started at Bridge Bay Marina in 1991. She came out with some college friends and the rest is history.
Over the past 30 years, Kelly has served two companies – TW Recreational Services and AmeriGas Propane. And now Xanterra (the predecessor to TW).
Kelly's park highlights include working at the snowmobile hut in the early 90's – the least stressful and the most fun job she has have ever had, not to mention she met her future husband while working there.  Her most challenging gig was while at AmeriGas, having to learn a whole new industry.
No stranger to working in a male-dominated field, Kelly has found it to be most interesting. The people she has worked with have always been supportive and helped her learn along the way.
When Kelly is not nose to the grindstone, you might find her knitting or crocheting, playing with her dogs, off on a bike ride/running/walking, or hanging out with friends. She also has a motorcycle and likes to ride on sunny, warm days.
Kelly is in the first weeks of a new job and shares that she looks forward to meeting everyone, learning her new position, and working in the Park again!
---
Engineering is just one of the many departments that we hire for. Regardless of what you do in the park, a job in Yellowstone is a great way to make memories-for a season or for a lifetime. Interesting in learning more about working here? Visit our website to find out all the details.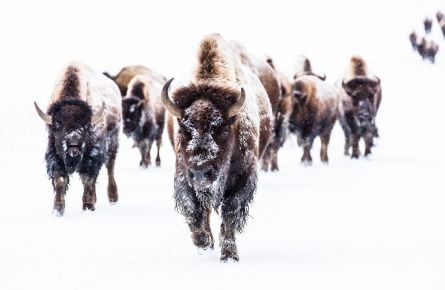 Couples Winter Package
Enjoy a 5-night guided park exploration that includes time at many of the renowned natural features in Yellowstone, including the awesome Grand Canyon of the Yellowstone, wildlife-rich Lamar Valley, and impressive Old Faithful Geyser.
Read More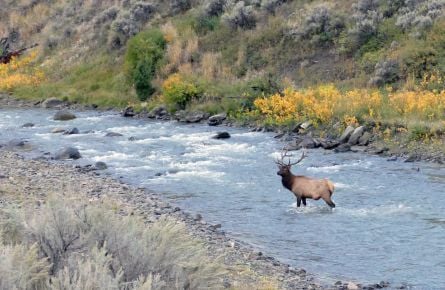 Autumn Adventures Package
Experience the splendor of fall in Yellowstone.
Read More
---