Yellowstone's 150th: A Time for Reflection, Commemoration, and Stewardship
Celebrating Yellowstone's 150th!
A virtual media event held last month, with over 50 members of the press in attendance, provided reflections, insights, and visions of the future; a perfect kick-off to Yellowstone's 150th.  Setting the tone for Yellowstone's major milestone, were inspiring messages from Park Superintendent Cameron Sholly (pictured left), Xanterra's Director of Marketing and Sales, Rick Hoeninghausen (pictured right), and the Director of Project Indigenous, Scott Frazier (pictured center). Along with a spotlight on the numerous Tribal Nations associated with Yellowstone,  both the National Park Service and Xanterra shined their lights on sustainability initiatives, infrastructure projects, and visitation impacts/public education.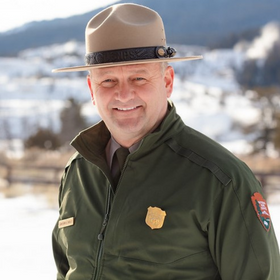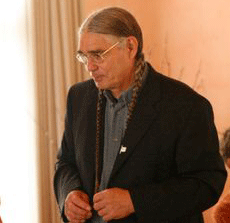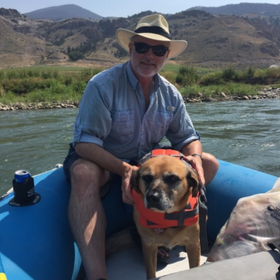 Below you'll find snippets of the discussion peppered with some of their most poignant quotes.  You'll also get a glimpse into what's in store this summer season.
Superintendent Cameron Sholley opened the media event and shared,
"It's an important point in time to really have some discussions about this anniversary, and the importance, not only to America but to the world. It's a time for us to reflect on the lessons of the past and at the same time, really focus on the future and how we can work together to protect and strengthen Yellowstone for the next 150 years.  Think, as we get going here, it's important that you know that this isn't just about the last century and a half.  We also want to use this anniversary, to do a better job of fully recognizing many American Indian nations that lived in this area for thousands of years prior to Yellowstone becoming a park."
He also beautifully recognized the park's less glamorous history (e.g. predator extirpation) and the evolution to more holistic stewardship over the past 50 to 60 years:
"In 2022 I'm happy to report that Yellowstone's ecosystem now as a whole is actually healthier than it has been since before Yellowstone became a park."
Rick H. segued into the connection between inspiration and art,  weaving in the opportunity Yellowstone's winter season provides to experience the park in a special way.
"For me, Yellowstone is a place of tremendous inspiration that's contributed to the spiritual being; inspiration that's led to America's best idea, inspiration that's contributed to science, art music, literature and so much more. And for some of us, inspiration that's led to life stories."
Rick also took a moment to reflect on the importance of our tribal partners, Xanterra's sustainability commitments, the uniqueness of a national park vacation (free from distractions and technology), and the need to focus on communicating responsible visitation.
Scott Frazier, in true storytelling fashion, recalled his visits as a child with his dad, the healing powers of Yellowstone, the importance of bison, and what Yellowstone has meant to him. His father, a World War II veteran would come to Yellowstone and fish and find tranquility:
"We would come in to fish and you could just see him (dad) become more settled and become more of a human being, and it was wonderful to see. People are drawn to this place because it's a sacred place – it speaks to the people's heart and to their soul."
Park Stewardship and the Future:
All three speakers closed with their own unique calls to action around visitor responsibility and stewardship of the park:
Cameron: "We've come a long way together, but we also have a very, very long way to go, we're looking forward to continuing our progress to protect this incredible part for the future.  And we will definitely need everyone's help to do just that."
Rick: "What I hope the takeaway is today is that we don't really need to focus on generating more visitation.  It probably makes sense for us to spend a lot of that time, focusing on things like communicating and reinforcing responsibility when visiting.  Yellowstone needs more advocates and definitely needs more stewards."
Scott: "This is a celebration of nature and a great idea that happened 150 years ago that went around the world. Hats off to the environmental movement at that time, and I believe we are going to be in one again if we're not careful.  In conclusion, if you to come to Yellowstone, be quiet, relax, and slow down."
Yellowstone's 150th in the press:
The initial media event has resulted in a number of press articles and conversations that will continue throughout the year both in the park and throughout the world.  The Boston Globe, ABC, and the Weather Channel will be here in the park as soon as mid-February.  Below are a few of the recent news releases – look for more stories throughout the summer.
Upcoming Events:
Along with logo'd swag and the opportunity to be part of this historic year, there is so much more to look forward to. Between the National Park Service and Yellowstone National Park Lodges, some events to look out for beginning in spring through the summer will include (COVID permitting):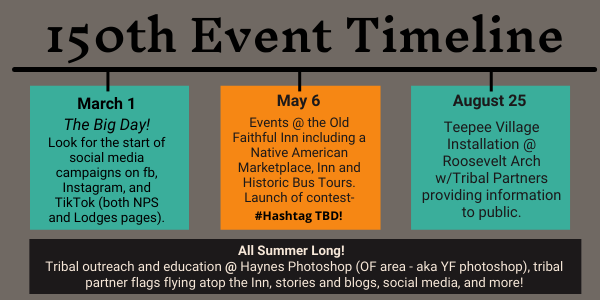 More to come on the contest. Details will be sent to your inbox this spring! All are welcome to participate and share their memories and love letters to Yellowstone.
Let's use this moment in time to reflect on the past and think about how we, individually, can contribute to the future of Yellowstone – become better stewards ourselves and find opportunities to influence others to connect to the magic of Yellowstone. The hundreds of thousands of visitors, that cross our paths are all opportunities to ensure the future of the park and its safekeeping.
In the meantime, keep your eyes out for more stories throughout the summer highlighting the park's history, tribal partnerships, sustainability efforts, enhancement projects, and visitor education. Social media campaigns will abound as well. Visit NPS, YNPL, and WYOT to be part of the story.
---