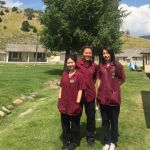 Taiwan, just east of China, is known for modern cities, traditional Chinese temples, hot springs resorts, and dramatic mountainous terrain. Sounds a little like Yellowstone right? Taiwan, formerly Formosa, is officially the Republic of China, a state in East Asia. Taipei is its capital city and Mandarin its official language. Peggy, KiKi, and Ivy have traveled over seven thousand miles from home to live, work, and explore in Yellowstone.  Having just graduated from college, their focus of studies was the Japanese language, real estate, and business administration respectively. We visited with them recently to learn more about Taiwan, their experience in Yellowstone, and how they were settling in.
If there was anything you'd want your fellow staff to know about your country, what would it be?
The food in Taiwan is nice! It is a small country but has a lot of beautiful scenery that would compare to America and the people are friendly. Work is different in Taiwan too. People work efficiently and productivity is emphasized in Taiwan. The attitude is different. We don't take breaks like we have here in America. Just one in the middle of the day.
What brought you to the United States and what factors influenced your decision to come to Yellowstone specifically? 
For Kiki, working in a national park was her first choice. Yellowstone is so famous and we've seen programs on television. Peggy loves animals and Ivy also wanted to be close to nature and try something new that could not be experienced in Taiwan.
Can you speak to any big adjustments you have had to make since coming to YNP? 
All of them screamed, "The weather!" The fluctuation in temperature (cold to hot then cold) was a new experience for them. Taiwan has a more constant temperature (its climate described as marine tropical). There is also less outside recreation in their home country.
What have you missed the most about your home country, if anything?
Food and family was the immediate response! Stinky tofu, bubble milk tea, and beef noodles are their favorites. A dish that is difficult to translate in English but consists of oysters, animal blood, noodles and a special sauce) is a treasured specialty dish.
Can you share some of the highlights of your summer so far? 
Kiki enjoyed hitting the trail and hiking 12 miles and the beautiful views. Ivy took advantage of living so close to the Boiling River and soaked in the surroundings – literally and figuratively! Peggy has only been here a few weeks but has been happy getting in some wildlife watching and seeing the iconic bison.
Any plans post Yellowstone?
Ivy will be heading back to Taiwan via NYC while KiKi will depart from LA. Peggy hopes to spend some time on the east and west coast before heading home. All of them still get to enjoy a few more months in Yellowstone before then!