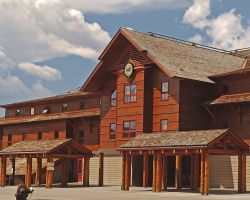 Summer 2019 Operating Dates: April 26 til October 20, 2019
Winter 2018-19 Operating Dates:  December 16, 2018 til March 3, 2019
Completed in 1999, the Snow Lodge is the newest of the park's full service hotels, and has been recognized with the Cody Award for Western Design and Travel and Leisure's Inn of the Month. The heavy timber construction, exterior log columns and cedar shingle roof were part of the design that is destined to make the Snow Lodge a significant example of classic "parkitecture." The Snow Lodge also features a full-service dining room, quick service "Geyser Grill" and the charming Bear Den Gift Store.
Only Western Cabins and Premium Lodge Rooms are available for groups to book.