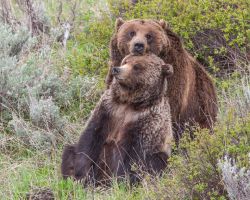 My inspirations…
The strength and vitality of Yellowstone's wild character is unique and valuable. It gives hope to everyone who experiences its beauty. The natural infinitely changing wonders captivated me as a little kid on family vacations and inspired me to move here in 1978. I am more intrigued and drawn to this place every passing year.
I hope to open people's senses through my work and help them to recognize the beauty and value of clean healthy landscapes and dynamic wildlife stories.
I want people to experience the same sense of humility and wonder in the presence of life and vitality that I had while making my photographs. By recognizing the value of Yellowstone, I hope my photographs encourage others to tell their own stories, help inspire reverence, and encourage them to help to preserve the place.