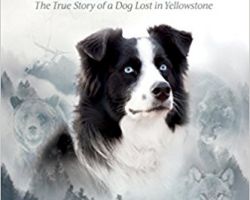 My stories…
Disenchanted with their software careers, Michelle and her husband sold everything and bought a 1906 Dutch barge, Imagine. After ten successful years chartering as Barge and Breakfast, she wrote a travel memoir and true story Just Imagine: A New Life on an Old Boat.
She's the author of a three-novel Dairyland Series. Sconnie was a finalist in the RWA SWFL Joyce Henderson contest.
Recently, she was asked by her friends, Laura Gillice and David Sowers, to write the story of their experience of losing their dog in Yellowstone.
Bring Jade Home is the true story of a young Australian shepherd, Jade, lost in Yellowstone National Park for 44 days. Yellowstone's pristine wilderness and wildlife were at the heart of the story; how would a domesticated dog adapt to the wild and survive, and how would the creatures around her react?
Yellowstone's beauty and danger is the backdrop against which a frantic search ensued, with people working against the clock to bring Jade in before winter.
Bring Jade Home's happy conclusion is a result of the dedication of her family, hundreds of park employees, neighbors, and visitors. It demonstrates what was achieved by the generosity of spirit when a common cause brought out the best in people.