The Roads Through Wonderland: A Yellowstone Driving Vacation
Driving Vacation
Yellowstone, one of the country's most car-friendly national parks, is open. Now is a perfect time for a driving vacation in America's first national park.
Most of Yellowstone's biggest attractions can be seen from one of the two loop roads in the park. The Lower Loop is 96 miles and the Upper Loop is 142, although the entire eastern half of the Upper Loop, between Canyon Village and Tower Junction, is closed until April 2022 for construction. This definitely changes how you drive around the park as the Upper Loop Road is currently not a loop.
Still, here are five drives where you can still see Yellowstone's greatest hits.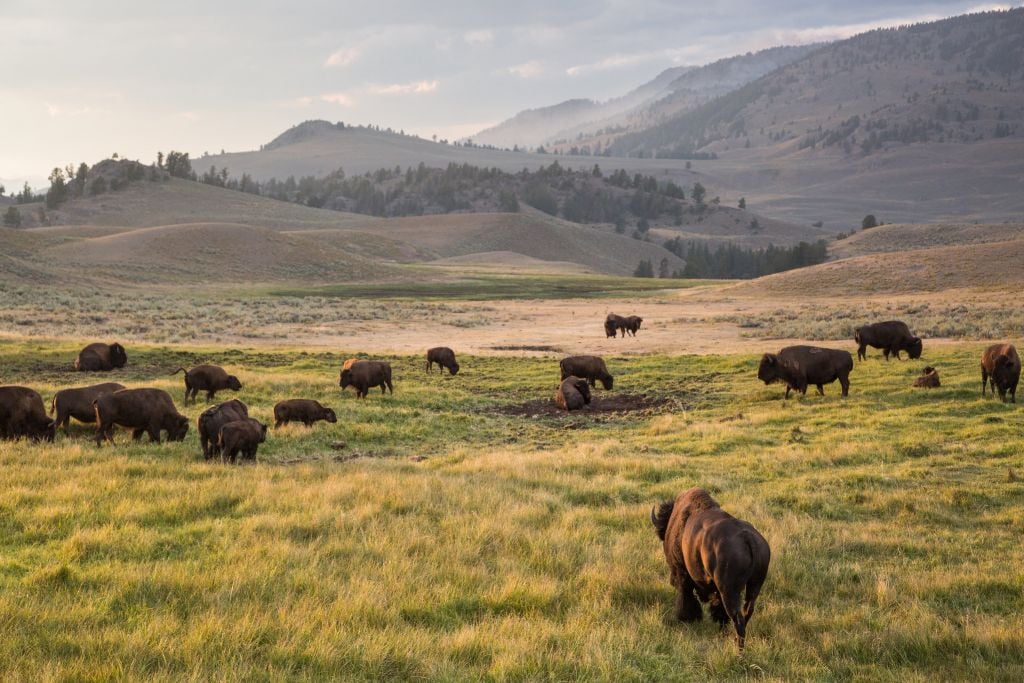 Drive 1: Northeast Entrance to Mammoth, 48 miles
This stretch of road is all about Lamar Valley, which, with Hayden Valley, has the park's top wildlife watching opportunities. In fact, Lamar is one of the best places in the world to spot a wolf in the wild. As wide and expansive as this valley is, though, spotting a wolf takes patience. And luck. Thankfully the Yellowstone wolf-watching community is friendly and welcoming. If you see cars pulled off the side of the road and people glued to spotting scopes, don't be afraid to stop and ask what they're looking at (while maintaining social distance, of course). Be aware that park rules mandate you stay 25 yards away from large mammals like bison, elk, and pronghorn and 100 yards away from wolves and grizzly bears.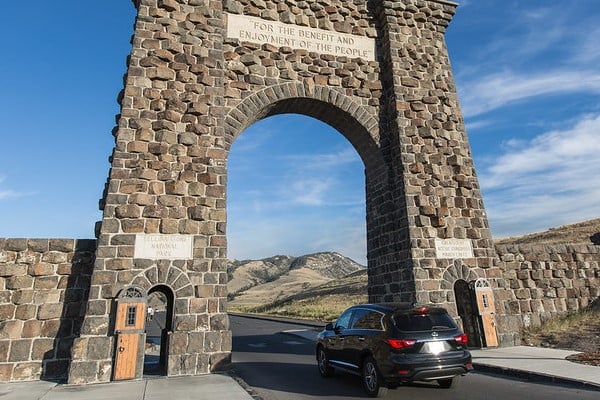 Drive 2: Roosevelt Arch to Norris Geyser Basin, 27 miles
This drive starts at the imposing Roosevelt Arch in Gardiner, Mont. Made from locally quarried basalt, the arch bears the inscription, "For the benefit and enjoyment of the people," which is taken from the 1872 Act that established the park. Beyond a doubt, this is Yellowstone's most dramatic entrance. Driving 5 miles up the road brings you to Mammoth Hot Springs.
Mammoth Terraces are as eerie as they are enthralling: Standing dead trees dot still-growing travertine terraces ranging in color from white to orange, brown, and red. From Mammoth, you'll drive up through Golden Gate Canyon and drop into Swan Lake Flats. From here you might be tempted to make a beeline for Norris Geyser Basin (just north of Madison Junction), but it's worth stopping at Sheepeater and Obsidian cliffs. The former is exposed columns of basalt from a lava flow that happened about 500,000 years ago. The latter is a National Historic Landmark. Prehistoric people first quarried obsidian from this cliff for toolmaking more than 11,000 years ago.
Finally, Norris Geyser Basin is home to the tallest active geyser in the world, Steamboat Geyser. Seeing this geyser erupt is unlikely though. Its eruptions vary erratically–between four days and 50 years apart. Since 2018 it's been pretty active and has had 128 major eruptions (and counting!) But Norris is the hottest, most acidic, most changeable, and most varied thermal area in Yellowstone, and there are boardwalks past fumaroles, hot springs, colorful pools, boiling mud, geysers, and Green Dragon Spring, a sulfur-lined cave filled with emerald-green boiling and steaming water.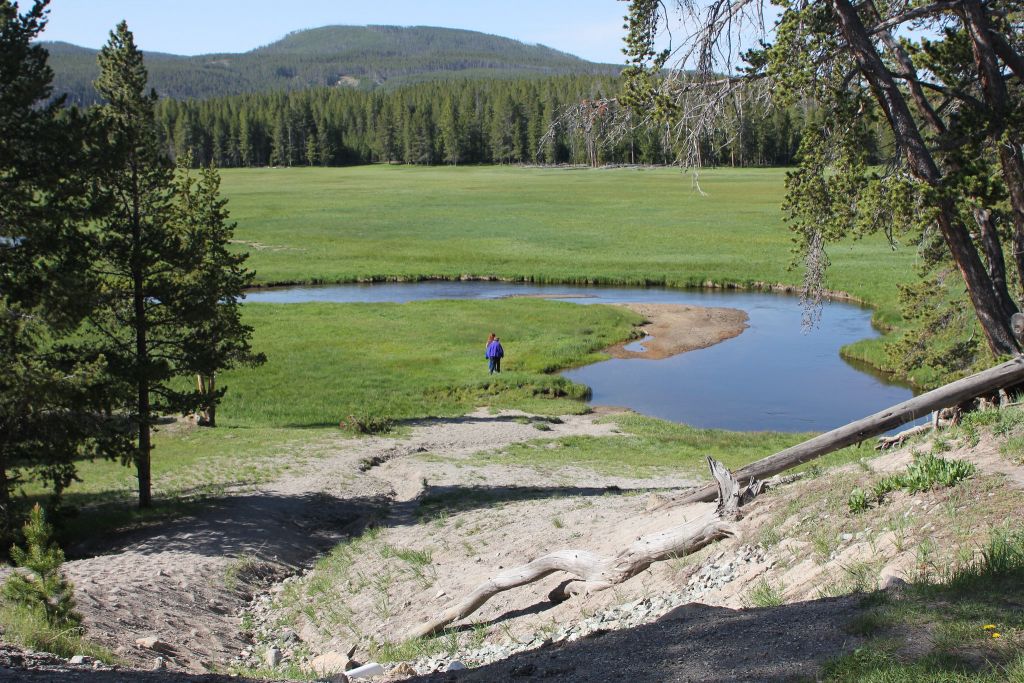 Drive 3: Norris to West Thumb, 47 miles
Rivers and geysers, here we come. Start along the Gibbon River. Where it meets the Firehole River at Madison Junction it forms the Madison River which heads to the park's west entrance at West Yellowstone, Mont. At this point, you'll be paralleling the Firehole River. Maybe you'll see bison or elk — or start dreaming about fly fishing. Here, the Firehole is very A River Runs Through It with golden light catching fresh hatches of bugs flitting above clear water. Leave the Firehole behind as you come to the Lower Geyser Basin, Midway Geyser Basin, and Upper Geyser Basin, in order from north to south. Midway Geyser Basin is home to Grand Prismatic Spring, the third-largest hot spring pool in the world and, thanks to microbial mats that grow in its superheated waters, a literal rainbow of neon colors. The Upper Geyser Basin is home to Old Faithful, Yellowstone's signature feature. Avoid Old Faithful's crowds — each geyser eruption between breakfast and dinner can draw more than 2,000 spectators — by coming early or late instead.
From Old Faithful, climb about 2,000 feet up Craig Pass to Isa Lake and the Continental Divide. Isa Lake is unique as one of the few known lakes in the world that drains to two different oceans, the Atlantic and Pacific. Then descend the far side of Craig Pass to West Thumb, one of the park's major junctions.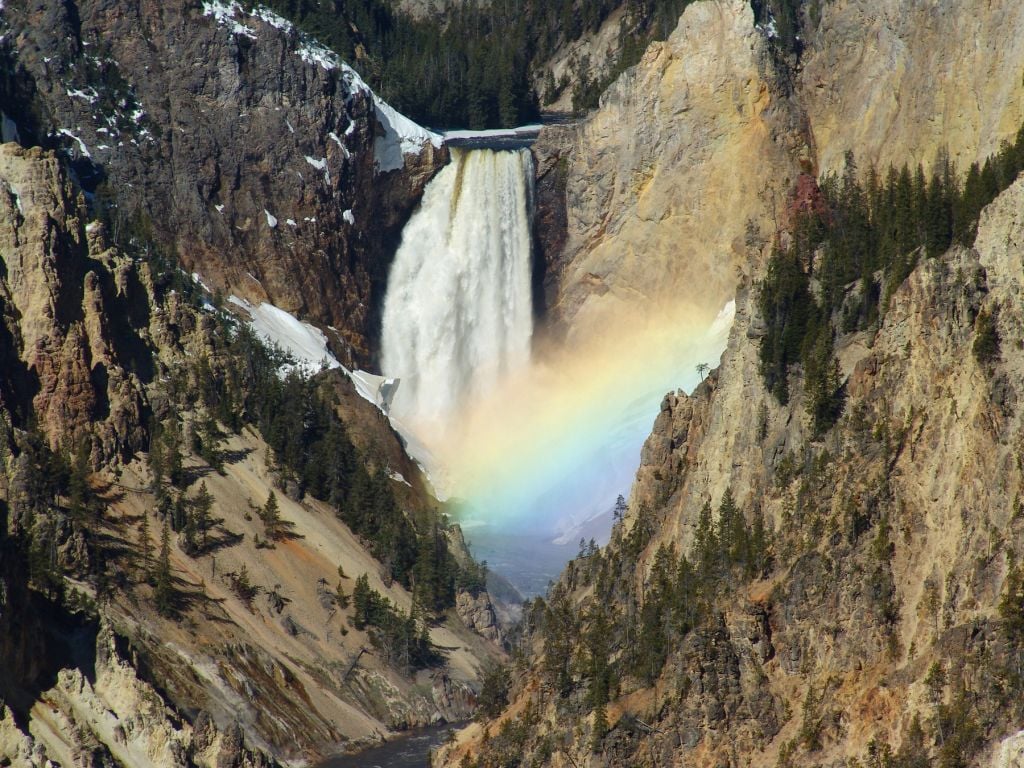 Drive 4: Fishing Bridge to Canyon, 17 miles
Don't think this will be the fastest drive because it is the shortest. These 17 miles include two blockbusters: Hayden Valley and the Grand Canyon of the Yellowstone. Hayden Valley, bisected by the lazy, winding Yellowstone River, is tied with Lamar Valley as the most wildlife-rich spot in the park. Expect to see bison, and maybe also pronghorn, grizzly bears, and wolves. At 20 miles long and more than 1,000 feet deep, the Grand Canyon of the Yellowstone boasts three waterfalls, including the tallest in the park, the 308-foot-tall Lower Falls. The scenic South Rim Drive has overlooks with views of both the Lower Falls and the 109-foot-tall Upper Falls.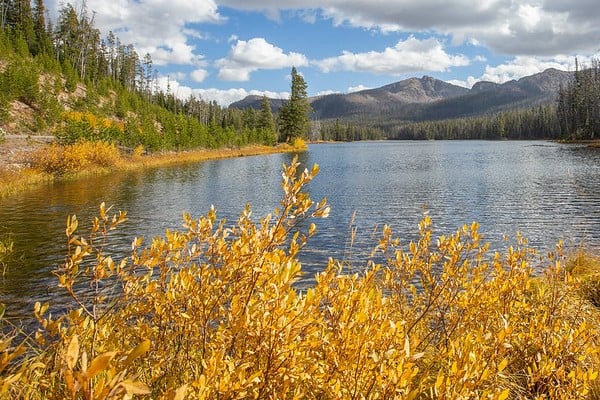 Drive 5: West Thumb to Pahaska Tepee, 45 miles
One of the only stretches of road in the park that doesn't follow a river, this one follows the shore of Yellowstone Lake, the largest lake above 7,000 feet in North America (its surface area is about twice the size of Washington, D.C.!) On the stretch of road along the lake's western shore, the road is often separated from the lake by pine trees, so it feels more like a woody than lakeside drive. But when you turn at Fishing Bridge towards the park's east entrance, there's no missing the lake. At times it's no more than 20 feet from the side of the road.
When the road finally leaves the lake, it begins climbing up Sylvan Pass, which tops out at 8,524 feet before twisting its way down to the park's east entrance. Continuing out the park's east entrance (about one additional hour of driving) is itself extremely scenic as the road follows the North Fork of the Shoshone River to get to Cody, one of the park's busiest and biggest gateway towns.
Written by: Geraldine Hochrein
Geraldine Hochrein is a freelance writer based in Jackson Hole, Wyoming.
For more travel experiences to Beautiful Places on Earth™ available from Xanterra Travel Collection® and its affiliated properties, visit xanterra.com/explore.

Want to experience Yellowstone in-depth? See what makes Yellowstone National Park a great place to work for a season or longer!
---