In Room Gift Baskets
Visiting Yellowstone is certainly a treat, but we can also enhance the experience with our in-room gift baskets. These baskets come in a range of options and price ranges, and can be offered for any occasion. Let your friends and family know you're thinking about them while they're in the park. Surprise your spouse during your anniversary or birthday visit to Yellowstone. Or just treat yourself.
The basket will be delivered to the room on the designated evening.
Executive Basket with Red or White Wine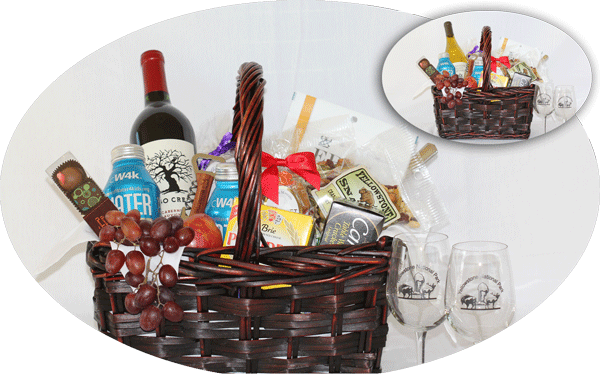 Includes:
Paso Creek Cabernet Sauvignon (Full bodied, lush and complex, impressive layering of black cherry and chocolate flavors) OR Alexander Valley Vineyards Chardonnay (Aromas of ripe cherry and blackberry; hints of dried cherry and milk chocolate)
Yellowstone Wine Glasses and corkscrew
Brie Cheese
Carr's Crackers
Bequet Caramels
La Chatelaine Chocolates
Epic Bison Bites
Yellowstone Snacks Cranberry Trail Mixes
Canned Water
Apples
Red Grapes
Huckleberry Jelly Beans
$150.00*
Sparkling Wine and Cheese Basket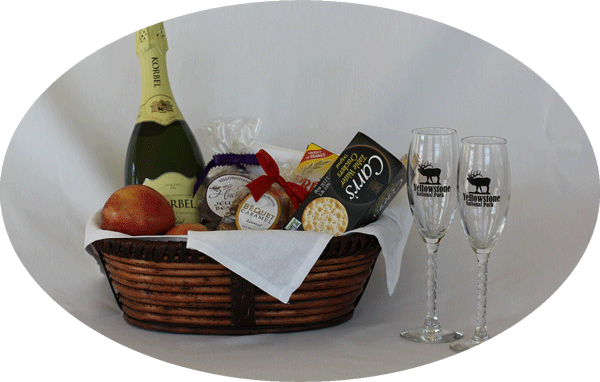 Includes:
Korbel Russian River Organic Brut Sparkling Wine (Fruity, medium-dry, soft finish)
Champagne Flutes
Brie Cheese
Carr's Crackers
Bequet Caramels
Apples
Huckleberry Jellybeans
$90.00*
Adventure Basket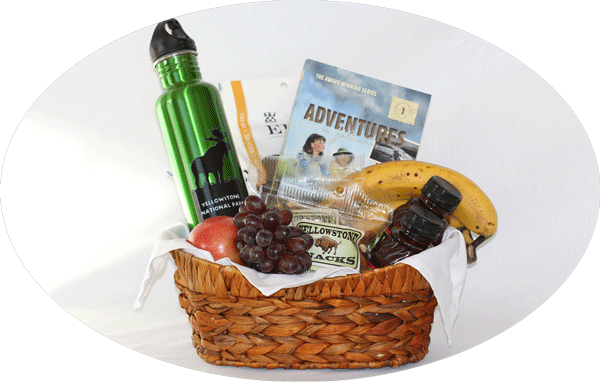 Includes:
Yellowstone Water Bottle
Adventures in Yellowstone Book
Apples
Bananas
Red Grapes
Epic Bison Bites
Yellowstone Snacks Cranberry Trail Mixes
Mixed Berry Juice
$65.00*
Children's Basket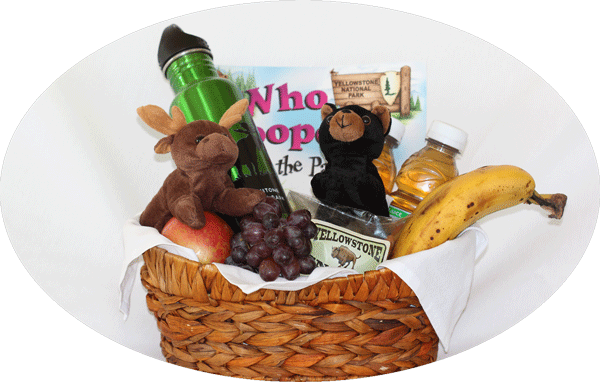 Includes:
Who Pooped in the Park Book
2 Small Stuffed Park Animals
Water Bottle
Apples
Bananas
Red Grapes
Yellowstone Snacks Cranberry Trail Mix
Apple Juice
$59.00*
Red Wine or White Wine and Cheese Basket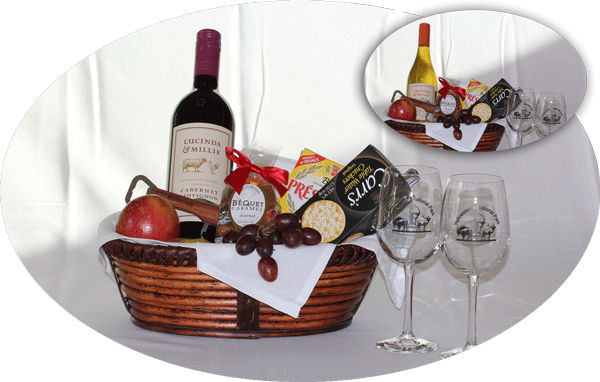 Includes:
Cabernet Sauvignon by Lucinda & Millie (Aromas of red berries reveal flavors of juicy black current and savory spices) OR
Chardonnay by Lucinda & Millie (Aromas and flavor are crisp, fresh, and beautifully balanced with pear, golden delicious apple and peach notes)
Yellowstone Wine Glasses and Corkscrew
Brie Cheese
Carr's Crackers
Apples
Red Grapes
Bequet Caramels
$85.00*
*Prices do not include taxes, utility fee, or delivery fee