Lessons in Connecting with Nature
When was the last time you checked your phone? A recent study stated the average person checks their phone 85 times a day! In today's modern age of smart phones, Wi-Fi, and instant gratification- we often lose our connection with nature and one another.  On a recent Yellowstone Forever Institute program, I disconnected from it all to learn lessons and skills from the traditions of the Lakota people.
Lamar Valley is nature at its best. Stunning landscape, unrivaled wildlife watching, and some of the best star gazing. It's located in Yellowstone's remote, wild northeast corner and is accessible year-round. I'd be based out of the Lamar Buffalo Ranch Field Campus for a few days. These historic cabins host programs throughout the year on various subjects through the park's official nonprofit partner Yellowstone Forever. A perfect opportunity to intimately experience the landscape while learning more about it.
Throughout the weekend, the course instructors, Linda and Luke Black Elk, told us stories and taught us various native skills (making traditional stews, cordage, medicine bags, and teas). Linda is a Catawkba ethnobotanist specializing in traditional uses of plants by native people of the Great Plains.  She explained how in recent years, western science has begun to research the scientific value behind Native American skills and traditions.  Luke has spent his life learning the oral traditions, creation stories, and star knowledge from elders throughout the Lakota Nation. Lakota, and many Native American cultures, often don't have a written history, but rather an oral one. One of the reasons for this is that once something is written down, it's set in stone. Versus when it's passed down through the years, it undergoes a sort of peer review process that changing and adapts that knowledge or story over time.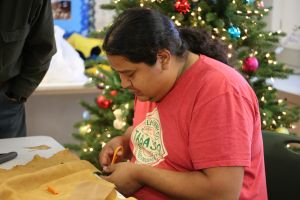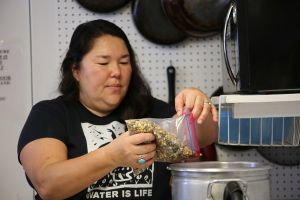 The Lakota people once roamed wide ranges of the plains, often following the once massive herds of bison that roamed North America.  They lived off the land and followed a simple philosophy: respect the earth.  Wakan Tankan, the great spirit or great mystery, connects everything.  So there is a sacredness to everything-the earth, the sky, the dirt, the bison, the sage, the people. So why would you want to pollute or abuse what is sacred?  In recent years there has been a reclamation going on for native cultures. Last year tribes gathered in Yellowstone to advocate the renaming of two features the park. Places like Yellowstone are considered special to a number of tribes. It holds a special power and was often a place of peace amongst all tribes.
Before the class came to a close, we all gathered around for a final blessing. We were about to re-enter our modern lives. As I started to drive out of the park, I came across eight bull moose all congregated together, an incredibly rare sight in Yellowstone. I began to reach for my phone to turn it on and snap a picture but stopped myself.  I wanted to be fully present in this special moment in this sacred place.  Yellowstone is so much more than a photo opportunity. It's a place we can learn from and experience. We can connect to more than just Wi-Fi in this national treasure. We can connect with nature, one another, and the great mystery of life.
Yellowstone Forever operates Institute programs throughout the year in Yellowstone. They have field campuses in Lamar and Gardiner. For more information on their various course offerings, visit their website.   The Summer 2018 program supporter registration begins at 8 a.m. MT on 1/31, general registration begins on 2/7.
---