Park Your Car and Explore the Park
Let Someone Else Do the Driving
To truly experience Yellowstone, sometimes you have to take your hands off the wheel. By parking your car and using alternative transportation in the park, you can leave the driving or steering to someone else, which allows you to focus exclusively on the magnificent scenery. It also minimizes your carbon footprint in the park. Plus, by joining a tour, you gain an insider's knowledge of the park while soaking in its beauty and spotting wildlife while never worrying about finding a parking space.
"There is so much behind the scenery," says Rick Hoeninghausen, Director of Sales and Marketing for Yellowstone National Park Lodges for 25 years. "What we are seeing is deepened when we learn a little bit more about it. You're going to witness some incredible things and learn how they work together."
Hoeninghausen offers one piece of advice. "Park when visitors are most active in the middle of the day," he says. This is the perfect time to join a tour to see Yellowstone at a more relaxed pace.
Here are all the alternative ways to tour the park without a car.
Historic Yellow Bus
The most popular way to see the park is via the iconic yellow buses that became a visitor favorite by the mid-1930s. Refurbished to meet modern safety and comfort standards, they still feature windows that open, as well as the soft, roll-back roof that allows you to stand and look for excellent angles to spot wildlife and take photos. Hoeninghausen is right when he says, "This is the ideal vehicle for touring Yellowstone."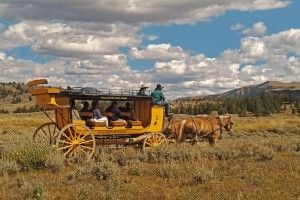 Stagecoach Tours
More than 140 years ago, most people toured Yellowstone in the bright yellow "tally-ho" stagecoaches pulled by a team of horses from Gardiner, MT, and between lodges and camps. Today, you can take a one-hour stagecoach tour from Roosevelt Corral that follows a section of an old stagecoach road, which allows you to share in this history, albeit without the risk of holdups as happened in those early days.
Horseback Riding
Since Yellowstone is steeped in the Western experience, horseback riding offers a fitting way to visit areas rarely seen by the typical visitor. "If you're on horseback, you're getting off of the main road and out of the most popular areas in a way that most people don't," Hoeninghausen notes. Experienced guides and steady horses lead you through forests and open meadows for one- or two-hour rides originating at either Roosevelt or Canyon corrals.
There's also an option to ride a horse or hop in a wagon for a real-life cowboy supper at the Old West Dinner Cookout. Ride out to Pleasant Valley, gather around the campfire to tell stories, and enjoy a delicious steak dinner with all the fixings, for an evening of making memories.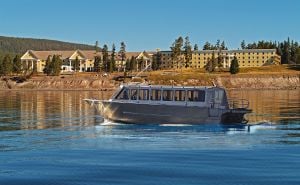 Scenicruise
To see parts of the immense Yellowstone Lake not visible from the shore, book an hour cruise on the Lake Queen II. Departing from Bridge Bay Marina, the experienced and entertaining interpretive guides point out wildlife and geology, along with the history of the region, including Dot Island, where the colorful, if not notorious, entrepreneur E.C. Waters kept a zoo holding elk, bison, and antelope. You'll also cruise past the wreck of the SS E.C. Waters, a 500-passenger steamship that Waters brought to the lake in 1905. Keep an eye out for occasional elk and bison sightings on the shoreline of the largest freshwater lake above 7,000 feet in the U.S.
Shuttle Boat
To truly step off the beaten path, charter the shuttle boat on Yellowstone Lake to transport up to six people and gear, as well as several canoes or kayaks, into the backcountry. It's one way to explore some of the most remote areas of the park on foot or on the water. "(The shuttle) comes back and gets you when you want to be picked up," says Hoeninghausen, who has spent several days with friends camping and paddling in the southeast arm of Yellowstone Lake.
Bike Rentals
Faster than walking, renting a bike allows you to cover more ground while listening to the birds, stopping to see the wildflowers, and even taking in the sulfur-rich atmosphere that is so distinctly Yellowstone. "It's a way to experience the park in a manner that you really can't in a car," Hoeninghausen points out.
The Old Faithful area offers some biking options nearby off the main road. The helpful crew at the bike shop at Old Faithful Snow Lodge can offer recommendations for people to see Yellowstone from a different perspective.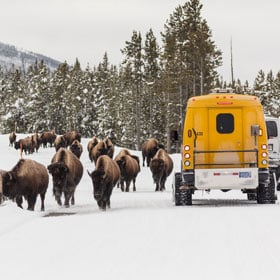 Snowcoach
With expansive windows for wildlife viewing, snowcoaches are the way to go in winter. They're equipped with enormous low-pressure tires that allow them to ride smoothly over the snow, transporting people on once-in-a-lifetime winter excursions, as well as shuttling cross-country skiers to starting destinations. Based out of Mammoth and Old Faithful, these vehicles offer access to the park during the time of the year when wildlife seems more plentiful than people.
Custom Guided Tours
You can customize your own tour — for small groups or family gatherings — by renting a minibus, which holds up to 12 people in modern comfort, as well as a Ford van, sedan, historic yellow bus, or even a 41-person bus for large groups. In the winter, snowcoaches are available to take your group on its own tour. Arranging one of these guided vehicles allows you to have a knowledgeable driver who knows the park while you still set your own itinerary. They'll even supply the binoculars and spotting scopes as they do with all of the tours, so you don't have to bring your own.
Parking the car and choosing one of these many alternative transportation options allows you to slow down and see a side of Yellowstone you might miss if you're focused on the road instead of letting someone else do the driving.
Written by: Amy Grisak
The author of Found Photos of Yellowstone: Yellowstone's History in Tourist and Employee Photos, Amy Grisak loves sharing the heritage, as well as lesser-known aspects, of the first national park. You can find her books and articles on her website, amygrisak.com.
---