A Perfect Park Day: Winter in Yellowstone
Winter on the Northern Range
It's pitch black pre-dawn when my husband and I wake up to make our way to Lamar Valley. The first glow of pink blushes the hills just before an inversion ushers in a river of fog. It's -2 degrees Fahrenheit, and hoar frost sparkles on the cottonwood trees as the first sun rays illuminate the surrounding mountains. We don't speak as we take photos, filled with reverence for this precious early morning solitude. We feel present, suspended, as if the morning moves in slow motion.
A coyote yips somewhere in the hills behind us, breaking the silence and setting off a chorus of howls that cascade down the valley in a chain reaction from one pack to another. Across the Lamar River, the Junction Butte wolf pack travels west in a solemn line of black and grey; we watch them through a spotting scope as they disappear and reappear between folds in the landscape.
This is winter on the Northern Range; cold, quiet, and spectacularly beautiful. Far removed from the crowds of summer, we've encountered only a few other visitors this morning. Instead, our primary companions are bison, ravens, coyotes.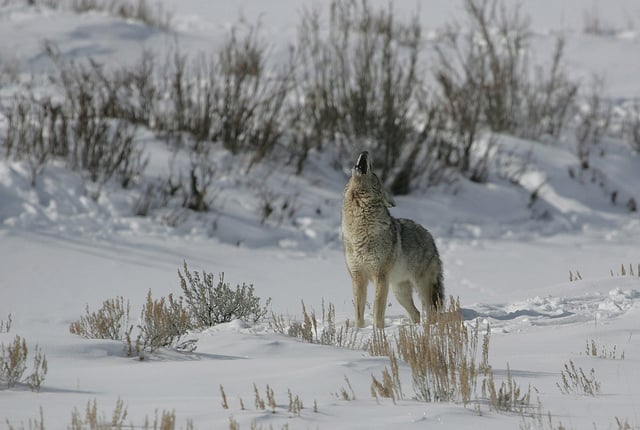 We hop back in the car to warm fingers and toes, and drive east towards the Soda Butte Valley; we are hoping to find bighorn sheep, or maybe otters, near the confluence of the Soda Butte and Lamar rivers, and perhaps a moose in Round Prairie. Sometimes we'll drive as far as Silver Gate, or Cooke City, just outside the northeast entrance, for hot drinks or a late breakfast.
As the sun rises higher in the sky, we stop at the Barronette trailhead for a short ski; the Mammoth Ski Shop told us that someone had already forged a trail through the deep snow. We glide along the single track, floating on a cushion of white beneath towering spruce and fir trees. Snowshoe hare and pine marten tracks dance across the trail and into the deep forest.
Although visiting Yellowstone in winter takes an extra level of preparation, the rewards are worth it. If you are driving your own vehicle, make sure you have tires appropriate for snowy roads. Bring lots (and lots) of layers, including a warm jacket, insulated boots, winter hat, balaclava, and gloves, and maybe a few hand and toe warmers from the Gift Shop. While you'll warm up snowshoeing or skiing, it can be very cold standing outside watching wildlife in the wee hours.
If you don't have your own gear, you can rent skis and snowshoes from the Mammoth Ski Shop, or even sign up for a lesson. If you're feeling adventurous, you can even take a ski drop on a snowcoach to Indian Creek, where there are both groomed and single-track trails. There are a variety of winter trails on the northern range, and the knowledgeable ski shop staff can give you advice on current conditions, and help you make the most of your trip.
Jenny Golding is the founding editor of A Yellowstone Life and writes from her home at the north entrance to Yellowstone in Gardiner, Montana.
For more travel experiences to Beautiful Places on Earth™ available from Xanterra Travel Collection® and its affiliated properties, visit xanterra.com/explore.

Want to experience Yellowstone in-depth? See what makes Yellowstone National Park a great place to work for a season or longer!
---