Dine Casual, Enjoy the View
Dates
Opens: April 26, 2019
Closes: November 3, 2019
Dine in a casual setting, while enjoying views of what was once the parade ground of the original Fort Yellowstone. It's also not uncommon to have front row views of grazing elk and bison from the windows of the Mammoth Hotel Dining Room. But the food is also something to look forward to, with our value priced "small plate" options including Bison Sliders, Wild Game Meatballs and Mini Trout Tacos. Breakfast is a la carte or buffet.
In winter, wolf watching is immensely popular. If you're heading out too early for a hot breakfast, we can set you up with a deli breakfast or deli lunch! You can also relive the day's adventures with your friends in the quaint lounge located immediately adjacent to the dining room host stand.
The First 4-Star Certified Green Restaurant in the National Parks
In August 2011, the Mammoth Hotel Dining Room became certified by the Green Restaurant Association. The GRA is a national non-profit organization that provides a cost-effective way for restaurants to demonstrate their commitment to environmental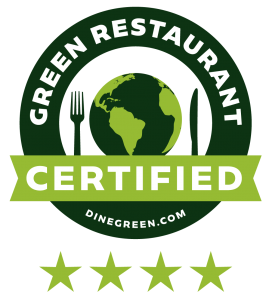 sustainability. The Mammoth Dining Room is Xanterra's first certified green restaurant, and with a 4-Star rating (out of a possible 4-Stars), is the FIRST 4-Star certified restaurant in Wyoming and our National Park System, and one of only 25 in the country. To achieve certification, restaurants must address critical areas that include: Energy, Food, Water, Waste, Disposables, Chemicals and Pollution Reduction, and Furnishings and Building Materials. To achieve its 4-Star certification, the Dining Room demonstrated sustainable operations through a major restroom remodel, installation of energy-saving LED lamps and water-saving fixtures, sourcing of local and organic cuisine, recycling and composting restaurant waste, and using environmentally-preferable cleaning products.
Reservations
Dinner reservations are not accepted during the summer season. Dinner is first come, first seated.
Dinner reservations for winter season are required and can be made by calling our reservations at 307-344-7311 or by using our online request form.
Breakfast and lunch are on a first-come, first-seated basis.
Dress Code
Dress code is casual.
Hours
Please note dates and hours are subject to change without notice.
April 26 – September 11
Breakfast 6:30 A.M. – 10:00 A.M.
Lunch 11:30 A.M. – 2:30 P.M.
Dinner 5:00 P.M. – 10:00 P.M.
September 12 – October 13
Breakfast Buffet/Continental Breakfast 6:30 A.M. – 10:00 A.M.
Lunch 11:30 A.M. – 2:30 P.M.
Dinner 5:00 P.M. – 9:00 P.M.
October 14 – November 3
Breakfast 6:30 A.M. – 10:00 A.M.
Lunch 11:30 A.M. – 2:30 P.M.
Dinner 5:00 P.M. – 9:00 P.M.
Menus
Please note menus and menu prices subject to change without notice.
Summer Menus
Winter Menus
Special Events
Get more information and join us during one of our Winter Special Dining Events being held at Mammoth Hot Springs on our special events page.
Address
Mammoth Hotel Dining Room, 305A Albright Ave, Yellowstone National Park, WY 82190
Other Mammoth Area Dining
In addition to the Mammoth Hotel Dining Room there is another option to enjoy a meal while visiting the Mammoth area of Yellowstone National Park during the summer. Visit the Terrace Grill.