RVing in Yellowstone National Park Revs Up
RVing in Yellowstone
"You can't come to Yellowstone enough to see everything," says Jimmie Affholder, who, with his wife Sandy has been visiting Yellowstone in their RV for about 15 years. "Every time we come, we see something new. And, camping around all of the wild animals Yellowstone has makes it different from most every other campground in the country."
Yellowstone is a destination on many RVer's bucket list, and as more and more companies offer RVs for rent, exploring the park in a rented RV is becoming more popular. "We're definitely seeing more people who fly into Salt Lake City and rent a RV there," says Jan Howard, the manager at Yellowstone's Fishing Bridge RV Park for more than a decade. "But we still get a lot of fulltime RVers, too. The one thing in common among our guests are that they like camping, but like their creature comforts, too."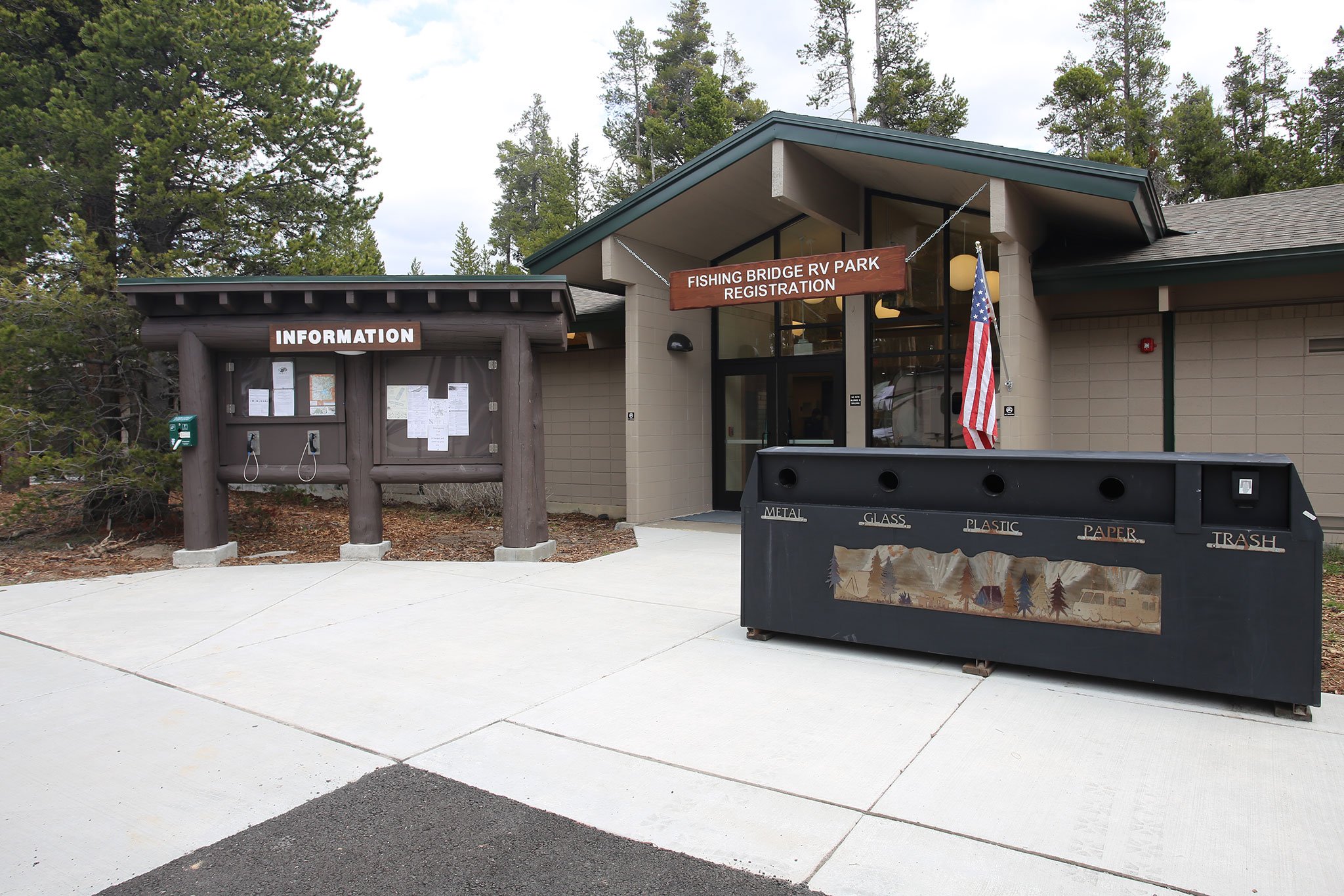 That's exactly what's available at Fishing Bridge RV Park, which reopened this May after a three-year renovation. It's now the only one of the park's 12 campgrounds to have electricity and hot running water. (Fishing Bridge is also the only campground to have water, sewer, and electric hook-ups at every site.) Because it is in an area frequented by bears near the mouth of the Yellowstone River, Fishing Bridge is open only to hard-sided vehicles. There are no tents or even pop-up campers allowed. The RVs that stay there must follow strict food storage guidelines — nothing food related can be left outside. "It seems like a hassle," Affholder says, "but it is worth it. There's no place like Yellowstone."
The same can be said for RVing in Yellowstone. "Some of the roads are narrow and bumpy and parking can be hard to find," Affholder says. But, Howard says, "Camping in an RV in the park is a great way to experience Yellowstone. There's no waiting in line at an entrance station in the morning to get in because you're already in the park. And you can stay out exploring as late as you want. There's not a long drive to a gateway community at the end of the day."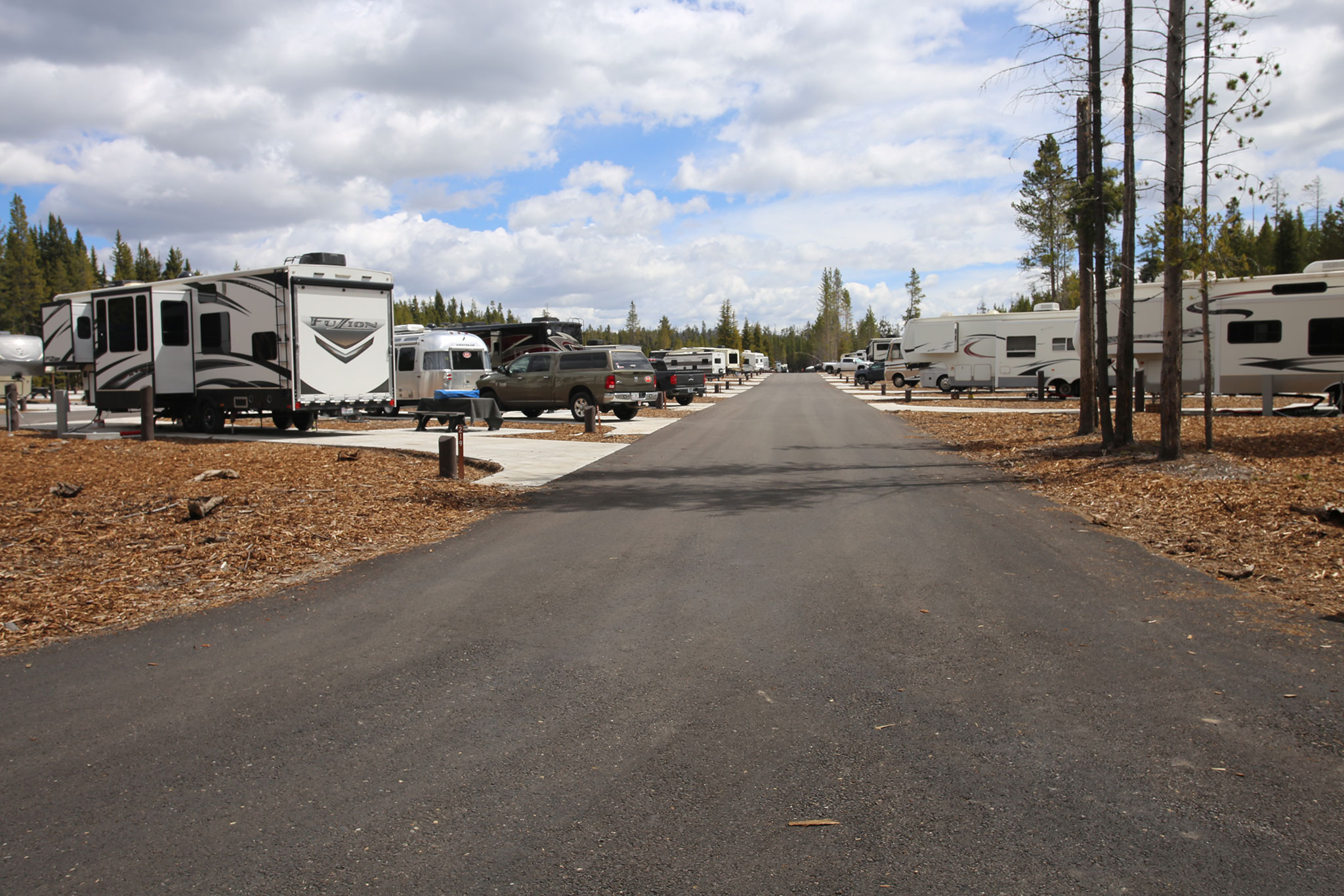 The best way to facilitate RVing in Yellowstone is with advance planning. In the summer, all 12 of Yellowstone's campgrounds, which have more than 2,000 campsites in total, require advance reservations. Five campgrounds, including Fishing Bridge, are reserved through Yellowstone National Park Lodges (YNPL). The other seven are reserved through recreation.gov. Absolutely no overnight parking/camping is allowed in any of Yellowstone's pullouts, parking areas, picnic grounds, or any place other than a designated campground. You will be ticketed if found camping illegally.
The five campgrounds managed by YNPL — Fishing Bridge, Bridge Bay, Canyon, Grant Village, and Madison — can accommodate larger RVs than the recreation.gov campgrounds. Thanks to the recent major renovation, the Fishing Bridge RV Park can now accommodate really large RVs. It has 172 paved sites that welcome RVs from 40 to 95 feet in length. The other YNPL campgrounds can accommodate RVs up to 40 feet in length and Grant Village Campground has a few spots for RVs up to 60 feet in length. "Before the Fishing Bridge renovation, there wasn't anywhere in the park for larger RVs," Howard says. "It's really nice to have that option now."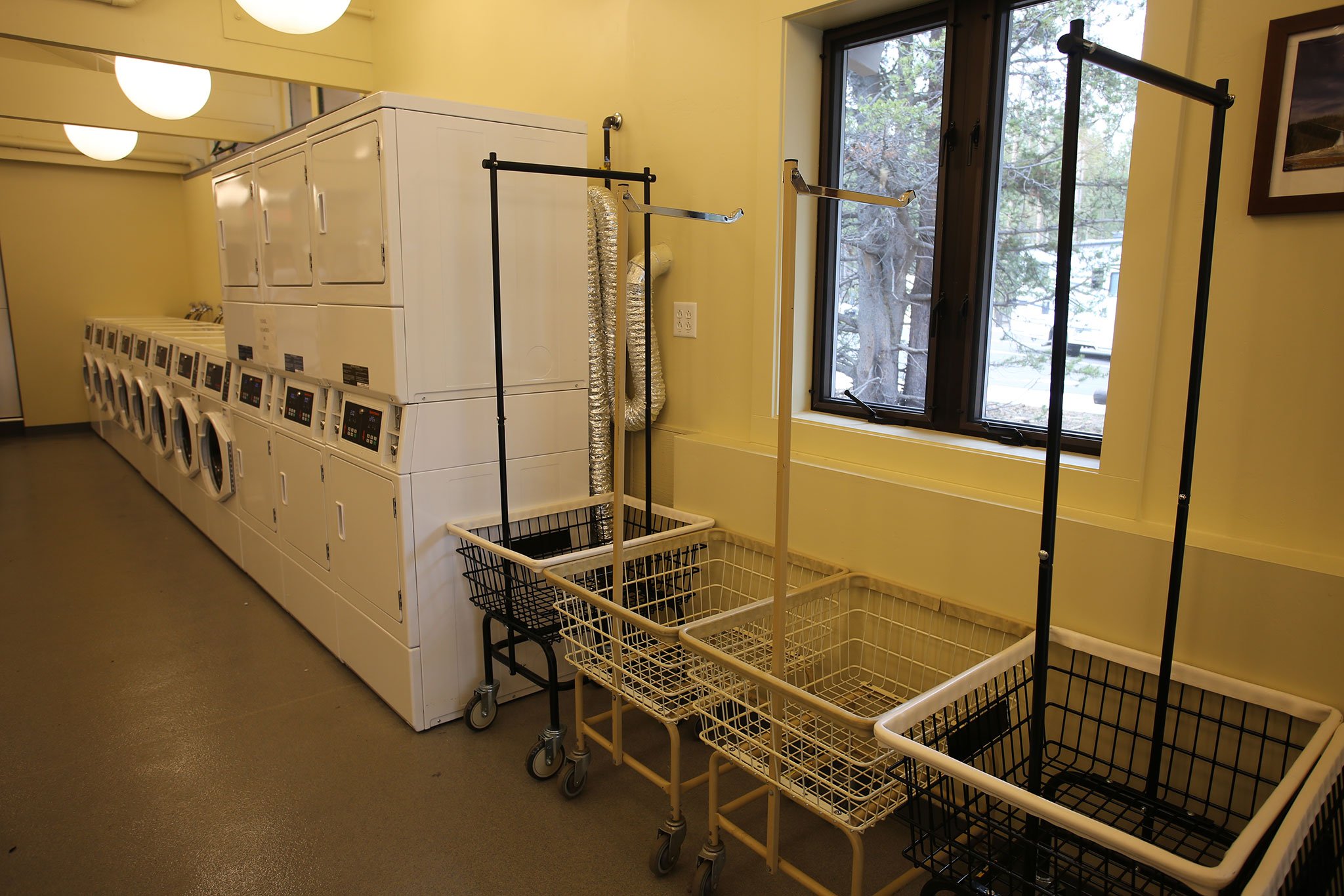 Larger sites aren't the only benefit of Fishing Bridge's renovation: The number of showers at the campground expanded from 16 to 27, including some family showers and four ADA showers, and the number of washers and driers doubled, from 11 to about 22. "We used to get quite a line to use both of these," Howard says. "Now we're anticipating the lines won't be so bad." If you want to guarantee you don't have to wait in line to shower — each site at Fishing Bridge comes with two showers per night included; campers from others campgrounds may pay for showers — Howard advises, "before dinner is better than after dinner."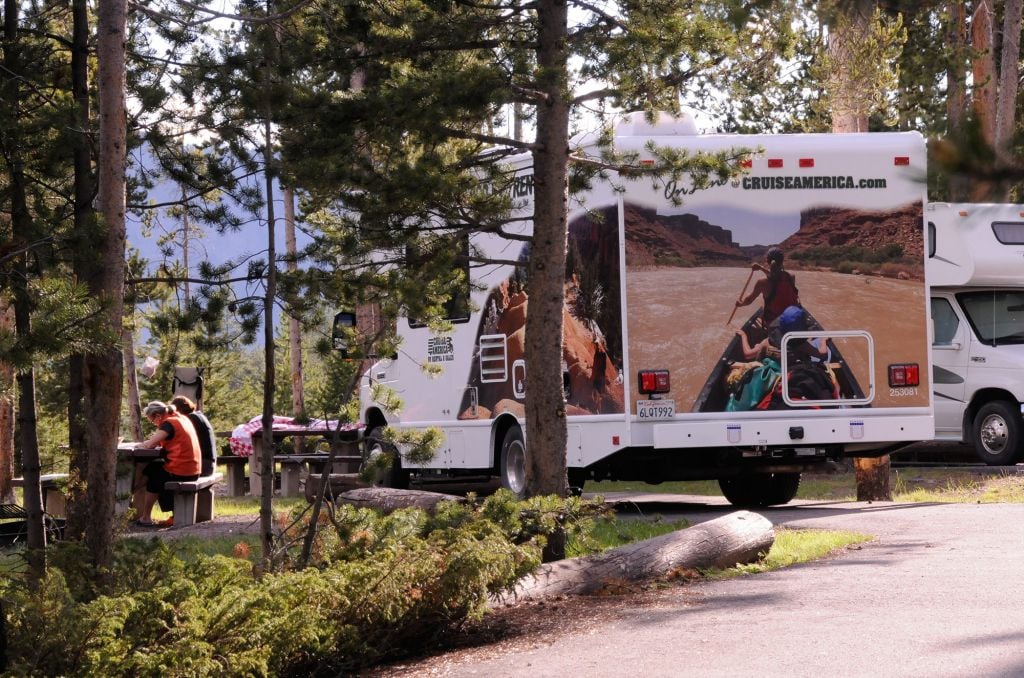 RVers with smaller vehicles — 35 feet or less — who don't need the amenities offered by the YNPL campgrounds (flush toilets and cold running water, with the exception of Fishing Bridge) and who want a more intimate camping experience should consider the seven Yellowstone-managed campgrounds. These are at Indian Creek, Lewis Lake, Mammoth, Pebble Creek, Slough Creek, Tower Fall, and Norris. These generally have fewer than 100 campsites and vault toilets. (Mammoth and Norris Campgrounds have flush toilets.)
"Yellowstone has always had good options for smaller RVs, and now we can accommodate the larger RVs that are more and more common today," Howard says. "It's nice to have the variety and it's a huge difference from an RVer's point of view."
Written by: Dina Mishev
Dina Mishev is the editor in chief of Jackson Hole magazine.
For A World of Unforgettable Experiences® available from Xanterra Travel Collection® and our sister companies, visit xanterra.com.

Want to experience Yellowstone in-depth? See what makes Yellowstone National Park a great place to work for a season or longer!
---