Serving Good Food and Supporting Local Communities
serving good food and supporting local communities
We sat down with Yellowstone National Park Lodges' Food and Beverage Director, Lu Harlow to discuss her vision and goals of the park's extensive culinary program.
Located in the northwest corner of Wyoming, Yellowstone National Park may be considered a bit remote, but that doesn't mean the park restaurants can't source good local food.  In fact, local and sustainably produced food has been an emphasis for Yellowstone National Park Lodges, and Lu Harlow, for over 17 years. Her vision for the operation has been to provide great food and service, while supporting local communities.  And local sourcing is an important component of sustainability. But she notes that operating in the sprawling West means that there are few suppliers just down the road.  For Yellowstone, local can range from 30-500 miles, though much comes from within a 200 mile radius in Montana and Wyoming. And the amounts of food required by Yellowstone's visitors can be daunting. "We serve 50,000 pounds of prime rib in one year!" she explained.
How and Where Does the Guest Experience the Local Products?
"There are more sustainable items then not" on the menus says Harlow, as over 50% of food purchases are considered sustainable.  Diners can easily identify the local and sustainable food as they are tagged with a green leaf icon on the menus.
Lake Yellowstone Hotel was the "initial showcase of everything sustainable."  At first, nine out of ten items on the menu were locally procured. Since then, the effort has spread.  Canyon Lodge's M66 Bar & Grill serves retro-themed dishes with focus on fresh and local. Even fast-food outlets offer locally produced beef burgers and sustainably harvested Wild Alaskan Salmon burgers.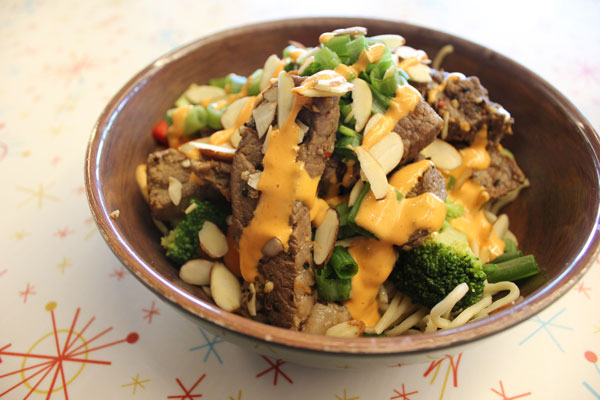 What Goes Into Menu Planning for Such a Large Operation?
Harlow says the menu design process must respect the heritage and/or ambiance of the facility while reflecting the tastes of the clientele.
Old Faithful Inn is Yellowstone's "Grand Dame", and "iconic western lodge." This menu reflects the hotel's broad demographic, history and western lodge influences.  So a New York Strip Steak is a given, but a popular item is also the White Cheddar Mac & Cheese with Wild Game Sausage, served in a cast-iron skillet.  Harlow explained that the wide range of customers and tastes still fancies the signature dinner buffet, with a prime rib carving station and a variety of accompaniments.
A renovation of the Lake Yellowstone Hotel resulted in a return to its Colonial Revival influences, and an enhancement of its upscale nature. For Harlow, this meant "the menu needed to be upper-end" to reflect the change in guest profile, while maintaining somewhat of a "western slant." Creatively prepared fresh fish and locally produced beef tenderloin have been favorites. And the beef at Lake Hotel is very fresh, with field to table timing at about a month.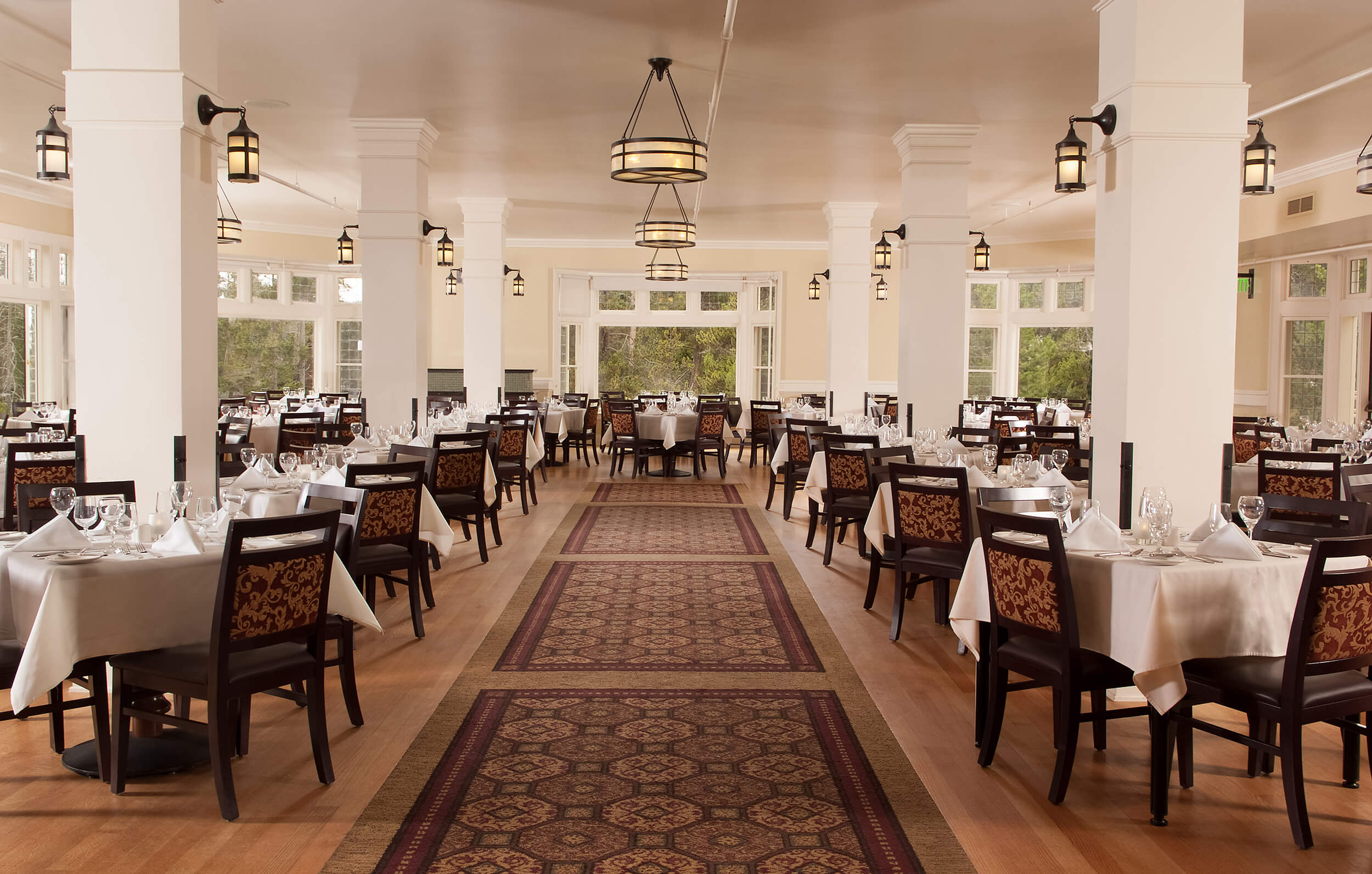 Mammoth Hotel, while historic, brings a slightly different kind of customer.  "We get day traffic and customers from Bozeman, Livingston and Gardiner, Montana." Mammoth often gets larger groups too, in addition to the overnight park guests, notes Harlow. For this she tries to add an element of fun to the selections, and items that can be shared. Small plates have been a part of the Mammoth Hotel Dining Room menu for years, but recently she also re-introduced a variety of sliders, including meatless meatball, reuben on a pretzel roll, and elk sliders.  Other highly requested items include Thai Curry Mussels and Goat Cheese Salad (with goat cheese from Belgrade, Montana.)
In winter, Mammoth menu shifts slightly to include more comfort food, including braised and slow-cooked specialties, much of it locally produced.
So What's New in the Park's Food and Beverage Program?
In summer 2017, Canyon Lodge food service received an "exciting remodel" and introduced some new food concepts. Again, Harlow's goal of supporting local providers and offering fresh and sustainable entrees was a priority.  The renovation replaced a standard dining room and old-style cafeteria with modern enhancements that reflected a 60's retro-theme.  Harlow explained that through focus groups, "Guests told us they wanted to be able to customize, and get in and get out quickly," Local, fresh and nutritious was also important to customers, and is evident in the offerings of the M66 Bar & Grill, the Eatery, the Falls Café and other new outlets in the Canyon Lodge operation. A special example is The Ice Creamery, featuring only local ice cream from Big Dipper in Missoula, MT.  In fact, the new business provided by this outlet allowed Big Dipper to add an operation in Billings, Montana, and the need to hire more employees.  "That's kind of important," and key to the vision of the Yellowstone food and beverage director.
What Should We Expect Next?
Lu Harlow has been the food and beverage director since 1995.  What's kept her at her job for this long is the promise and anticipation of facilities remodels.  The good news… in the last five years alone there have been three full kitchen remodels.
Next on the schedule is an enhancement of the F&B operations at Lake Lodge that will replace another cafeteria with a modern fast-casual alternative.  Scheduled for opening in 2020, the new "better burger" concept will use kiosks to automate the order process and provide customization opportunities for guests.  "We'll offer hand-pattied fresh beef and bison burgers on house-baked rolls. Customers can order signature burgers, or build their own."  Rounding out the menu will be vegetarian options including veggie and salmon burgers and salads, and at dinner a carvery with natural prime rib and turkey, plus a variety of game sausages. Again, this concept provides direct support to local ranchers, as the prime cuts of meat are in high demand and ground meat harder for them to sell.  Lake Lodge will be using the local ground meat, and featuring a Rancher of the Month burger.
How Do You Support Special Dietary Requests Like Vegan and Gluten-Free?
Harlow explains that "the majority of customers still pick from mainstream choices, but there is a growing demand for special dietary options, like vegetarian and gluten-free."  Each menu and outlet has clearly identified vegetarian, vegan and gluten-free selections. And chefs are willing and able to prepare most menu items in a manner that complies with the guests' special needs.  Harlow says she's received "high praise" for the chefs' willingness to work with customers when special requests are made.
How Much Do Your Chef's Contribute to the Overall Food and Beverage Program?
It takes a talented team to build a successful culinary program in the world's first national park, especially when that program has to serve more than two million meals.  That's where the seasonal chefs can supplement the work of the Executive Chef and Executive Sous Chef.  According to Harlow, Executive Chef Mike Dean developed an immensely popular Parmesan Crusted Grilled Turkey Sandwich while working as a seasonal chef in the park years ago, a dish that has become a staple in the park, and been copied by restaurants outside Yellowstone. Contributions by seasonal chefs "continue today involving new dishes as well as variations on traditional preparations and daily specials."
What Are the Most Requested Recipes and Favorite Dishes?
Perhaps the best compliment Lu Harlow and her team could ever receive is a request for a recipe.  And she's proud that recipe requests are frequent, and for a variety of menu items.  When asked, Harlow was quick to list "the Parmesan Artichoke Trout at Mammoth, Bison Short Ribs at the Old Faithful Snow Lodge and the Thai Curry Mussels, also at Mammoth."  Perhaps the all-time most requested recipe is for the signature, Roosevelt Lodge Baked Beans, served in the lodge's restaurant and on the popular Old West Dinner Cookout.  Beyond the list of requested recipes, Harlow's personal favorites include "any of the park's trout preparations along with the Wild Game Sausage Sampler and the Bison burger."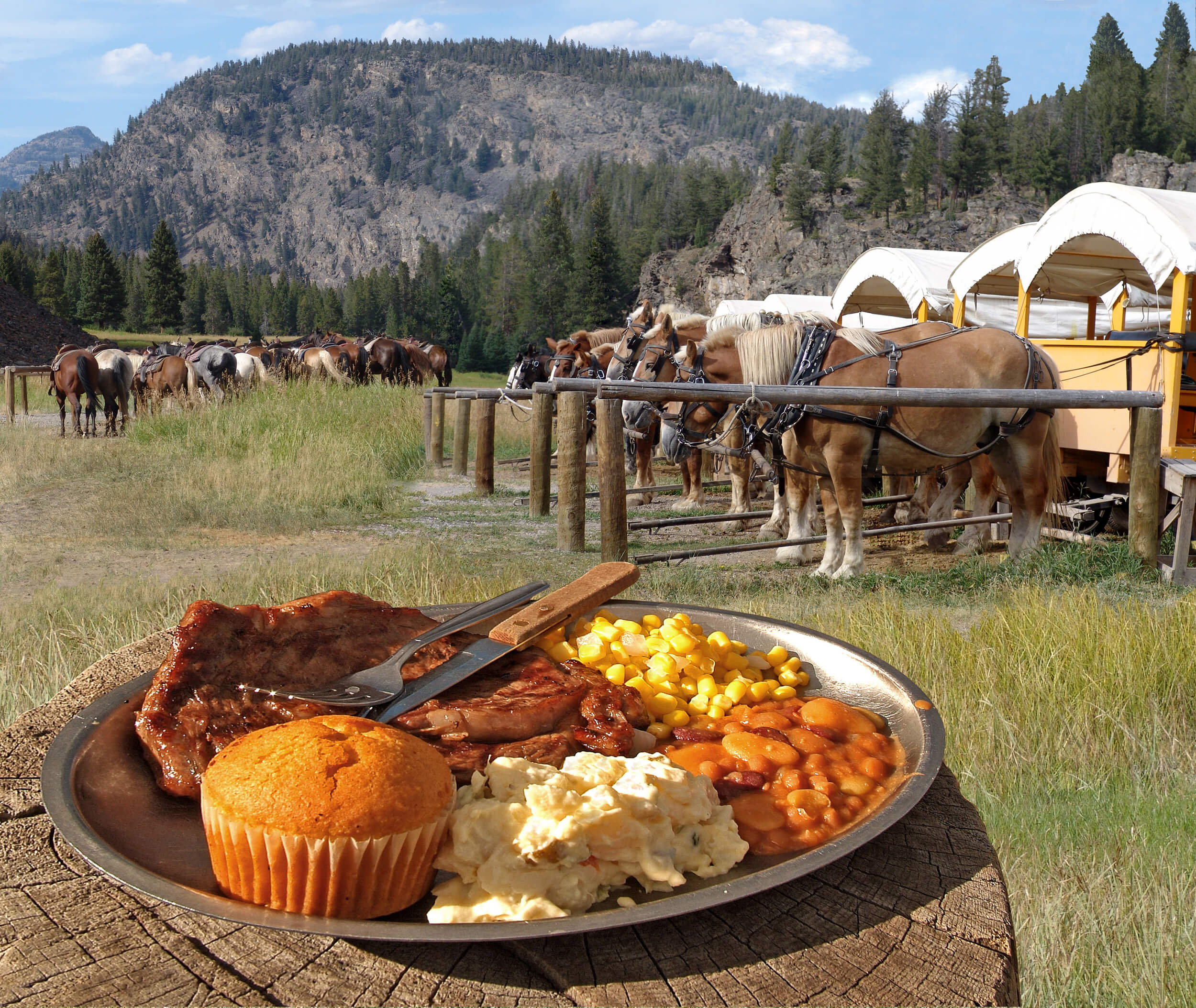 What's the Best Comment You've Ever Received?
At the end of the day, it all comes back to the guests…"were they happy with the food and service?"  Harlow summed it up by sharing a comment received by a long-time guest in 2017. With homes in New York City and Jackson Hole, Wyoming, this guest had access to a lot of top restaurants and good food.  He called Harlow directly, and wanted to talk. At first she was concerned, but quickly was pleased to hear his review of a recent meal at Lake Yellowstone Hotel.  "You did it!" he proclaimed.  The meal and service was on par with the Big Apple.  For Lu Harlow, there was no better compliment.
For more travel experiences to Beautiful Places on Earth™ available from Xanterra Travel Collection and its affiliated properties, visit xanterra.com/explore.

Want to experience Yellowstone in-depth? See what makes Yellowstone National Park a great place to work for a season or longer!
---