Spring Water in a Can
Water in a Can?!
Taking care of a national park we love means taking care of our waste and recycling. With 4.1 million visits each year, that's a lot of people trying to stay hydrated during their travels in Yellowstone National Park. In 2019, water arrived in a more sustainable container—an aluminum can, to be exact—filled by a small Montana business.
Gone are the plastic water bottles. In their place, aluminum cans are less intensive on the manufacturing side, and they're more likely to get recycled and less likely to end up kicking around a trail or floating in the water.
The best part? The canned water hails from Montana Silver Springs and tastes as mountain spring water should—no additives, no chemicals. The unique YNP aluminum cans are attractive enough to be a collector's item for some, but they also boast a screw-top cap, allowing you to refill at any of the water-bottle filling stations around the park. And they're easy to recycle, too.
The Source
Philipsburg, Montana, is the kind of small main street town that both out-of-state visitors and nearby Montanans love to wander into for an afternoon or a weekend. Time here slows just enough to take a deeper breath, and the historic downtown charms with its brightly painted buildings, a candy shop, the Philipsburg Brewery, antique stores, and friendly chatter. Marta Unclebach, former head of Beverage and Pub Operations for Yellowstone National Park Lodges/Xanterra, was one such visitor, but when she saw Philipsburg Brewery's unique screw-top cans, she tracked down Philipsburg Brewery co-owner Nolan Smith and suggested they ought to consider canning water. Xanterra was looking for alternatives to plastic bottles.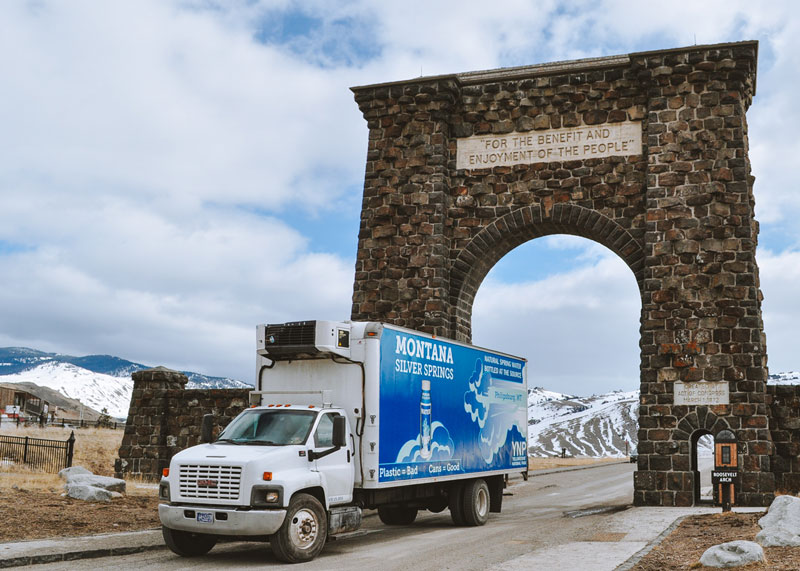 What Marta didn't know was that a half mile up from the small brewery, just after the main street of Broadway turns into a dirt road, was Silver Springs—which had been everything from the town's original brewery in 1875, to a watering hole for horse teams, to a water-bottling plant in the 1990s. Philipsburg Brewing had recently purchased the building and was already brewing and canning beer there, with music and a beer garden on summer weekends to handle overflow from their main tap room; they had dreams of also bottling water. The site included eleven artesian springs, providing 300 gallons per minute.
And so the real work began as they formed a partnership with Xanterra, the Park, and Yellowstone Forever. While Montana Silver Springs had inherited all the old water bottling equipment, they decided to invest in a brand new filtering system. "It's a super high-tech system and way more sophisticated than what was here," explains Nolan. The water receives particulate filtering, ultraviolet treatment, and an ozonation process before canning, but nothing is removed or added—ensuring that it remains pure spring water, from the spring to the store shelf.
A Screw Top Can?
Until recently, Phillipsburg Brewing was the only craft brewery in the country using screw-top aluminum cans as its primary package, and the launch of Silver Springs made it one of just three companies using them for water. The canning line is custom made, and Nolan had a hand in tweaking the engineering to perfection.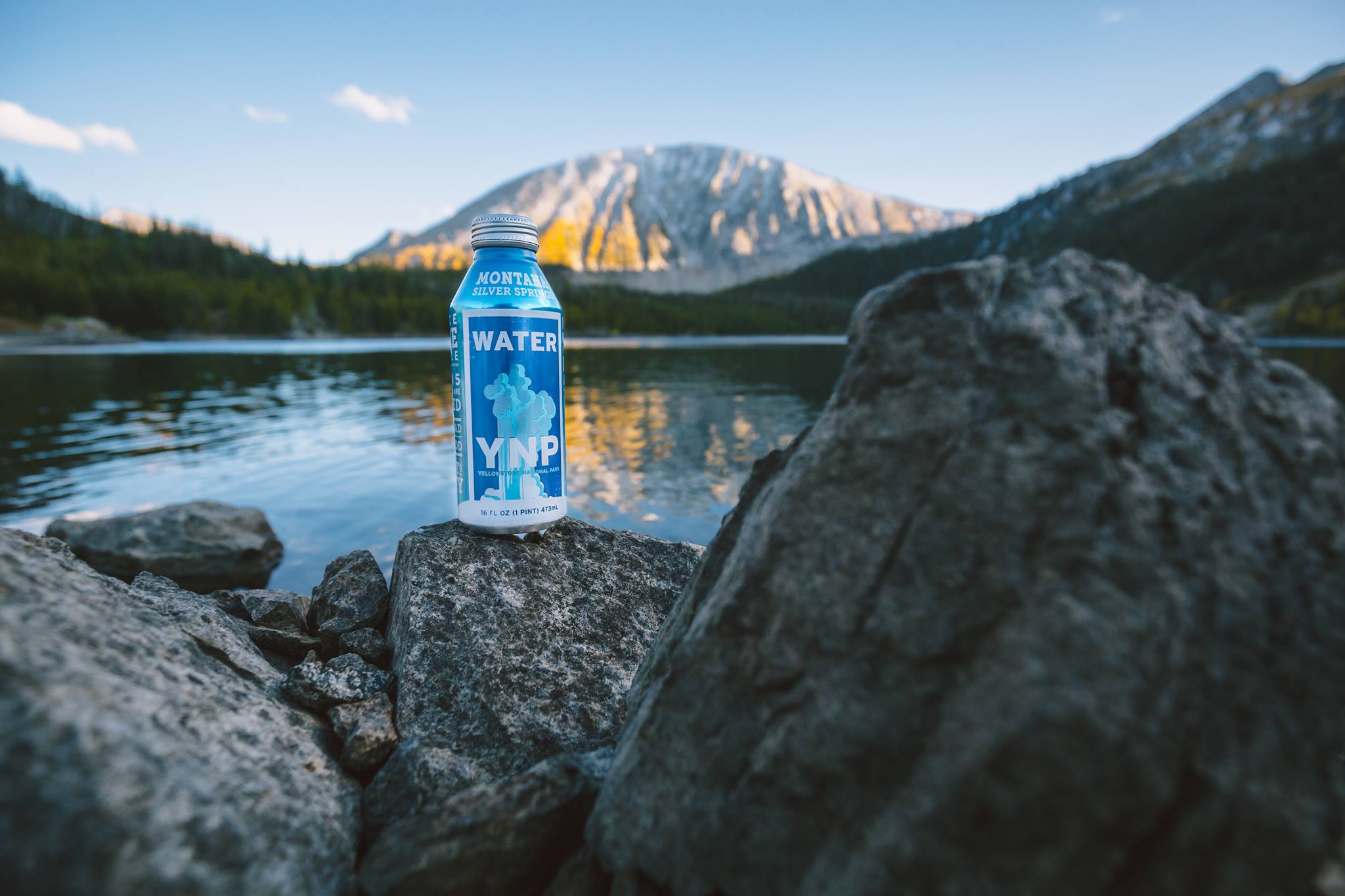 While a unique choice, the releasable cans have several benefits. Chief among them, they're easy to recycle and the screw-top cap has a better seal. (And, if you're outdoors, having a resealable top also has its advantages.) "It matches our lifestyle and what we stand for," says Nolan. And when it comes to water bottling, it eliminates single-use plastic bottles.
With a custom can designed for Yellowstone National Park, in the spring of 2019, Nolan drove the first shipment of Montana Silver Springs water through the Roosevelt Arch in Gardiner and into the park.
"We're excited to partner with Xanterra and Yellowstone Forever. We're breaking new ground here," he says.
Xanterra estimates the switch is saving over a quarter-million plastic bottles each year. Learn more about their sustainability efforts.
[Images provided by Montana Silver Springs]
Jennifer White is a writer living in Paradise Valley, Montana. Her fiction and nonfiction have appeared in a variety of publications, from Women's Adventure to Backcountry Journal, Narrative Magazine, and Conde Nast Traveler online. She has served as an artist-in-residence in Glacier National Park and enjoys calling the Yellowstone region home.
For more travel experiences to Beautiful Places on Earth™ available from Xanterra Travel Collection® and its affiliated properties, visit xanterra.com/explore.

Want to experience Yellowstone in-depth? See what makes Yellowstone National Park a great place to work for a season or longer!
---