Stagecoaches In Yellowstone
Yellowstone Stagecoach
In Yellowstone National Park's early days, before the cars and tour buses took hold of the park roads (and before there were even paved roads at all), visitors relied on a different kind of transportation; one that defined the old western lifestyle and became a staple of Yellowstone's rich history.
According to Leslie Quinn, an Interpretive Specialist with Yellowstone National Park Lodges, the dilemma they faced back in 1872 after the park's initial opening was, with mass amounts of people coming to the park via the new railroad system, how could they be conveyed throughout the park?
The answer: stagecoaches.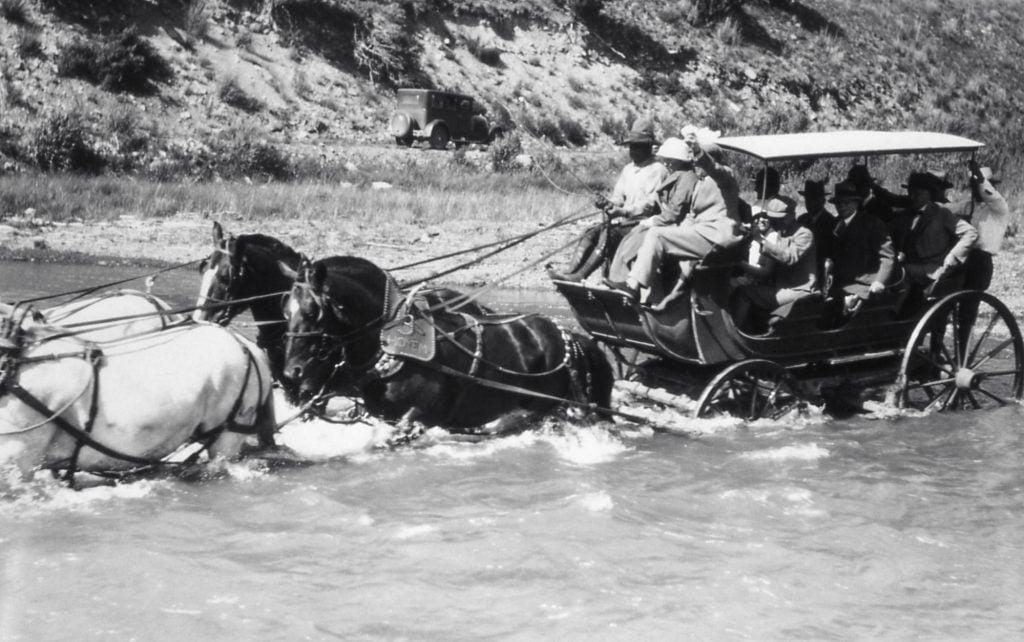 (Photo from the NPS Archives)
The stagecoaches of Yellowstone are a beloved and timeless tradition, kept alive in the park even today. In fact, one brand new stagecoach was built by our employee, Tony Leftwich.
Although Yellowstone Park was established in 1872, stagecoaches hadn't taken hold as the park's primary mode of transportation for guests until 1886, but by then, they ruled the land. Several companies offered rides throughout the park with different variants of coaches, but the most notable was the Yellowstone Park Transportation Company, which led the way with its famous bright yellow "Yellowstone Coaches."
The company offered several models of coaches, modeled and built by the Abbot-Downing Company of Concord, New Hampshire.
"Yellowstone ordered one unusual option or variant of a stagecoach; almost all stagecoaches of the day were built with their seats facing inward to promote conversation over long trips," Quinn explained. "Yellowstone you came to for sightseeing, so Yellowstone stagecoaches were all ordered with the seats facing forward and open sides rather than enclosed cabs so that you could see the scenery."
Some of the most notable models were the six-horse "Tally-Ho" stagecoaches, which transported guests from the train depot stationed at Gardiner, Montana, over the five miles to the Mammoth Hot Springs Hotel.
"Tally Ho" stagecoaches featured four interior seats, as well as an exterior rear seat, and even hosted seats on the roof.  According to Quinn, up to 36 people could fit on this model of stagecoach.
From the Mammoth Hotel, guests loaded onto smaller, Yellowstone Observation Wagons, which were pulled by four horses. These coaches were used to take 10 visitors per coach on the "Grand Loop" tour, where they would ride together for five days viewing the various sites throughout the park.
Back then, stagecoaches were the way to travel in Yellowstone. It wasn't until 1917 that the reign of the park's primary transportation had shifted, and cars and buses took over the roads.
Today, at Roosevelt Lodge, people can experience what it was like 100 years ago and ride on replica "Tally Ho" stagecoaches.
"Our replica stagecoaches at Roosevelt Lodge help people to gain an appreciation of how their forefathers toured around Yellowstone," Quinn explained. "The vast majority of the people who saw Yellowstone did so from a stagecoach."
Quinn, who has researched Yellowstone's stagecoach era, said he believes the stagecoaches in the park today help connect guests to the experiences of the past.
"It must have been an utterly charming way to see all of Yellowstone at 10 miles an hour," Quinn joked. "And it's amazing to think about what a different time it was. Coming to see Yellowstone then was, for the most part, a very different experience than ours of today."
Karley Nugent graduated from the University of Louisiana at Lafayette with a major in journalism and a minor in English. During the summer of 2015, she worked as a Senior Guest Service Agent (GSA) at Lake Lodge in Yellowstone National Park. Nugent is a photographer, avid hiker and lover of all things Yellowstone, especially the Grand Canyon of the Yellowstone (look for her at Artist Point).
If you're interested in experiencing a Yellowstone stagecoach, you can learn more online, or by calling us at 307-344-7311.

Additional information on the history of transportation in the park can be found on the NPS website, or by visiting the Yellowstone Heritage and Research Center in Gardiner.

For another historic Xanterra adventure, take a ride on the Grand Canyon Railway. The lovingly restored classic train offers an incomparable historic ride to the Grand Canyon through the ponderosa and piñon pine forests and wide-open prairies.
For more travel experiences to Beautiful Places on Earth™ available from Xanterra Travel Collection® and its affiliated properties, visit xanterra.com/explore.

Want to experience Yellowstone in depth? See what makes Yellowstone National Park a great place to work for a season or longer!
---