The Coolest Way to Tour Yellowstone
Yellowstone Yellow Bus Tours
Early visitors to Yellowstone explored the wonders of the park in all sorts of vehicles, from stagecoaches to surreys to snow planes (a precursor to the snowmobile).
Those transportation modes were long ago eclipsed by more modern conveyances. But one early model, the park's yellow touring buses, remains a staple. And they're as big a hit as they were when they first rolled onto Yellowstone's byways in the 1920s.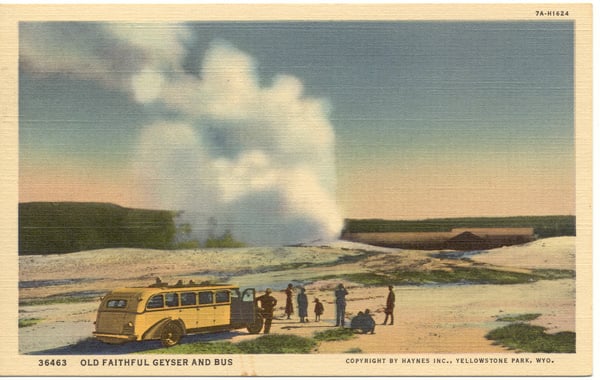 These days, a fleet of eight vintage White Motor Co. buses ferry visitors on guided wildlife-watching tours, photo safaris, sunset tours, and more. The distinctive antique yellow vehicles have retractable canvas roofs and panoramic windows, making them ideal for sightseeing. Plus, they're really cool to ride around in.
At the height of their popularity within Yellowstone in the mid-1920s, more than 400 of the vehicles operated in the park.
"Yellowstone loved to brag that they had a bus for every day of the year," says Leslie Quinn, an interpretive specialist for Yellowstone National Park Lodges, the park's primary concessionaire. "Yellowstone had the second largest bus fleet in the country in the mid-20s, second only to Greyhound."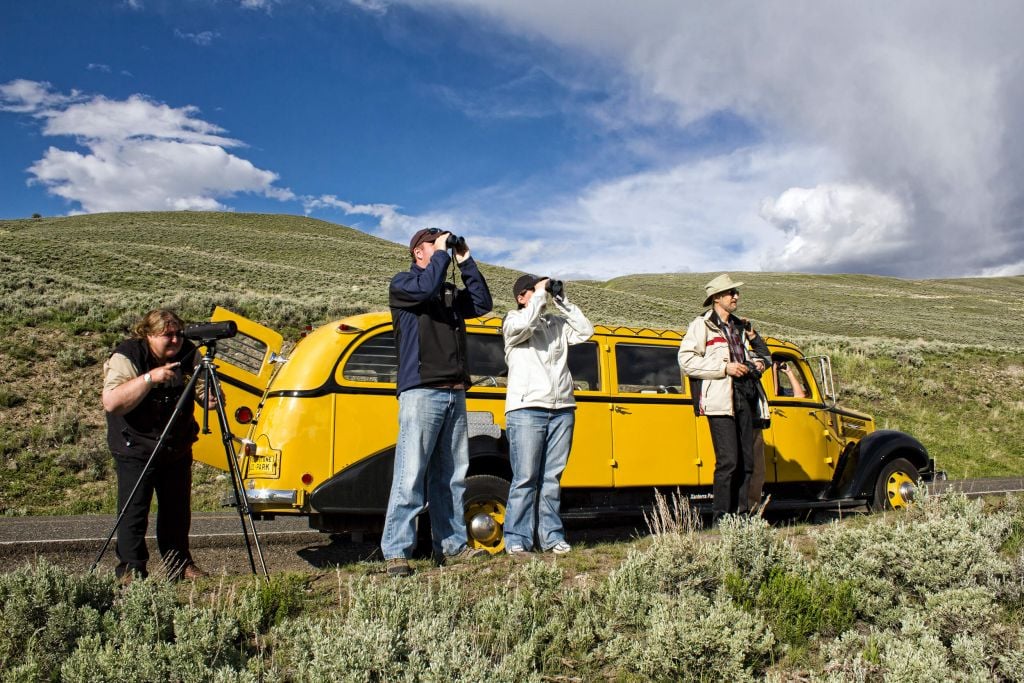 As more visitors arrived in private vehicles and explored the park on their own power, the Yellowstone tour buses were gradually sold off. But in 2002, Xanterra purchased eight of the vehicles from the Skagway Streetcar Co., which had used them for touring the historic Alaska mining town. In 2006, the vehicles were refurbished to meet modern safety and mechanical standards and in 2007, Xanterra returned the buses to service in the park. They also added basic amenities like heaters. The bodies sit on 2007 Ford E450 van frames and motors, but the exteriors of the 13-passenger vehicles maintain their original appearance.
The Skagway Motor Co. had acquired these historic buses from around the country, where they'd served various duties. Each of the eight Yellowstone vehicles has a nickname related to its past life. Look for the name posted on the right-hand side above the windshield. For instance, there are "Big Rocky" and "Little Rocky," named for their stints in Rocky Mountain National Park. "Monty" once belonged to a collector from Vermont. And "Hollywood" appeared in an episode of M*A*S*H and the movie Big Trouble in Little China, Quinn says.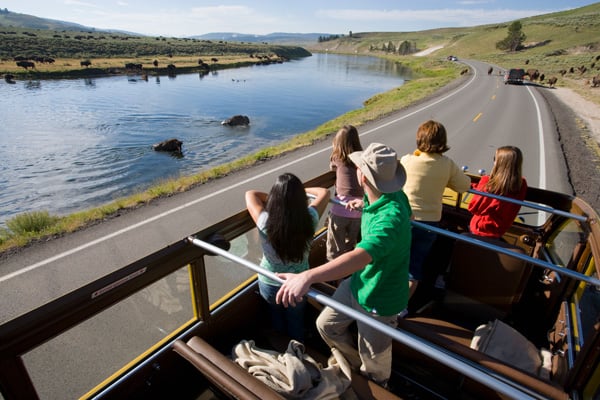 Regularly scheduled themed Yellowstone bus tours depart from Old Faithful, Mammoth Hot Springs, and Lake Hotel from late May to October. The Historic Yellow Bus can take you to the heart of the greatest geyser region of Yellowstone or wildlife-rich areas like Hayden Valley and the Northern Range. And one of the buses can even be rented for private tours. Whether you prefer a leisurely morning, geyser gazing, or wildlife watching we can help you create your perfect day in a Historic Yellow Bus.
But wherever they roam, Yellowstone's historic yellow buses are certain to cause a stir among onlookers.
"If we had a nickel for every person who wants their picture taken in front of the bus, we'd make a fortune," Quinn says. "They're just the coolest little buggies on the planet."
Washington, DC-based freelance writer Jayne Clark has been a travel reporter at USA TODAY and several other daily newspapers.
For more travel experiences to Beautiful Places on Earth™ available from Xanterra Travel Collection® and its affiliated properties, visit xanterra.com/explore.

Want to experience Yellowstone in-depth? See what makes Yellowstone National Park a great place to work for a season or longer!
---