The Map
Mammoth Hotel's Map Room
In a landscape of unique hot springs and geysers and abundant charismatic wildlife, our attention is focused outside. But one work of manmade art is worth a moment's pause – inside. Mammoth Hotel's Map Room owes its name to a stunning map of the United States as it existed in 1936. Measuring 17′ 2″ by 10′ 4″ and containing 2,544 pieces of wood, the meticulous craftsmanship has been restored to its original beauty by the National Park Service Conservation Laboratory in Tucson, Arizona.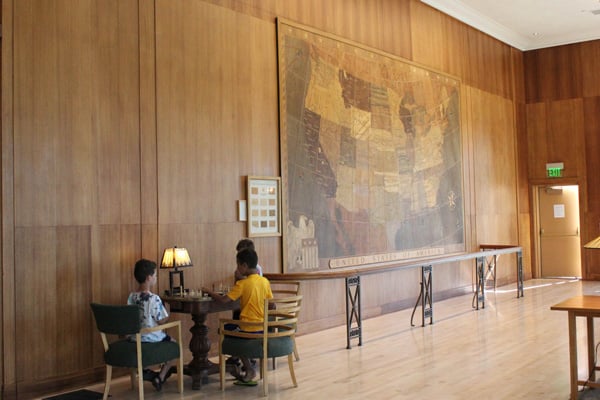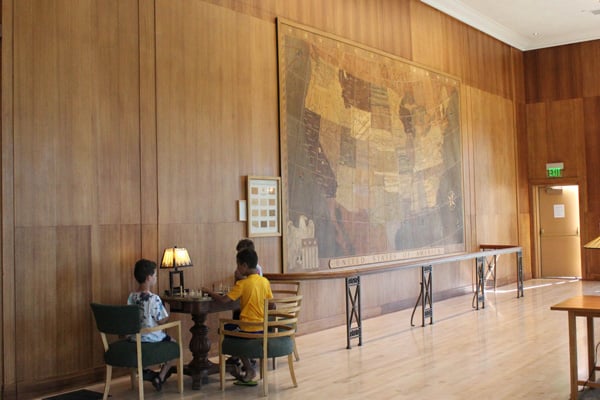 Mrs. Adelaide Child, widow of hotel company president Harry W. Child, suggested the idea to architect Robert C. Reamer, who was already at work on a plan for replacing Mammoth's 1880s hostelry. The two had worked together for decades, he designing hotels for her husband, she furnishing them upon completion. Good friends, they were both widowed in the early 1930s. Two collaborators soon joined them: Mrs. Child's son-in-law William M. "Billie" Nichols, then president of the hotel company, who arranged the financing; and W. H. Fey, a member of Reamer's creative team, who executed the actual work.
With no precedent to base the design upon, Reamer poured over all the maps he could find in the Seattle Public Library. The largest and best map available was only three feet by six feet, so it was photostated in sections to bring it to the desired size.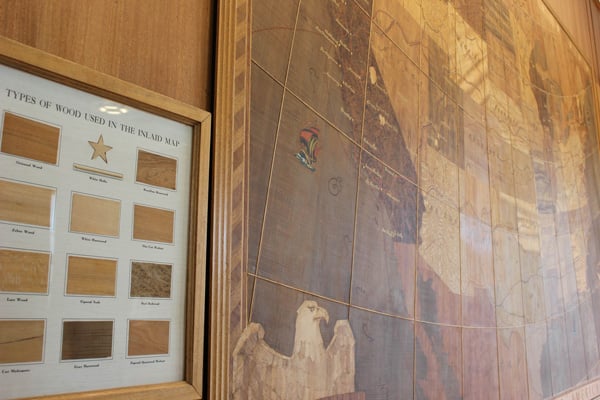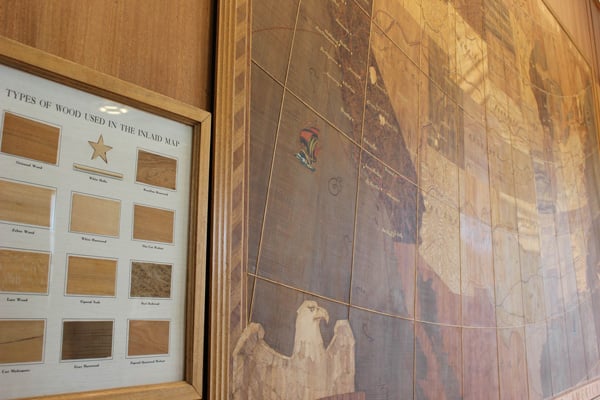 America's forty-eight states, an eagle, and a compass were delineated by the use of different woods that originated in nine countries. To achieve the proper grading and balance for the various states, fifteen varieties of wood were chosen. The main auto roads, such as the Yellowstone Trail and the Lincoln Highway, and the lines of the major railroads were created using rubber strips in red & blue. State capitols, major cities, and railroad hubs were highlighted. To give the map a personal family touch, Billie Nichols requested the addition of La Jolla, California (where the Child and Nichols families maintained winter homes), and Anceney, Montana (west of Livingston, where a railroad spur line reached their cattle ranch, the Flying D, owned by Ted Turner today).
Maps help us navigate through our environments, orient us to attractions or hazards, and help us gain a greater perspective of our place on the planet. At a time when many people no longer learn to read maps, instead of relying on GPS or Mapquest, perhaps contemplating one piece of magnificent art can help us find our way.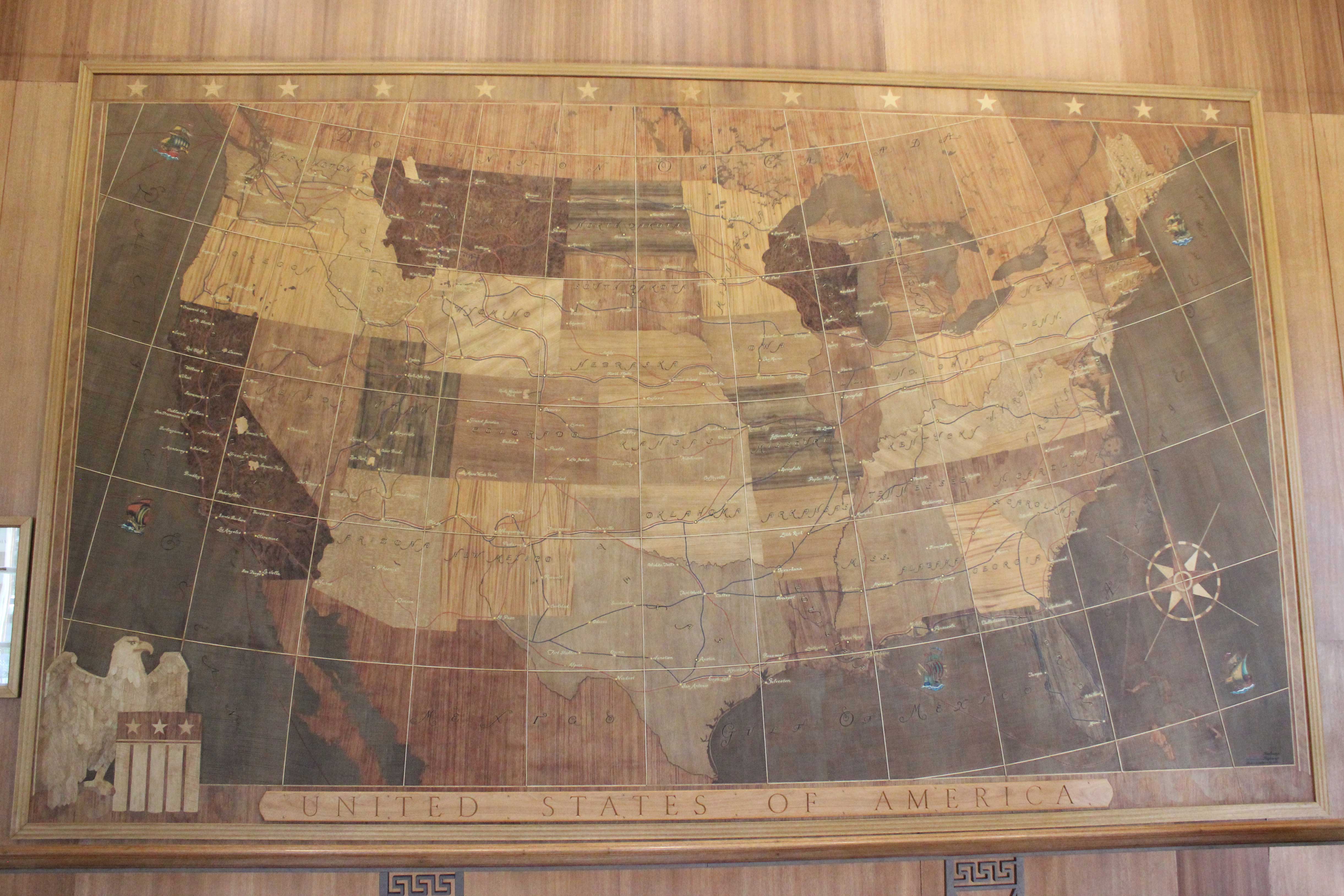 Fun Facts About the Mammoth Hotel Map
One state capital is incorrect. The dot is in the right place, but the painter changed it to the wrong name. Can you find it?
The map was shipped from Seattle in six panels – cut on curved Meridian lines. "The West" is sometimes said to begin at the 100th Meridian (in western Nebraska). How many states does it pass through?
There are thirteen stars across the top. What might that number represent?
How many national parks can you find?
Why aren't Alaska and Hawai'i represented?
For more travel experiences to Beautiful Places on Earth™ available from Xanterra Travel Collection® and its affiliated properties, visit xanterra.com/explore.

Want to experience Yellowstone in depth? See what makes Yellowstone National Park a great place to work for a season or longer!
---