The Trail Groomers of Yellowstone
Yellowstone's status as a mecca for winter recreation cannot be overstated. With almost 200 kilometers (over 100 miles) of both groomed and ungroomed trails in the Old Faithful area alone, a nordic skier can easily fill their days kicking and gliding amongst the snow-covered lodgepole pines, soaking in a winter wonderland, and savoring the solitude. The Mammoth area also offers 25 miles of groomed and 25 miles of skier-tracked trails – both locations can easily satisfy the backcountry, classic skier, or diehard skate skier.
Kayla Gibson and Sammy Bolinger, who, combined, have spent over 20 winters working in the Bear Den ski shops (from guiding tours to instructing lessons), happily shared what it takes to maintain the groomed trails in the park. To start, they hop on a Skidoo Skandic snowmobile with a 60″ groomer element attached like a trailer on the back. This element sets the corduroy pattern to one side with skier set tracks to the other.  Both were no strangers to snowmobiling which helped them navigate one of the challenges groomers face – getting stuck.  Kayla grew up in the Pennsylvania countryside, riding recreationally. Sammy also had driven snowmobiles before working in the park, which for some can be the intimidating part of the job – though prior experience "biling" is not required. At the start of the season, there is hands-on training on how to drive, ride, and get unstuck, along with basic repairs and operation of the groomer.  Much of it is "learn as you go" and practice!
Grooming ski trails is both an art and a science where temperature and moisture impact grooming efforts. When ideal, conditions come together to create a pristine look of perfection (especially when the sun is hitting it at just the right moment), where skiers can fully enjoy skate or classic on the corduroy or in the set tracks. Kayla may groom anywhere from 25-50 miles in a day; the big focus areas groomed are their lesson oval and practice hill, employee area and walkway, and cabin area around the Snow Lodge. The Lone Star trail (summer service road) out to the geyser is also a popular groomed trail that parallels the Firehole River offering beautiful scenery along with opportunities to see river otters and various waterfowl.
At Mammoth, the groomed areas include the Mammoth Terraces, where you can safely skate next to active thermal features and capture commanding views of Mammoth and Mt. Everts. Blacktail Plateau and the Chittenden Loop in the Tower area, 9 and 18 miles west of Mammoth, are also groomed along with the Bunsen Peak trail and the campground loop at Indian Creek (ski shuttle required). All of these trails offer fantastic scenery and incredible wildlife viewing opportunities.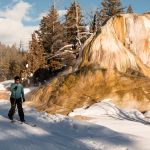 In addition to getting stuck, heavy snowfall, cold mornings (-30!), big drifts, and bison on the trail, all pose challenges. For Kayla, being outside all day, seeing the fruits of her labor, and sharing that with others more than compensates for whatever challenges a day might bring – "The solitude I can get when out on Morning Glory or the Lone Star trail – and just having the trail and beauty to myself at times is wonderful." Sammy echoes that sentiment, privileged to soak in all the natural beauty and wildlife as he works.
"Whether the trail is a groomed or non-groomed trail, skiing in Yellowstone is spectacular and beautiful. It's like being in a snow globe –  a lifetime experience and something you will never forget." Kayla Gibson
Looking for information on the most current trail conditions or recommendations in the park? Both ski shops will happily assist and Mammoth also has a recorded hotline (307-344-5699).  And Yellowstone is not just for nordic skiers. Snowshoers can also find themselves lost in the solitude and wonder of Yellowstone, walking alongside many of the ski trails in the park.
---