Growing Up in Yellowstone National Park
Raised in Yellowstone
Between the National Park Service and concessionaires, more than 5,000 people work in Yellowstone during the park's peak summer season. Jobs range from law enforcement to tour guides to bussing tables. (Yellowstone's current superintendent, Cam Sholly, first worked in the park as a high school student in the summer of 1985 flipping burgers at the Mammoth Grill when his dad was the park's chief ranger.). The employees include high schoolers and students from nearly 600 colleges and universities, retirees, international students from about 30 countries, and careerists. As of 2022, Steve Fuller has worked in the park for Yellowstone National Park Lodges for 50 years! The people working in Yellowstone also include parents, which means there are kids who literally grow up in Yellowstone with its rich wildlife and eye-popping scenery as their backyard.
We caught up with four people who either grew up in Yellowstone or work there and have raised their families in the park, and asked them to share their experiences living in Wonderland.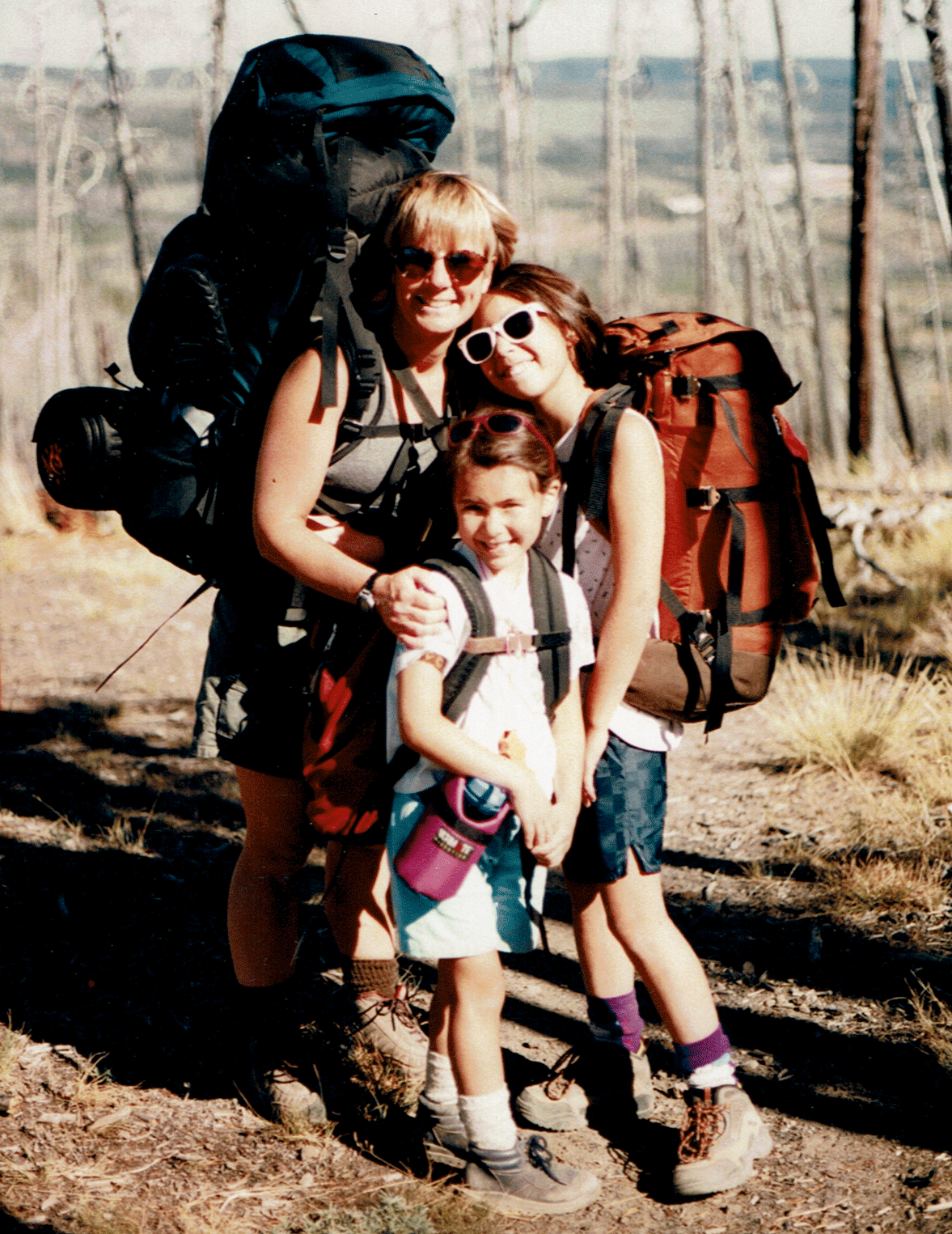 Miyeko Inafuku, Yellowstone National Park Lodges' Manager of Transportation Operations
"My parents raised us in Yellowstone and it just grabbed me and won't let go," says Miyeko Inafuku, 32, who grew up in Yellowstone.
Miyeko was born when her parents, who met while working in Yellowstone, lived at the park's South Entrance. Shortly after Miyeko's birth, the family relocated to the Tower Junction area and lived there until she was 3 years old. "I have vague memories of a creek behind the house and watching bears and elk out of the kitchen window," she says. "We moved to Old Faithful when I was 3 and most of my memories are of the Old Faithful area," where her family lived for eight years while her father was head of the district's law enforcement. Then, after six months in Mammoth, the family relocated to the Big Island of Hawaii (where Miyeko's father was a chief ranger at two national historical parks).
"Most people would think Hawaii was paradise, but I really missed Yellowstone," Miyeko says. "In Yellowstone, there were wild animals in our yard. We'd go backpacking and, in winter, on overnight ski trips." Because there was no school in Old Faithful Village, Miyeko and the handful of other kids who lived there were mostly homeschooled. "When the park's roads were snow-free and we could drive, we'd go to the school in Mammoth one day a week," she says. "When the roads were covered in snow, the moms would take turns snowmobiling us to Mammoth; we'd stay there for one week a month. The other three weeks, we'd go back to homeschooling at Old Faithful."
After getting into 10 colleges using an essay about Yellowstone being her paradise, Miyeko spent most of her collegiate summers working in the park, doing jobs including bussing tables at Old Faithful Inn, which she says is still her favorite building in the world to this day. "My mom used to give tours of it when I was a kid and I'd follow her around," Miyeko says. "As an adult, I've been able to give tours of it myself." After working seasonally in Yellowstone for 12 years, Miyeko started working year-round and full-time for Yellowstone National Park Lodges in 2021.
"I wouldn't trade growing up in Yellowstone for anything," Miyeko says. "I was so spoiled getting to grow up here. A lot of people say the NPS lifestyle is not an easy way to raise a family, but I am so glad that that is what my parents did."
Travel tip: Follow in Miyeko's footsteps. "One of my favorite hikes as a kid was Mt. Washburn. Getting to the top was not fun, but once you were at the top, it was," she says of the 6-mile round-trip trail to the 10,200-foot-high peak. She also liked the 4.8-mile out-and-back hike to Riddle Lake. "We'd always find really big mushrooms," she says. "Once a friend put her Barbie doll on top of a mushroom, and the mushroom was three times as big as the Barbie."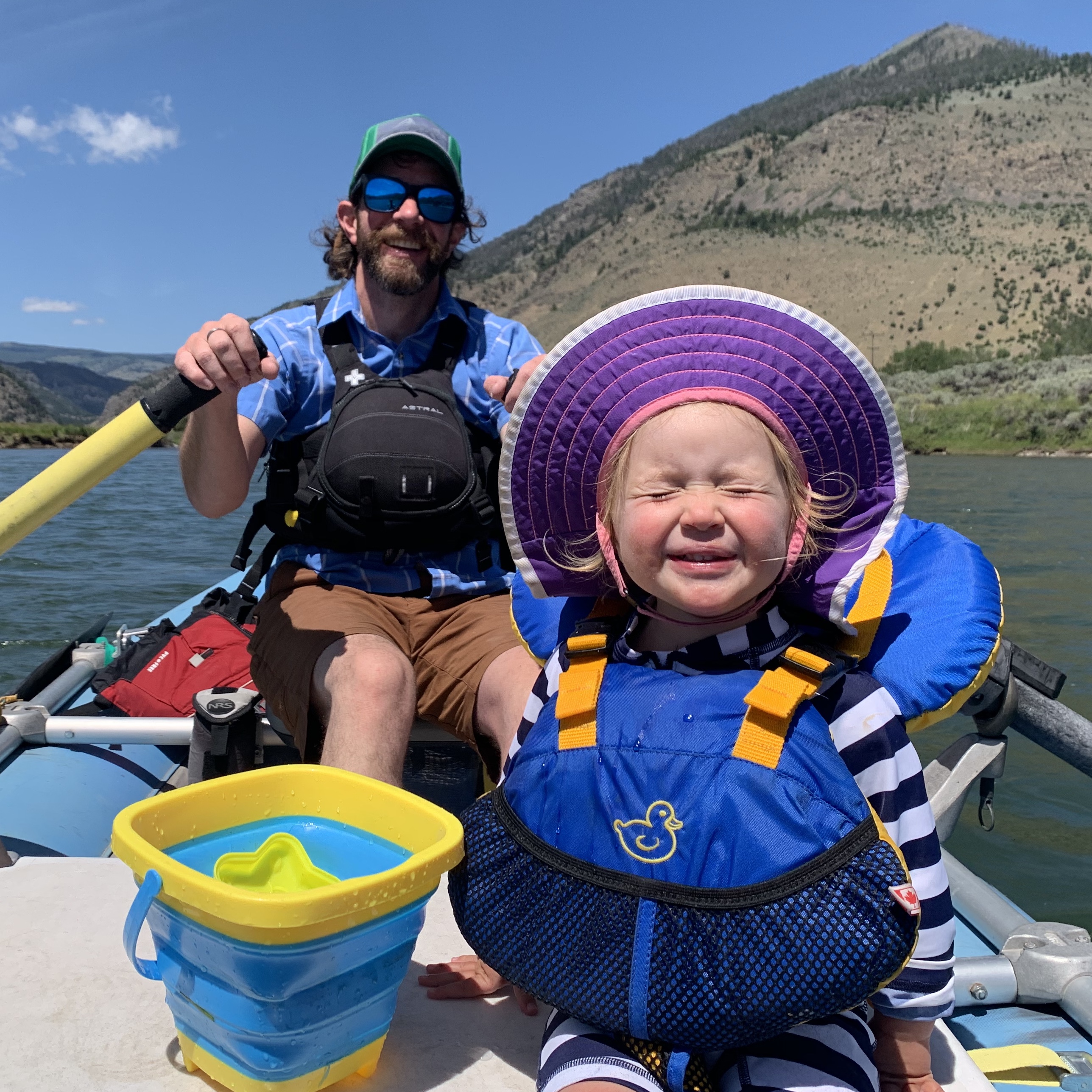 Dylan Hoffman, Director of Sustainability for Yellowstone National Park Lodges
Dylan Hoffman and Erin Makowsky are raising their young daughters, Steely, age 4, and Merrick, age 1, in the park. Although the girls aren't yet ready for big adventures in Yellowstone and the surrounding 15-million-acre Greater Yellowstone Ecosystem, "we're trying to lay the groundwork now for them to hopefully love the things that we love," says Dylan. "And we love outdoor recreation and Yellowstone."
"Steely has been skiing since she was 2 years old," Dylan says. "We've skied the Mammoth Terraces with her, which is super cool to have as our backyard." Dylan and Erin have also skied while carrying Steely in a backpack. "We took a snow coach to Old Faithful Snow Lodge and, while we stayed there, took a ski shuttle up to Spring Creek," Dylan says. "With Steely in the pack, we skied her back to Snow Lodge." Later in the trip, Steely got to watch Old Faithful erupt with no one around. "I don't know if Steely will remember these things, but Erin and I will, most certainly," Dylan says.
One recent morning on the drive to school — Steely and Merrick go to daycare in Mammoth Hot Springs, which is also home to Yellowstone's headquarters — Steely saw wolves in the wild for the first time, near the Boiling River. "Steely and I jumped out of the truck and watched them with binoculars and a spotting scope that we luckily had on hand," Dylan says. "Now every time we drive past that spot she says, 'Papa, that's the spot where I saw the wolves!' It's really cool."
Steely watches wildlife at her house, too. "She's grown up with elk in the yard as a regular fixture," Dylan says. "And deer, bighorn sheep, and the occasional bison. She loves watching them. Plenty of adults might not know the difference between a mule deer and an elk, but Steely knows. She'll grab the binoculars and watch songbirds on the feeders and then pull out her little bird identification book and try to figure out what she's seeing."
"Yellowstone is in our blood, and I hope it gets into Steely and Merrick's, too," Dylan says.
Travel tip: Floating is not allowed on rivers inside Yellowstone National Park, but the Yellowstone River originates in the park's interior and flows from the park's northern boundary at Gardiner north through the Paradise Valley. "There are lots of river access sites and sections that are mellow and great for families to float and fish," Dylan says. "And it's easy to make frequent snack stops or to stop for the kids to play in the sand."
Tori Hoeninghausen grew up in Yellowstone
Tori Hoeninghausen, 27, grew up just inside Yellowstone's northern entrance, near Gardiner, MT, and a short time later in Mammoth Hot Springs from the time she was 3 years old until she started college at the University of Wyoming. "Yellowstone is all I remember," she says. One of the two daughters of Yellowstone National Park Lodge's Director of Sales & Marketing, Rick Hoeninghausen, Tori credits her parents with "making sure they got us out into the park." She also admits that she didn't fully appreciate how special it was to grow up in Yellowstone until she went to college. "At college, you meet people from all over and they want to know where you're from. I was the only person from Yellowstone," she says. "I didn't think it was significant, but everyone I told was dumbfounded. They had no idea people actually lived in the park."
Born the same year that wolves were reintroduced to Yellowstone (1995), Tori started college planning to study zoology or pre-veterinary sciences. "So much of my childhood was about wildlife," she says. "Elk and bison were very frequently in our yard. If I kept my bedroom window open at night, I'd wake up to the smell and the grunting of bison rolling around in the dirt right outside." When she was 4- or 5-years-old, a black bear visited a lemonade stand Tori and a friend were running in Tori's front yard. "My friend and I ran to our parents to tell them a bear was robbing our lemonade stand and they just laughed. They thought we were joking. I can't remember if the bear actually got any of the lemonade or baked goods, but now I love telling people that a bear robbed my lemonade stand."
After several months of studying animals in college, Tori realized there was something she was more passionate about than animals. "Yellowstone doesn't just offer opportunities to see wildlife, but also to meet people from around the world." she says. "Starting at 17, I worked in the Mammoth Dining Room alongside a lot of international students," who became her friends. In college, she discovered her love of working with international students, and today she is an immigration advisor at the University of Colorado Boulder. "That's not likely a career I would have found had I not grown up in Yellowstone," she says. "Having friends from around the world isn't typical for kids from Montana and Wyoming."
Some of Tori's earliest memories are from Old Faithful Inn. "We'd sit in the lobby, play games as a family, and listen to the live music and I'd drink a Shirley Temple or hot chocolate from the bar," she says. "I still love the lobby of the Old Faithful Inn, but now I can drink wine instead."
Even though the Mammoth Terraces can be seen from her sister's childhood bedroom window, "I always make sure to walk around them with my mom when I'm home now," Tori says. "Whether walking or cross country skiing, it never gets boring because the terraces are constantly changing. I'm so glad my parents still live in Yellowstone so I can go back and appreciate what I didn't realize was so special as a child."
Travel tip: When Tori returns to visit her parents several times a year, she sometimes brings friends. "This is cliché, but I always take them to the Grand Canyon of the Yellowstone," she says. "The views from Artist's Point are hard to beat, even if it's crowded with visitors. It's just breathtaking."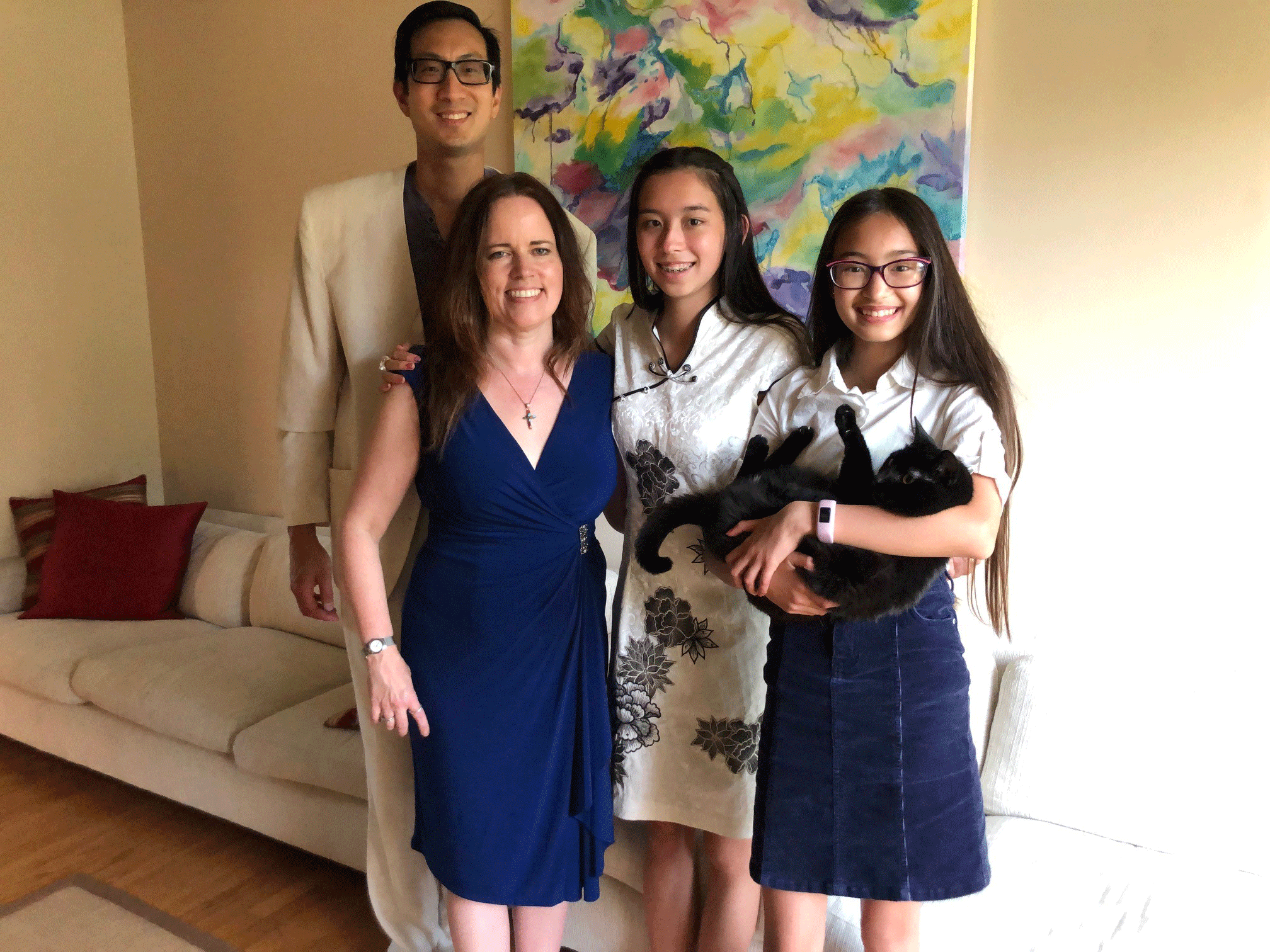 Colleen Tan, member of the Lake String Quartet
"Yellowstone is the reason I'm married," says Colleen Tan, a violinist with the Fort Wayne (Indiana) Philharmonic and, for two months every summer, with the Lake String Quartet, which plays at Yellowstone's Lake Hotel five nights a week. Tan met her violinist husband, Tim, in the late 1990s when she was a guest artist at Lake Hotel. "He was already a member of the quartet," she says. In 2001, Tim proposed to Colleen on the shore of Yellowstone Lake.
The couple is now parents to two daughters, Maria, 15, and Melissa, 12. "I carried both of them when I was playing in the quartet," Colleen says. "Tim drove me two hours each way to Jackson for maternity appointments, because that is where we had to go."
Today, the four Tans have adventures around Yellowstone while they're in residence during the summer. "We all feel like Yellowstone is our second home," Colleen says. "Our daughters really love it in the park. Both learned to ride their bikes in Yellowstone," Colleen says. Now the family enjoys biking together around Old Faithful and to Lone Star Geyser.
They also hike a lot. "We do Elephant Back (Mountain Trail) several times a week," Colleen says. "Maria has summitted Avalanche Peak several times, and we like Mt. Washburn when the road is open." One summer, the daughters devised a Girl Scout project to do in Yellowstone. "They spent the summer collecting trash along the roads, trails, pathways, and buildings in and around Lake Village," says Colleen. "They picked up so much. It was really cool."
"From the hiking to the scenery and wildlife, and even the fact that's it still very hard to get a cell signal at the lake, Yellowstone is a respite for all of us," Colleen says. "We are very lucky as a family to have it."
Travel tip: Catch the Tans in action when the Lake String Quartet plays in the Lake Hotel's Robert Reamer Lounge from 6:15 p.m. to 10 p.m. Thursdays through Mondays every week between June 16 and August 9, 2022. Or you can look for the family on the trail up Avalanche Peak. The hike is strenuous — it climbs about 2,100 vertical feet in 2.1 miles — but the views of Yellowstone Lake from its 10,574-foot summit make it worth the work.
Written by: Dina Mishev
Dina Mishev is a freelance writer based in Jackson Hole, Wyo. 
---