A Chat with Mike Keller: General Manager and Geyser Aficionado
Chief Geyser Gazer
Mike Keller serves as the General Manager of Yellowstone National Park Lodges, overseeing the entire operation. He handles both the day-to-day operation along with looking ahead to future business plans and organizational goals. Mike has lived and worked in Yellowstone for over 30 years. In addition to building his career in Yellowstone, Mike simultaneously pursued his passion for geysers. He started as a volunteer at Norris Geyser Basin in the summer of 1984 and continued to volunteer for 20 years in the park in thermal cleaning and monitoring. He was the President of the Geyser Observation and Study Association from 2010 – 2014. With all those credentials it's no wonder he's known as our Geyser Gazer in chief!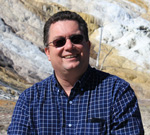 Can you describe how your interest in this field sprouted and evolved over the years?
As a kid growing up, my family always vacationed in National Parks.  We started coming to Yellowstone when I was 4, but my first real memories of Yellowstone were when I was probably 7 and watching Plume Geyser erupt while waiting to see Beehive Geyser.  Every year when we came back, I wanted to see more and more geysers and was lucky to see many large and rare geysers at a young age, which definitely contributed to staying interested in them.  Like any odd hobby people have, I guess, once I started watching them I was hooked and continue to enjoy them today.
Does this hobby span beyond geysers to other thermal features or geology?  
It's mostly geysers, although living and working in an active volcanic region has always interested me.  Yellowstone is unique and having lived here for over 30 years, you realize how many unusual geological formations surround you as your drive through the park.
Would you share a little bit about your volunteer experience, what you did, learned, and how it influenced your interest in this realm?  
I started as a volunteer in Yellowstone when I was 14.  I spent the summers of 1984 through 1987 at Norris assisting the park geologist in taking temperatures and measuring the pH of thermal features as well as monitoring and tracking eruptive activity.  When I lived at Old Faithful from 1987-1994 and again from 1997-2004, I volunteered again doing much of the same. Then, beginning in 1997, I began assisting resource management in cleaning and removing debris from thermal features.  It was fascinating, depressing, and fulfilling work.  My wife also volunteered and we spent between 700 and 1,500 hours a year running around the Upper, Midway, and Lower Geyser Basins with long metal spoons, a bucket, and a sieve removing rocks, sticks, coins, and a large variety of trash from geysers and hot springs.  In addition to over 20,000 coins, we found a diamond engagement ring, bullets, a New York City police badge, marbles, tax tokens, keys, boardwalk nails, old signs, thousands of pounds of rocks, and other assorted items.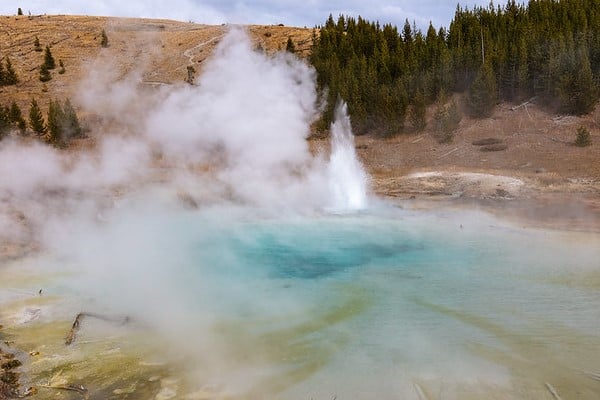 You probably have a few fave spots in the park for geyser gazing. Willing to share?  
Heart Lake is probably my favorite backcountry thermal area because the views are just spectacular.  Some of my other favorite spots include Imperial Geyser in the Lower Geyser Basin and Rainbow Hot Springs, a very remote backcountry thermal area several miles east of the Canyon area.  Having shared these, one of my absolute favorite things to do is go into the geyser basins at night.  For starters, there is practically nobody around.  Geyser gazing at night forces you to use senses other than your eyes, and you realize sounds you don't hear during the day when there are masses of people around.  Full moon nights in the winter are probably my favorite (something to be done safely!).
What is the longest amount of time you have waited for a geyser eruption, and of course, which geyser?
I spent 2 years waiting for Giant Geyser and have probably spent more time at Giant than any other geyser in Yellowstone.  Giant is probably my favorite geyser, but it's not the only one I've sat in front of for long periods.  All geysers have patterns of behavior, and many geyser gazers have spent decades watching them and learning their activity.  If you have a geyser you are interested in seeing, do a little research on it to understand if it is active and how frequently it is erupting.  Giant, for example, has been dormant for 2 years.  It can go decades between eruptions, but when it is active, it erupts every 5 to 20 days (most years), although there can be some variability in its activity.  Unless you want to do what we call "brute force geyser gazing," where you are just going to sit in front of a geyser until it erupts, you can better spend your time in the geyser basin watching geysers erupt that are active vs. sitting for hours or days in front of the ones that are not.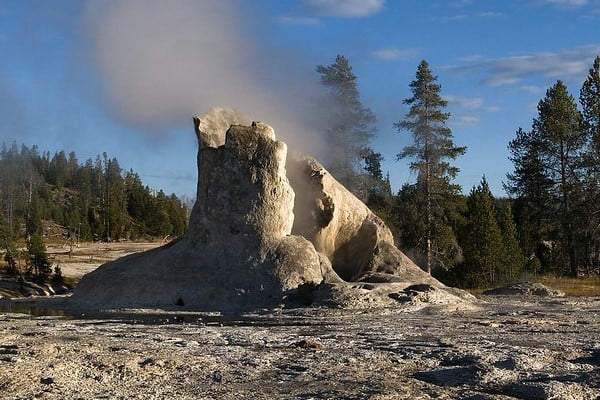 How does one prepare for a long wait time for that special geyser they are dying to see erupt?
Bring a good book, a deck of cards, or whatever else you like to entertain yourself when waiting for something to happen.  I would add "pay attention" to this list.  Many geysers have a series of events that happen leading up to an eruption.  If you spend any time at one geyser or in a geyser basin, watch and learn the patterns.  It helps in understanding how close a geyser is to erupting and will actually save you a lot of time when you can look at a geyser and realize you are still several hours away vs. knowing you are within 30 minutes or less.
Wolf watchers, geyser gazers. These communities have a strong presence in Yellowstone. Are there any parallels are notable differences you can share between them?  
Both communities have their tiers of engagement.  I know many geyser gazers that enjoy the social aspect of being around other gazers as much as watching geysers erupt.  Then, others like me are a little more hardcore (willing to be in the basins at night, during rain and snowstorms, in sub-zero weather, and so forth).  Some gazers, like wolf watchers, will share their experiences, spotting scopes, and stories with guests while others focus on the research side.  Both have an active online presence and if you know where to look, you can get a lot of useful information on geyser or wolf activity in Yellowstone.
Today, with your intensely demanding job, are you able to stay connected with this hobby/interest? Any advice on how to make the time or words of wisdom on creating that work/life balance?  
I'll admit since I've become the General Manager in Yellowstone, along with having two teenage daughters, it gets a little harder from time to time, but the keyword is balance, finding the time to get away, and enjoying the things you enjoy.  It also helps that Norris Geyser Basin is only 21 miles from Mammoth, and the world's tallest geyser, Steamboat Geyser, has been active for the past three years.  When I visit or stay in the Old Faithful area, I always make time to get out into the basin for a few hours.  Modern technology helps-as long as I have a cell signal, I can stay in touch with work while enjoying the geyser basin on weekends.
Any tips for a budding geologist?  
Stay inquisitive!  If you see something, learn about it.
Have your daughters followed in your footsteps and share your interest in geysers?  
They have an interest, but it waxes and wanes.  Kids need to have some level of constant activity from geysers to keep them interested. Otherwise, it gets boring for them pretty fast.  They have both seen several large and rare geysers over the years, and when something odd or seldom active starts erupting, they want to see it, but it's not always easy to convince them that going out a 3 am in March or October is as fun for them as it is for their father.
Any other fun interests or hobbies you enjoy during our off time we should know about?  
Cards – I play a lot of bridge both casually and professionally as well as the occasional poker tournament. I'm currently a Sapphire Life Master.  Plus I spend a lot of time with the family.  My kids are a few years away from leaving the house, but that window is slowly starting to close, and I want to make the most of it while they are here (and still think their parents aren't aliens from another planet!).
---