The Boomerang Gang!
Boomerang Employees
Along with the robust wildlife, Yellowstone is also home to a population of "Boomerang employees" – staff who worked here "way back when" and returned later in life, often after retirement. Erin Knotek, Lake EDR crew, was highlighted on our #whatwedowednesdays social media series recently. We also interviewed the Wrights and the Shenefields, couples who met in the park and boomeranged back to Yellowstone MANY years later. Both of their original Yellowstone stints date back to the 70s while Erin's dates back to the early 90s!
Erin Knotek: Photos taken in 1991 & 2021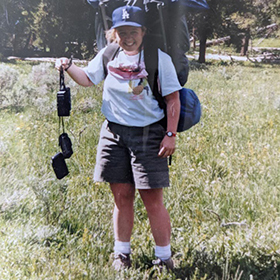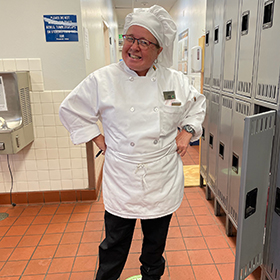 Erin was born in upstate New York to a "non-outdoorsy family."  Family friends clued her into the work opportunity in the park and she landed a job at Grant Village as a Residence Coordinator (RC). This was 1987.  That summer, her first bear sighting, climbing Avalanche Peak, and most importantly, meeting an entire tribe of nomads who inspired her to travel,  had all made a deep impact and opened her mind. She stayed for 4 summers and one winter then left for Alaska where she met her husband. In Alaska, much of Erin's work involved community relations – she believes in inclusivity and strives to make people feel connected to one another. This comes as no surprise as that is a remarkable quality of many park employees!
In 2020, after living in Alaska for 30 years,  she and her husband Kevin returned to Yellowstone as part of our Helping Hands program.  They enjoyed it so much that they came back this year for full-time jobs! Erin works in the Employee Dining Room and Kevin works in Maintenance.  Erin shared that despite being 30+ years older, that doesn't stop her from hiking and having fun on the softball team, and joining trivia nights.  She also shared sound advice for people of a mature age (which applies to everyone) – don't be afraid to do something different that might be uncomfortable. "Discomfort brings on change and with change comes growth – and  a whole lot of fun!"
The Shenefields –  Photos taken in 1971 & 2021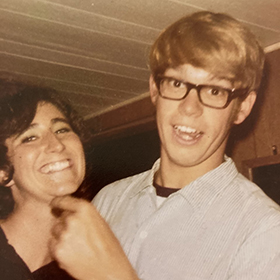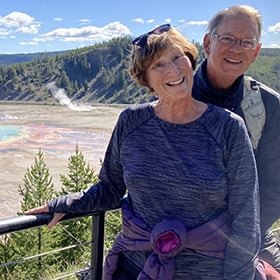 In 1970 and 1971, Jordan was a Pumper for YPSS at West Thumb. There was no self-service in those days; Pumpers pumped the gas, cleaned the windshield, and offered to check the oil. In 1971, Susan worked at Hamilton's Basin Auto Camp Store #2 fountain at Old Faithful, dipping ice cream and serving up hot dogs.
Growing up in Pittsburgh, PA, Jordan had been out West and visited some other national parks, but not Yellowstone. YPSS offered him 5 cents more an hour than Glacier ($1.15), and that nickel changed his life because he met Susan from Birmingham, AL. For Susan deciding to work in Yellowstone was a huge change that had friends and family scratching their heads.
Jordan still vividly remembers his first day off. Seeing the impressive mountains and the buck and rail fence in Grand Teton National Park for the first time left a lasting impression. Most importantly were the friends that they made. Every five years, they reunite in Yellowstone with three other couples from their early days that also met in the park.
Marriage and family took them out of the park and into their respective careers – Jordan working in the journalism/communication industry with Susan working in the newspaper industry. They raised two daughters along the way too!  It was always their retirement plan to do seasonal work in the national parks and they've enjoyed Yellowstone (twice!), Grand Canyon, and Denali National Parks.
Of course, their Yellowstone experience has been an evolving one. Now, Jordan is a tour guide while Susan works in the Retail department. Jordan would describe himself as young and impressionable back in the day, learning about Yellowstone and people. Now, he gets to share his impressions and a few stories about the classic characters of Yellowstone, along with the incredible history, geology, and wildlife. For Susan, it's now more about planning to cover the places they want to see and as much territory as possible. Susan shared, "As a 21-year-old in 1971, it was more about finding a party. In 2021, it's now about appreciating our community."
The Wrights – Worked in 1977 & 2021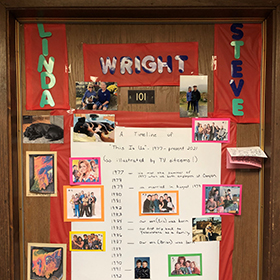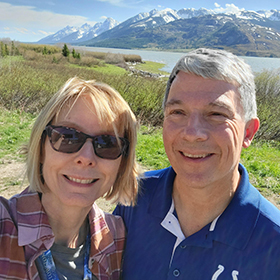 The timeline on their dorm room door in Obsidian at Old Faithful says it all. 1977 was their Yellowstone starting point. Linda was Kitchen Crew at Canyon Lodge, and Steve was the Cafeteria Manager. Linda had ventured out from Minnesota and Steve from Virginia. Meeting each other was most certainly the highlight of the summer, and they married two years later. After leaving the park, Linda became a Registered Nurse and Steve became a College Food Service Director. Their careers took them to Indiana, Ohio, Kentucky, Illinois, and Minnesota. Along the way, they found time to have two great sons (who both also worked in Yellowstone!).
Linda and Steve most enjoy working with a great bunch of co-workers and having a little more money to spend than they did 44 years ago! Now, they find themselves much busier at work and also having to say goodbye to newfound friends much too soon. Over several decades, change is inevitable. The Wright's observed a variety of these changes – two big ones being warmer, drier weather along with the massive crowds. The animal population is also very different from 1977. Back then, they saw many moose and no bears, which has totally flipped this season. Their jobs are different too – Linda working as an Audit Clerk and Steve is in the busier than ever Bear Paw Deli.
Thanks to our  "Boomerangs" for keeping Yellowstone a treasured memory that inspires them to come back in future seasons! All the best for a magical end of the season.  We know there are more of you out there – contact ltodd@xanterra.com to share your story.
---