Mike Keller Named General Manager
Yellowstone National Park, WY– May 6, 2017 – Michael Keller has been hired as General Manager of Yellowstone National Park Lodges, operated by Xanterra Parks & Resorts.
Keller is no stranger to Yellowstone, having earned a 28-year career here and at Crater Lake National Park with Xanterra prior to taking on the general manager responsibilities for the Grand Canyon and Tusayan operations under the auspices of Delaware North.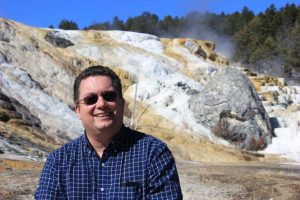 "It's great to be back in Yellowstone! This is sacred ground where I started my national park career and my family. So personally, this is a very special place," said Keller, General Manager for Yellowstone National Park Lodges. "As we're in the early stages of an ambitious 20-year contract, I look forward to playing a key role in guiding Xanterra's Yellowstone operations and delivering on our commitments to the park and its visitors."
Keller began working in the hospitality industry in 1987 and has spent the majority of his career in National Parks with a brief interlude working for Red Lion Hotels in Kalispell, Montana, and Seattle, Washington, in the mid-1990s. During his time as the Executive Director of Operations in Yellowstone, Keller received his CHA.
"We're thrilled to have Mike back with the Xanterra team," said Gordon Taylor, Vice President, Parks for Xanterra Parks & Resorts. "With his extensive leadership experience in Yellowstone and other parks, we know he's the ideal individual to head the operations and deliver on our promise to our guests, the NPS and this very special place in America."
About Xanterra Parks & Resorts
Known for its "Legendary Hospitality with a Softer Footprint," Xanterra Parks & Resorts® entities include lodges, restaurants, tours and activities in national and state parks, as well as resorts, a cruise line, railway and tour companies. Xanterra Parks & Resorts has operations in Grand Canyon, Yellowstone, Zion, Crater Lake, Glacier and Rocky Mountain National Parks; Mount Rushmore National Memorial; Furnace Creek Resort in Death Valley National Park; and five Ohio State Park Lodges as well as the Geneva Marina at Ohio's Geneva State Park. Xanterra Parks & Resorts also owns and operates the Grand Canyon Railway and Hotel in Williams, Ariz., the Grand Hotel in Tusayan, Ariz., Windstar Cruises, Holiday Vacations, VBT Bicycling and Walking Vacations, Country Walkers and Austin Adventures. Xanterra is also affiliated with two Five-Star Resorts, The Broadmoor in Colorado Springs, CO and Sea Island on the coast of Georgia.
###
Media Contact:
Laura Mooney / LMooney@percepture.com / 800-707-9190
---