9 Reasons to Visit Yellowstone in Winter
Yellowstone in Winter
Are you planning a winter getaway? Instead of heading south to escape the snow, embrace it and spend your winter vacations at Yellowstone National Park! Winters in Yellowstone are a unique time to explore the park, spot wildlife, and enjoy the best of the great outdoors.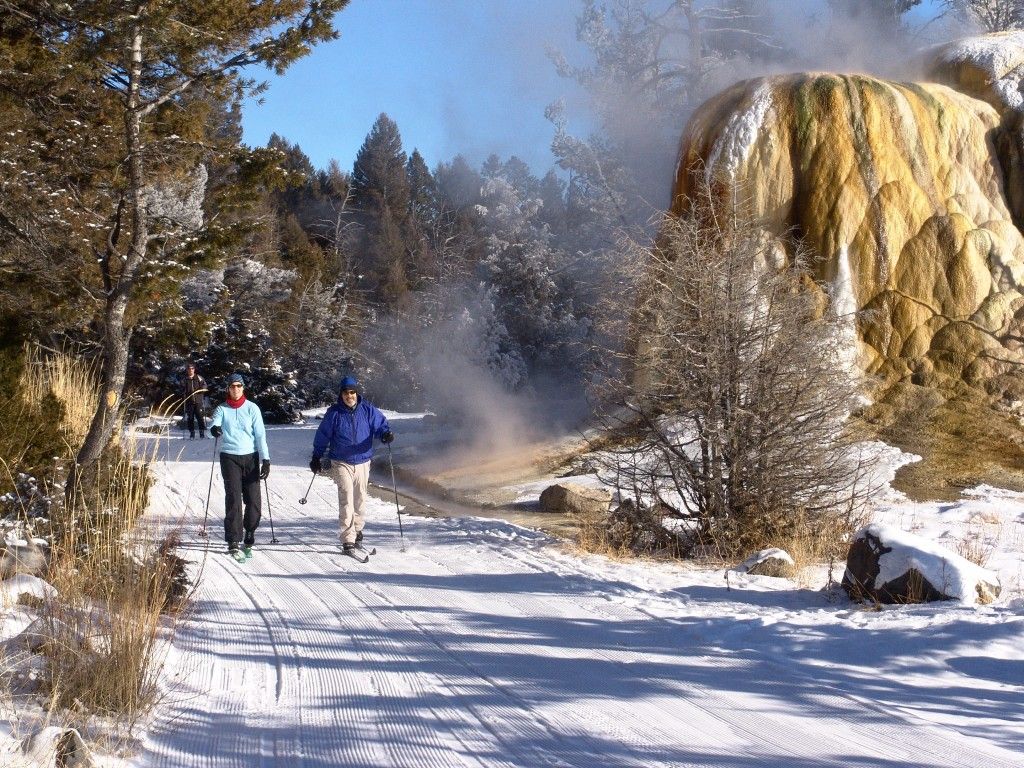 "Yellowstone offers miles of trails that lead past frosted woods, steaming hot springs and snow-packed meadows."
Winter is beautiful in Yellowstone National Park. Blanketed by snow, the 2.2-million-acre park exudes a mythical beauty. The abundance of warm-weather visitors that make Yellowstone the fourth most visited National Park are gone, and the wildlife and world-famous geysers as well as the bubbling mudpots, hissing fumaroles (steam vents) and hot springs remain.
Still not convinced about visiting Yellowstone in winter? Here are nine great reasons to start planning your winter vacation in Yellowstone.
1. Experience the park as few others do.
In winter, with only two hotels open and park-access primarily by guided oversnow transportation, experiencing Yellowstone's canyons, woods, wildlife, and hydrothermal forces can be a much more intimate experience. During the winter at Yellowstone, you can truly escape from it all and enjoy peace. Yellowstone is a quiet haven where you can relax and renew body and spirit. Give your smartphone and laptop a rest and spend some time reconnecting with nature and the great outdoors instead.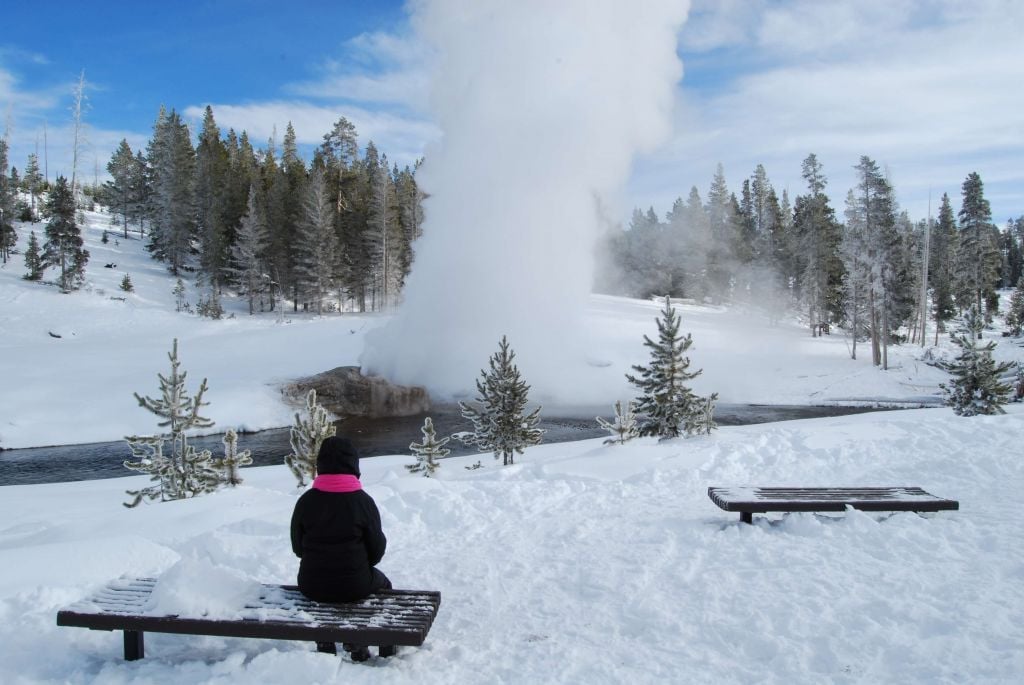 2. See the geysers against the snow.
The contrast of the grayish-white steam of the geysers against the snow and the stunningly blue skies creates a heightened sense of the Earth's powerful forces. In winter when Old Faithful, the geyser that regularly shoots sprays of water more than 100 feet in the air, erupts, the near-boiling water hits the chilly air forming "geyser rain." Watch as these tiny icy crystals and flakes fall to the ground.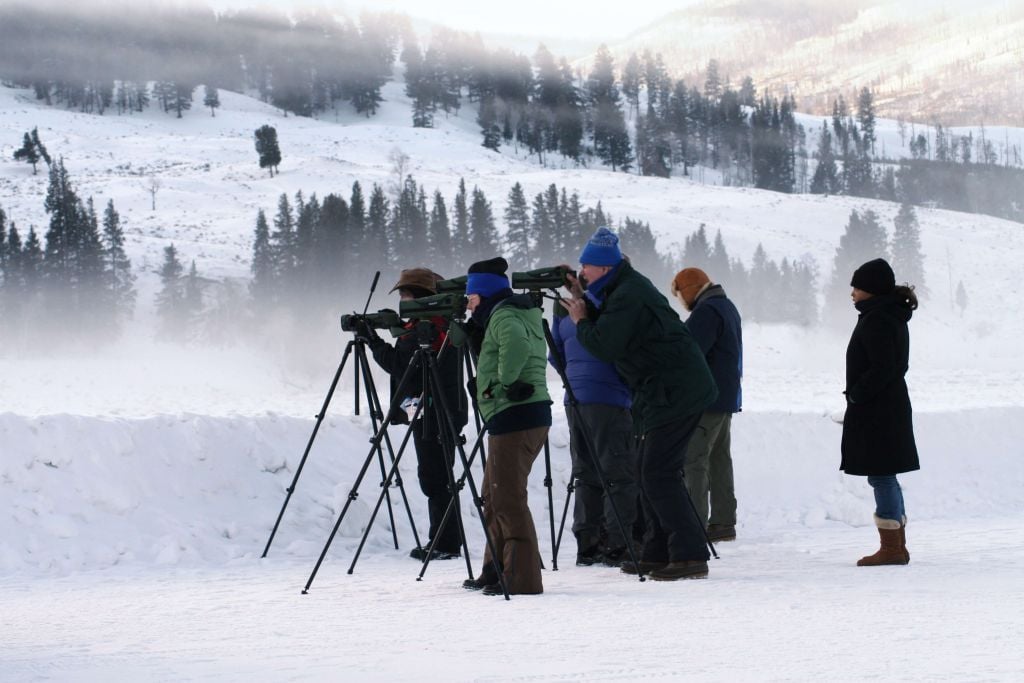 3. Spot animals easily.
Against the snowy background, the elk, bison, wolves, and other animals become relatively easy to spot and you can also see their tracks in the snow.
4. View bison with winter coats.
In winter, huge balls of snow dangle from the bisons' beards and, especially in geyser basins, they get a frosty covering. That, combined with the beasts' breath hanging in the frigid air like fire, make the formidable animals look even more impressive.
5. Snowshoeing, ice-skating, and cross-country skiing.
Outdoor activity options are endless. If you enjoy an active vacation, you're in luck. Yellowstone offers miles of trails that lead past frosty woods, steaming hot springs and snow-covered meadows.  You won't soon forget gliding within sight of a bison herd or striding near elk tracks. Explore a trail on skis or snowshoes, such as the Lone Star Geyser trail that starts at Old Faithful Snow Lodge and is a total of nine miles roundtrip. You can learn about the wildlife and the winter ecology on guided snowshoe and cross-country tours. Guided snowshoe tours are available daily from Old Faithful Snow Lodge, and private tours and instruction are available from both winter hotels. Equipment is available for rental from Mammoth Hotel and Old Faithful Snow Lodge.
6. Take a snowcoach tour.
So how do our visitors get around during the winter months? By snowcoach, of course! Equipped with tracks, sometimes with front skis or four oversized low-pressure tires, the snowcoach moves on top of the snow and offers passengers great views of park scenery with guided touring of Yellowstone. Don't forget – even though our snowcoaches are heated, sightseeing stops during your journey mean that warm footwear and layered clothing should be worn.' See Old Faithful and the park's Grand Canyon in the comfort of a snowcoach. From the third week of December through the end of February, most park roads close and snowcoaches and snowmobiles provide much of the transportation. One of the most unique things about Yellowstone in the winter is that travel within the park is very limited – since most roads are groomed for over-snow vehicles only.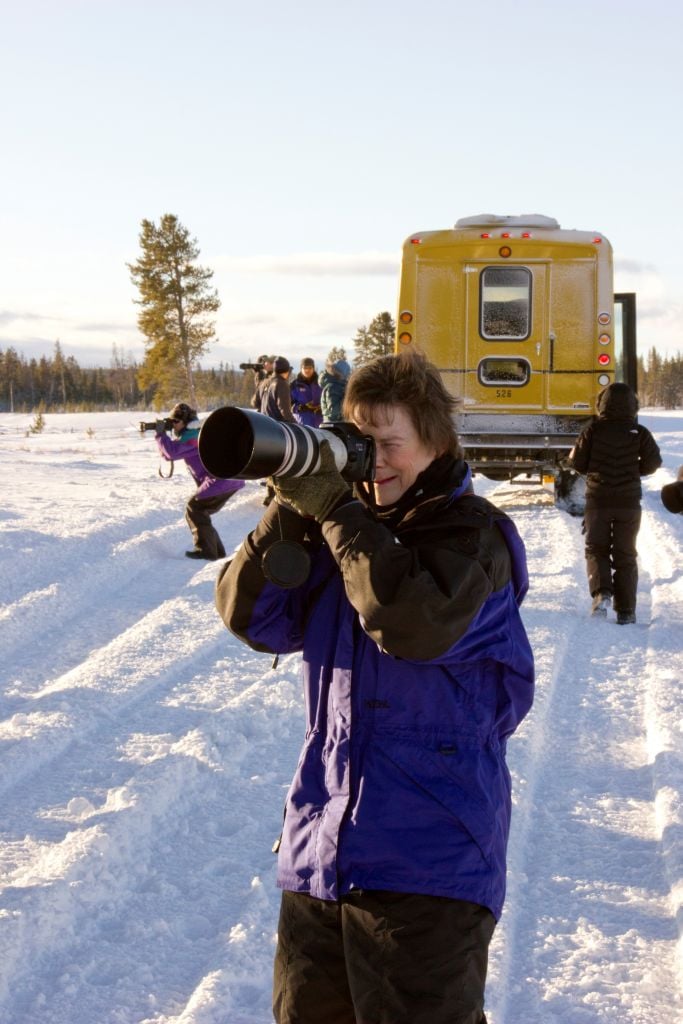 7. Go on a winter photo safari.
The contrasts of clear blue skies, snow-blanketed fields, steamy geysers, and woolly animals make for memorable images. Shoot these striking scenes on your own or go on a guide-led photo safari to learn tips that improve your technique. Or choose from other exciting winter Yellowstone packages. Book the Frosty Fun package, our base package that offers value and convenience for those who want to chart their own snowy course. Our new package, Couples Winter Yellowstone, takes you into the heart of Yellowstone to experience a winter wonderland. Or dive deeper with a lodging and learning package with a Yellowstone Association Institute naturalist guide providing expert instruction (like the Old Faithful Winter Expedition).
8. Enjoy the Mammoth Hot Springs area.
The travertine terraces formed by the hot springs bubbling through the limestone look like frozen waterfalls year-round. With fewer visitors, take your time admiring the formations then ice skate for free on Mammoth's rink.
9. Book lodging on shorter notice.
Not everyone can plan nearly a year in advance. For summer, it's not unusual for certain dates in Yellowstone's lodges to be booked many months in advance. Except for Christmas week, winter is the one time of the year when you can find rooms even on short notice. Stay cozy in our lodge accommodations. Curl up in front of a warm fireplace with a great book or play a board game with your family. The Old Faithful Snow Lodge and Mammoth Hot Springs Hotel provide cozy public spaces, great dining, and gift shops packed with items for everyone on your list.
Ready to start planning your Yellowstone winter vacation? Explore the many ways you can experience winter in wonderland. There are so many things to do in Yellowstone in winter!
Contributors to this article include Candyce H. Stapen.
For more travel experiences to Beautiful Places on Earth™ available from Xanterra Travel Collection® and its affiliated properties, visit xanterra.com/explore.

Want to experience Yellowstone in-depth? See what makes Yellowstone National Park a great place to work for a season or longer!
---