A New Life for the Haynes Picture Shops Headquarters
Haynes Picture Shops
Gone are the days of motorcycle couriers whisking away piles of film from the Haynes Picture Shops to be developed each evening. But with a new facelift and a LEED certification, the old Haynes Picture Shops Headquarters in Mammoth has a renewed spark of life. After twenty years of silence, the walls are once again buzzing with park information. When park visitors call to make a reservation—for a room, for dinner, for an excursion in the park—this is where their call goes.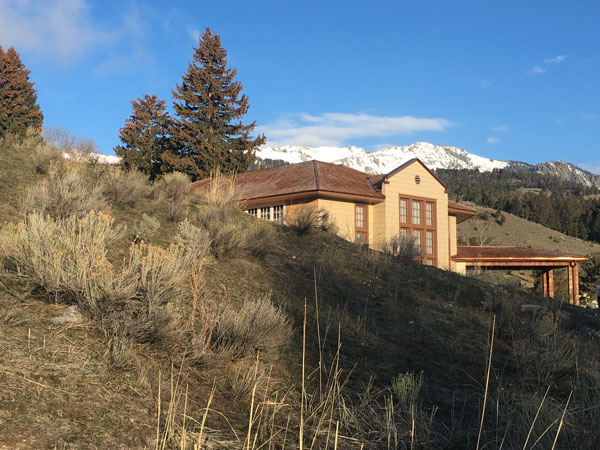 Reservations agents are our guests' first impression of the company and park, and they're key to launching our guests' incredible (and possibly life-changing) experiences. Reservations agents begin each call with, "Welcome to Yellowstone." From there, they build dreams. One reservations agent alone can handle between 300-500 calls per week, depending on the time of year.
The Haynes building is also home to Yellowstone's Leadership Team.
The Haynes Legacy
Frank Jay Haynes first photographed Yellowstone National Park in 1881, and thus began a family dynasty that extended 80-plus years.
Haynes gave himself the title of official park photographer, touring Yellowstone with President Chester Allan Arthur, the first U.S. president to visit the nation's first park and then taking part in the first large winter tour of the park in 1887. Frank, and later his youngest son Jack, documented the park and shared it with the world.
But it was the Haynes family concessioner businesses (including a stagecoach line and 17 picture shops) that left an indelible mark on visitors and helped bring images of Yellowstone to Americans' living rooms and photo albums. Haynes Picture Shops dotted the park, selling cameras, lenses, photos, postcards, film, and visitor information. (You'll find one of the early photography studios at Old Faithful; it's now the Yellowstone Art & Photography Center.)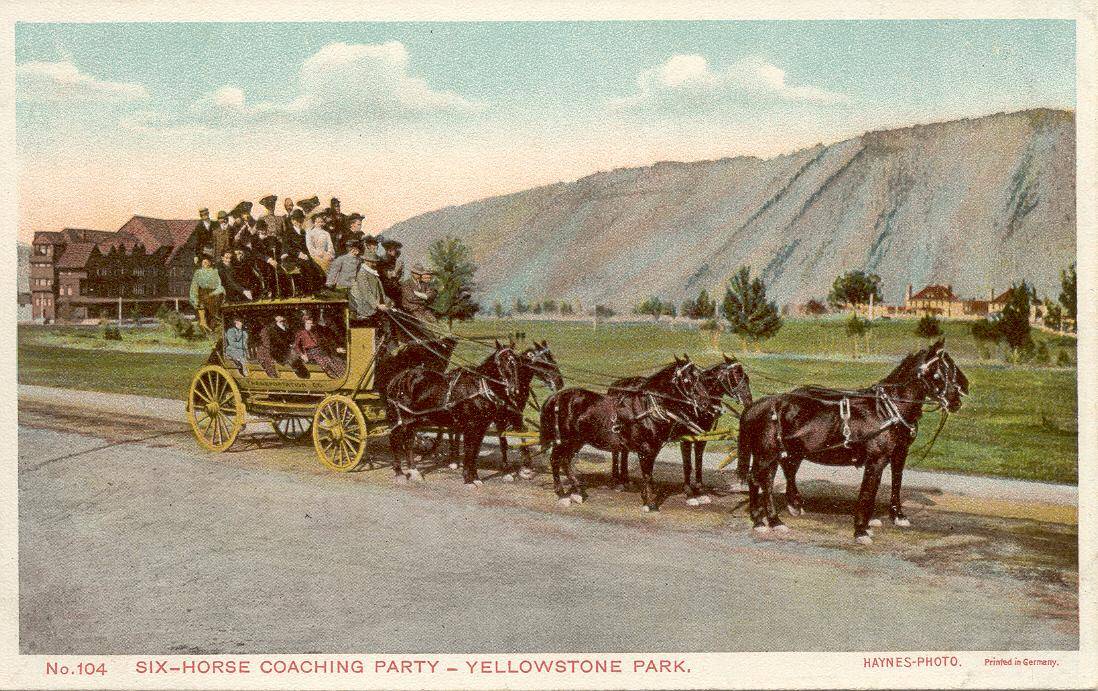 "They chronicled park history through their lenses, and we have them to thank for that," notes Leslie Quinn, Interpretive Specialist for Yellowstone National Park Lodges/Xanterra. They also recorded park history and kept visitors informed through their handy Haynes Guide to Yellowstone, which they updated and published 61 times between 1890 and 1964.
Haynes Picture Shops also provided an unexpected luxury in Yellowstone: overnight developing. At the end of the business day, four to five men on motorcycles would take off, collect film dropped off by visitors at the various Haynes Pictures Shops, and deliver it to their development shop at Old Faithful. The riders would sleep the night and by 6 a.m., they'd be buzzing along the roads of Yellowstone Park once again, delivering the photos to each shop before they opened.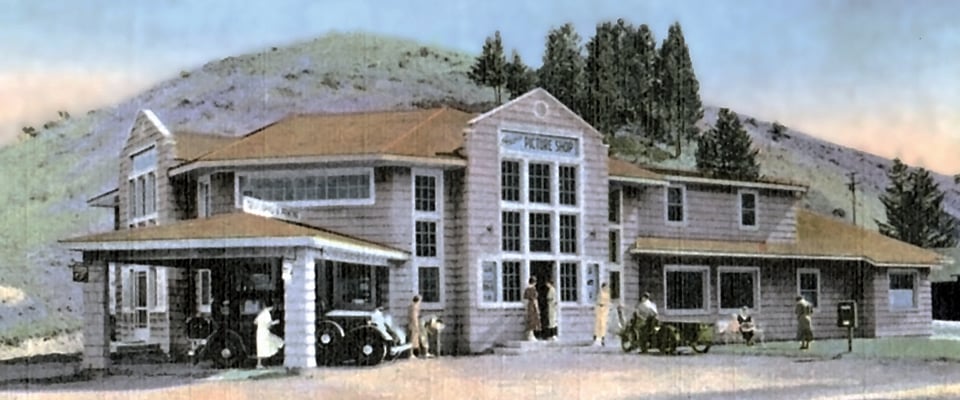 Repurposed and Restored
The Haynes Picture Shops Headquarters that stands today in Mammoth was constructed in 1928-1929 by Jack Haynes. The Mammoth building displays a transitional architectural style influenced by the Crafts movement, a departure from more traditional revival styles prevalent in Mammoth that was unrelated to the rustic architecture prevalent elsewhere in the park. It served as the headquarters for the Haynes photographic business in the park. It included a dormitory, an overnight photofinishing service, and retail space that carried an assortment of photographs, books, camera film, and other supplies. The drive-through canopy acknowledged the growing influence of the automobile on architectural design.
Jack Haynes operated the family business until his death in 1962. [1] The Mammoth Hot Springs facility was operated by the Haynes family until 1967 when it was sold to Hamilton Stores. The building served as a retail concession space until 1999 when it was relegated to storage and fell into disrepair. After an ambitious restoration project in 2015 and 2016, the Haynes Building now houses administrative offices for Xanterra in Yellowstone.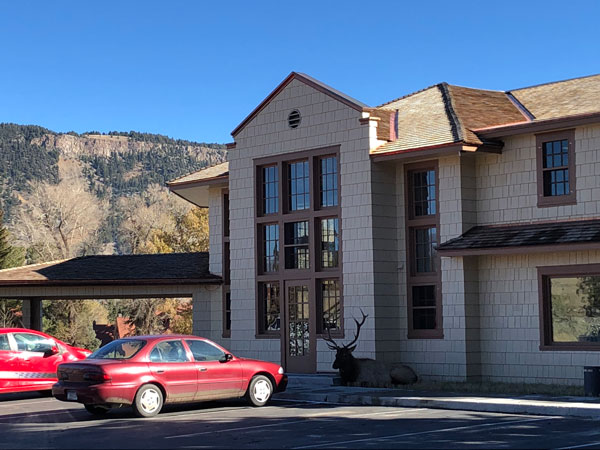 This marks the ninth LEED-certified project completed by Xanterra in Yellowstone, part of an agreement in their contract with the National Park Service for concessions facility improvements. In the Haynes project, they preserved the buildings' historical nature while also meeting the LEED (Leadership in Energy and Environmental Design) Gold certification standard for green buildings.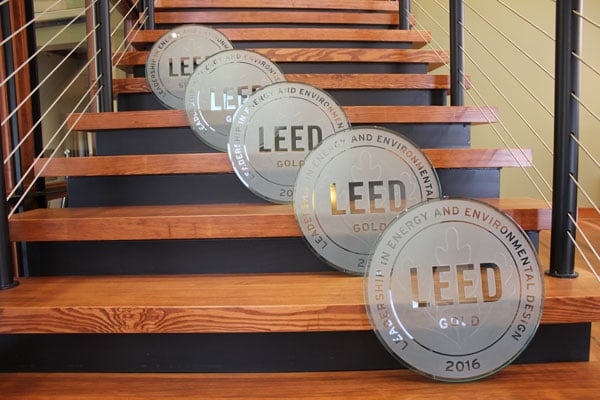 The renovation installed low-flow plumbing, LED lighting, and a new HVAC system, all while keeping 78 percent of the original interior elements and diverting 80 percent of the construction waste. Thirty-one percent of the materials purchased for the project were locally produced, including the recycled concrete countertops made of fly ash and recycled glass by a Livingston, Montana, company. The exterior includes a new electrical vehicle charging station, native grass vegetation, and zero irrigation.
It seems fitting that the park's largest concessioner has found a new home in the headquarters that once belonged to one of the longest-running family concessioners, the Haynes family.
Many things have changed since Frank Haynes ran a stagecoach and shared his photos with the world, but as the reservation center answers calls for rooms at Lake Yellowstone Hotel and as potential visitors ask about taking a snow coach into Old Faithful, the intention remains the same: to show visitors the wonders of the park.
Jennifer White is a writer living in Paradise Valley, Montana. Her fiction and nonfiction have appeared in a variety of publications, from Women's Adventure to Backcountry Journal, Narrative Magazine, and Conde Nast Traveler online. She has served as an artist-in-residence in Glacier National Park and enjoys calling the Yellowstone region home.
For more travel experiences to Beautiful Places on Earth™ available from Xanterra Travel Collection® and its affiliated properties, visit xanterra.com/explore.

Want to experience Yellowstone in-depth? See what makes Yellowstone National Park a great place to work for a season or longer!
[1] https://www.nps.gov/yell/learn/historyculture/haynesphotoshops.htm
---