Featured Brewer: Katabatic Brewing Company
Katabatic Brewing Company
In the small town of Livingston, Montana lives Katabatic Brewing Company. A newcomer to the brewing industry, LaNette and Brice Jones built their business on a mission to create and provide good, quality beer for their local community. Three years into the game, Katabatic has not only made a name for itself but has also joined Xanterra's mission of sustainability, sending their local brews to the park. LaNette recently spoke about her business; what they do, who they are and how they are committed to becoming a stronger, more sustainable business.
What do you like about brewing beer?
"I like the fun brewing culture. There's a couple of sides to the coin of the culture and the breweries themselves. It's a business in which the breweries are very collaborative. We work together really well, we have fun together and I think that's just completely different. Yes, we're competition, but not in the same way. We help each other be better and get better as breweries. The other side of the coin are the customers. Brewery customers are always happy and fun.
Where does your name come from?
"Katabatic is a type of wind. It's a cold, severe downslope wind that's common in Livingston, Montana. We were trying to come up with something that would fit the region and the location and give some meaning to the way of life here. That came up, so that's what we named it."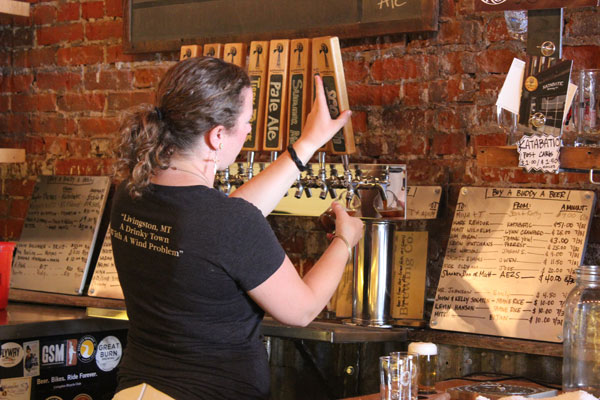 How is your beer made?
"The three main ingredients in beer are water, malt and hops. Obviously we have really good water in this valley. We do have to filter out Chloramine which can make the beer not taste the best, but you can't really taste it in the water itself. Then what we do is we source hops from mostly the Oregon and Washington area. We try to stay as close as possible. And then, as much as we can, we get our base malt out of Montana."
The process:
"The first thing you have to do is mash the beer, which is like when you steep tea. Then you transfer it to the kettle, and in the kettle, you're basically adding more water, the hops and adding anything else. The kettle is brings everything to a boil; really cooks it and brings out the flavors from the sugar. From there, you transfer the beer into a fermenter, where the yeast lives and it ferments for about 14 days. Then we transfer it to a brite tank, which is basically a vessel that is similar to a keg, but it's massive. While we transfer it to the brite tank we put it through a plate filter that takes out all of the yeast and grain sediment. From there we carbonate in the brite tank. It makes it really clear and crisp and it brings out the flavors. The only beer we don't do that with is the Hefeweizen, because it gets its flavor from the yeast."
How do you come up with new recipes?
"A lot of it is trying other beer to determine what you like in those beers and what you might not want. Our team sits down a lot and talks about the beers that we like, but not just the what we like about them, but also what we would change to make them even better. The other aspect of it is just picking the right malt and picking the right hops and making sure that everything is balances. It's sort of like creating a new recipe and if you cook a lot, you sort of know what works together and what doesn't. Brewing is the same way; when you drink a lot of beer and you're used to making beer, you can pick out the things that work really well together and the things that might not work well together. It's a creative process for sure."
What are your sustainable practices?
"One of the challenges of starting a small brewery in Montana is that everything is so expensive. We're trying to start to grow our energy efficiencies with brewing beer because it does take a lot of electricity and a lot of water. We went through a sustainability analysis from the state. We have an energy audit report that we just received and in that report, there's different things we can do to become more efficient. One of the things that we already changed is our lights to the energy efficient lightbulbs that can last up to five years, which is pretty amazing. It costs a lot more but in the long run it makes more sense. We will be working with the report the rest of the year to try to create more efficiencies in what we do."
Why does it matter to you to be sustainable?
"In order to make good beer, you need good water, but good water depends on so many different aspects of a clean environment. If we need a clean environment to make the product that we make, we also need to contribute to that clean environment. We want other people to treat our environment well, so we need to do it as well which means we will do that as well."
Why do Micro-brews matter?
"I think the interesting thing about the microbrew industry is that it's not just about the beer. Obviously the beer is a big component of it and drinking good beer is better than drinking bad beer, but what I really think is important is microbreweries giving back to communities. They care about the environment, they're constantly trying to come up with new ways to be engaged in local efforts and national efforts that matter. It's one of the things that drew me to want to start a brewery. I have a social work background, so a lot of my background is about trying to make the world a better place. The Brewer's Association has a report that shows the annual giving of breweries to their communities. We're not just a business that's trying to sell beer; we're a business that's trying make good beer so that we can give back to the communities that we serve. It's just a cool, unique model that you don't see very often."
Anything else that you'd like to share?
"We're very serious about the beer we make; we make good quality beer. We've won several awards on all of our beer, but we don't take ourselves all that seriously. We like to have a lot of fun and we like to be goofy.
"One of the coolest things about working with Xanterra is that our brewer is from Colorado and when we began serving in park, he just couldn't believe that we were in a national park. That was the coolest thing for him to be a part of a national park and to be a part of something bigger."
By sourcing more local products, Xanterra upholds its commitment to maintaining the best sustainable practices. Buying from local business not only helps support local communities but also offers added benefits like reducing transportation-related emissions, fuel usage, and costs.
Katabatic's Hefeweizen can be found in Yellowstone at the Mammoth Hot Springs Hotel and the Old Faithful Inn.
To learn more about the Katabatic Brewery and its beer, please visit their website.
Karley Nugent graduated from the University of Louisiana at Lafayette with a major in journalism and a minor in English. During the summer of 2015, she worked as a Senior Guest Service Agent (GSA) at Lake Lodge in Yellowstone National Park. Nugent is a photographer, avid hiker and lover of all things Yellowstone, especially the Grand Canyon of the Yellowstone (look for her at Artist Point).
For more travel experiences to Beautiful Places on Earth™ available from Xanterra Travel Collection® and its affiliated properties, visit xanterra.com/explore.

Want to experience Yellowstone in-depth? See what makes Yellowstone National Park a great place to work for a season or longer!
---