Great Geyser Gazing in Yellowstone National Park
Yellowstone Geysers
It's a show that's been going off like clockwork — more or less — for ages. But despite millions of performances, it always attracts a crowd.
After consulting a notice board estimating the time of Old Faithful Geyser's next eruption, visitors stream out of its namesake historic inn and to a nearby boardwalk plaza to get a front-row seat of the action. Old Faithful isn't Yellowstone National Park's tallest geyser, but, as its name indicates, it is the most reliable. Every 90 minutes, on average, a blast of boiling water emerges from the earth, shooting from 106 to 185 feet into the air. The show lasts between a minute and a half and five minutes, and never fails to captivate the countless annual spectators.
Fun fact: Early soldiers in the area threw their dirty clothes into Old Faithful for a quick and easy washing. Linen and cotton garments fared well, though woolens got ripped to shreds, according to an 1883 tourist guide to Yellowstone.
Old Faithful may be the best-known geyser in America's first national park. But it's just one of 10,000 geothermal features, thanks to Yellowstone's magma chamber related to the supervolcano that powers these features. In fact, Yellowstone has more geysers than anywhere else on earth. Geysers are essentially hot springs that erupt periodically. They have constrictions near the surface where the steam expands as it nears the top of the water column. The constrictions contribute to the build-up of water pressure that increases as water temperatures rise causing an eruption.
Some geysers, like Riverside, shoot at an angle. Some erupt in a narrow jet of water, usually from a cone, like Beehive and Castle. Others explode in a series of powerful bursts, like Grand, which can reach 200 feet. Still others, called fountain geysers, spray out in all directions, like Echinus and Great Fountain. The largest geyser in the world, Steamboat, pulses like a powerful steam engine, producing a rare eruption that reaches heights of more than 300 feet.

Located in Upper Geyser Basin, one of a handful of such basins in this region of the park, Old Faithful sits among a smoldering moonscape of geysers, fumaroles (aka steam vents), and hot springs. A three-mile loop path winds through this roiling landscape, part of it tree-shaded and peaceful, in sharp contrast to the steam billowing from ash-colored earth.
Old Faithful is also the departure point for daily guided expeditions via one of the park's vintage touring cars. They include a three-hour Firehole Basin Adventure; an early-morning photo safari to the Firehole and Madison rivers; and a late afternoon Geyser Gazers tour along Firehole Lake Drive to Midway Geyser Basin.
Guide Nancy Hill, a former public school science teacher, welcomes passengers into a 1936 touring car, climbs behind the wheel and sets off, chatting informally along the way. They're bound for the Grand Prismatic Spring, a dazzling pool that shimmers with every color in the rainbow and the world's third largest hot spring.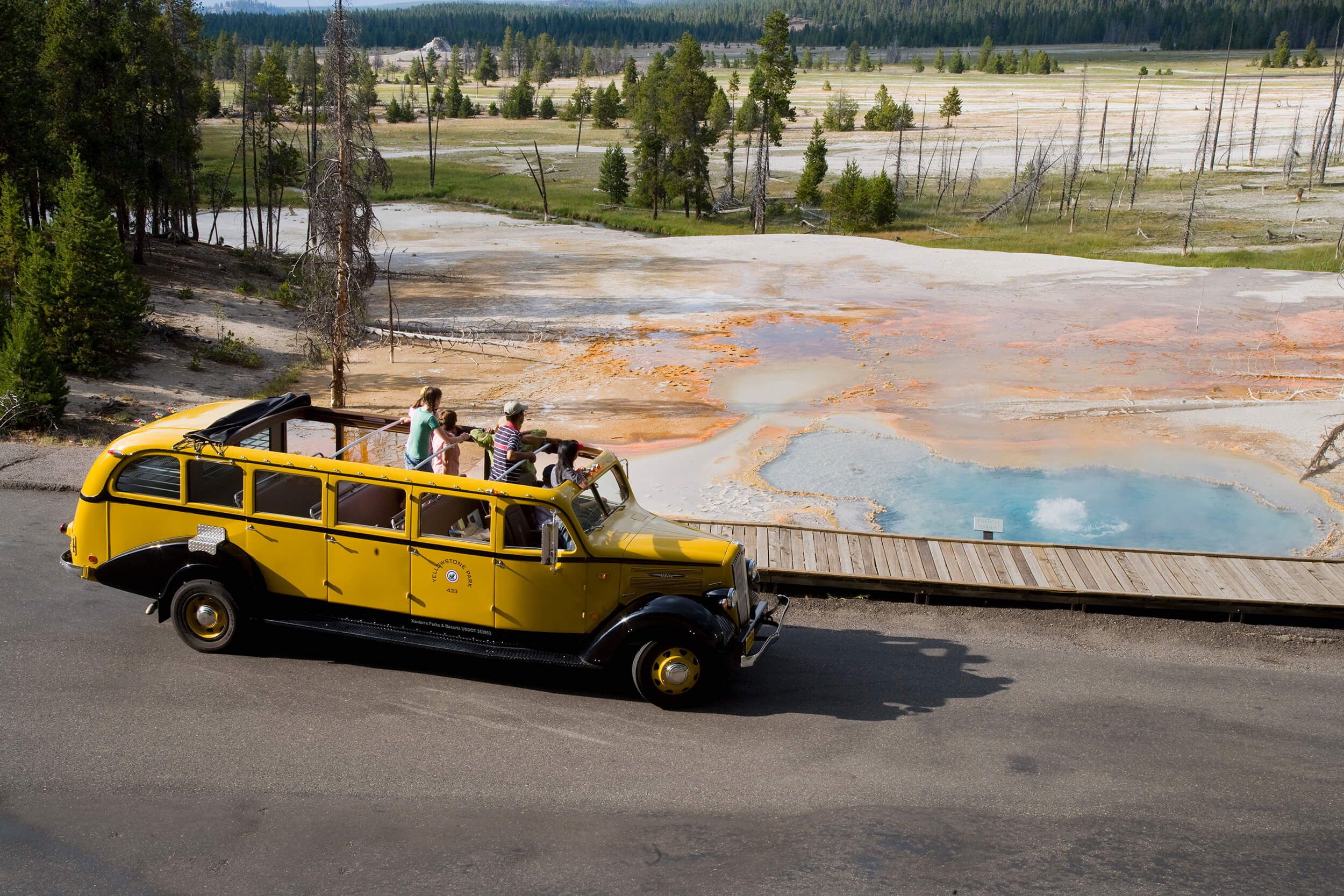 But first, some history.
Stories from fur trappers had circulated in the early 1800s about this otherworldly land of steam and spewing water, but they were generally dismissed as tall tales, she says. It wasn't until the Washburn Expedition in 1870 that the first documentation in the form of maps and descriptions came out. The next year, the federally funded Hayden Geological Survey dispatched not only scientists, but artists and photographers, as well. They returned with "undeniable proof that this was true," says Hill.
On March 1, 1872, Yellowstone was declared a national park — the world's first — "for the pleasure of the people."
Back at Old Faithful, where yet another crowd is oohing and aahing at the geyser's latest outburst, it's clear that this one-of-a-kind treasure continues to fulfill that promise.
Washington, DC-based freelance writer Jayne Clark has been a travel reporter at USA TODAY and several other daily newspapers.
For more travel experiences to Beautiful Places on Earth™ available from Xanterra Travel Collection® and its affiliated properties, visit xanterra.com/explore.

Want to experience Yellowstone in depth? See what makes Yellowstone National Park a great place to work for a season or longer!
---