Historic Mammoth Hotel Renovations Complete
Historic Mammoth Hotel Reopens to the Public After Renovations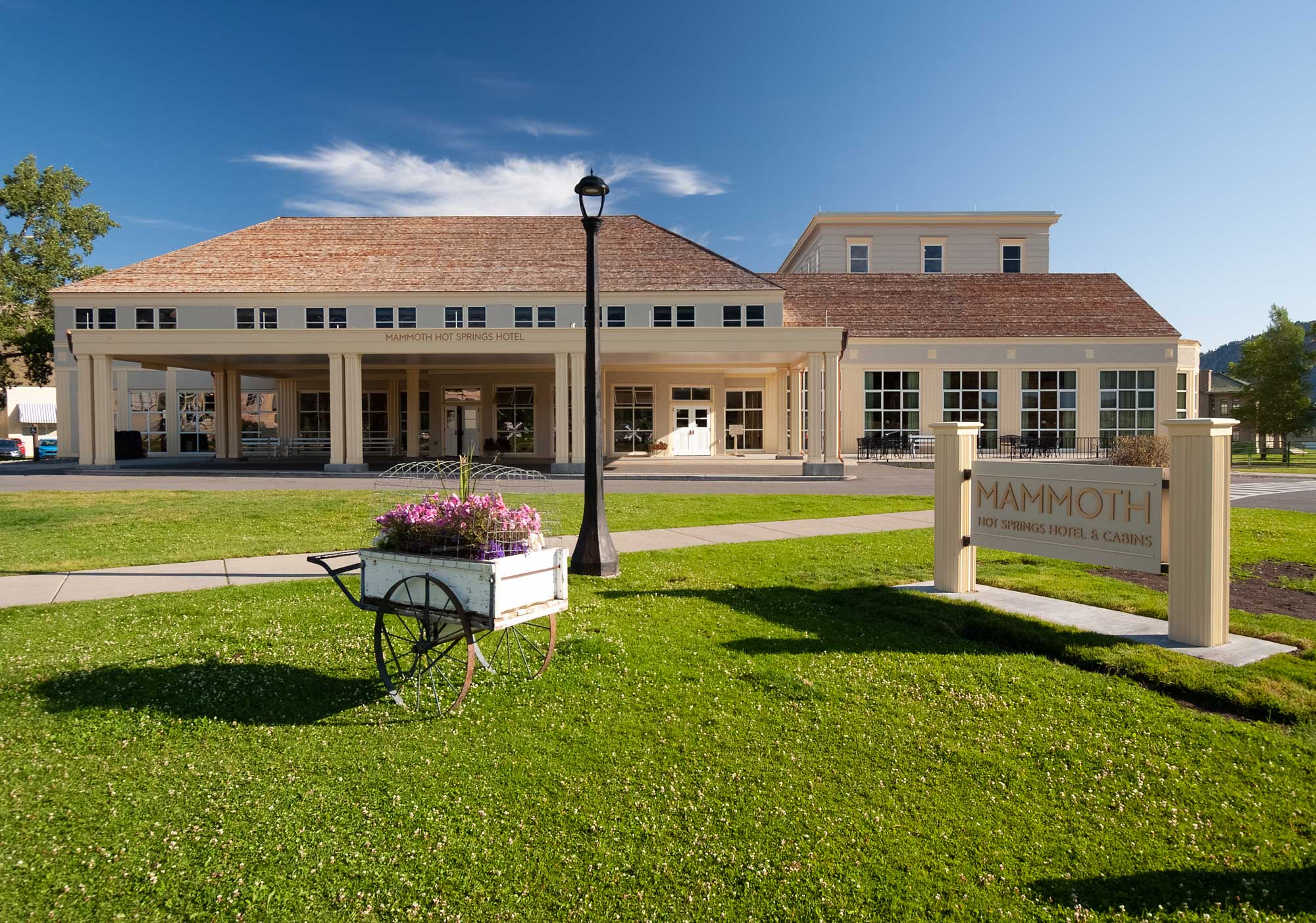 The next time you visit the Mammoth Hot Springs Hotel, you will notice some exciting changes. The National Park Service (NPS) and Yellowstone National Park Lodges/Xanterra just completed a major renovation of this historic hotel.
Designed by the famous architect Robert Reamer, who also designed the Old Faithful Inn, the Mammoth Hot Springs hotel is one of the only art moderne structures in the National Park Service; a streamlined and elegant architectural style from the 1930's and 1940's. The current hotel's public areas and cottages were built between 1936 and 1938, while the rooms were built as part of a previous structure in 1913.
The 30 million dollar renovation project was completed over four years, and brought the historic structure up to modern accessibility, utility, seismic, and sustainability standards, while retaining much of the original look and feel of the historic structure.
Reopening the hotel on August 30 during a ribbon-cutting ceremony, park superintendent Cam Sholly said "it's very important when we look at rehabilitating these historic structures for the future… people can….see what they were like 100 years ago or more, but can enjoy that balance of modern day amenities and comfort as well."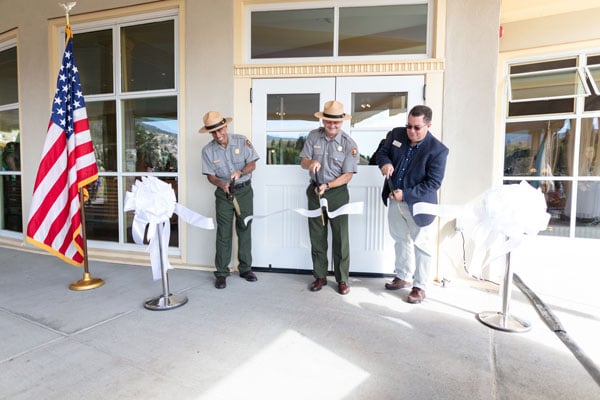 Sholly thanked NPS and Xanterra staff, and the builders (Swank Construction Company) for their hard work, and for making sure the renovation was completed on time and within budget. The project will reduce over 10 million dollars of deferred maintenance, Sholly said.
Travelers were drawn to the Mammoth area even before Yellowstone became a park, staying first in the rustic McCartney's hotel built in 1871, and later the opulent National Hotel between 1883 and 1936. The hotel visitors stay in today opened for business in 1937. "If you look back …when the first visitors came to Yellowstone by railroad through the north entrance," said Mike Keller, General Manager of Xanterra, "Mammoth was their first destination. I'm very happy to say that with this restoration I think we've reiterated and reinforced what Mammoth means to the Yellowstone experience…" Today, the Mammoth Hotel is the epicenter for commercial services in the northern part of the park, serving around 95,000 visitors annually.
Xanterra contributed 2 million to the renovation project as well as participating on the team alongside NPS and private planners, architects, and contractors. "Yellowstone is all about partnerships," said Keller. "It's a privilege to be here and be a part of the team that responsible for …..ensuring that we maintain these facilities not only for today but for 100 years from now."
Visitors to the newly renovated hotel will enjoy a number of new amenities. They can relax and visit in the elegant Map Room after inspiring days in the park; the furniture and decor was redesigned, and NPS restoration specialists have restored Robert Reamer's famous wooden map of the United States —featuring 15 types of wood in 2,544 pieces —to its original glory.
No more trekking to shared bathrooms – all 79 renovated rooms now have private baths, some of which include bathtubs and other fixtures from the original hotel. The gift shop and ski shop make shopping and adventuring fun, and new conference rooms provide space for staff meetings and public functions.
"One of the things I enjoy about working on these projects is…. you get to use these buildings as they were designed over 100 years ago," said NPS project manager Peter Galindo. You get to experience the history but with modern conveniences…it's not like you're going into a museum and you're standing behind a rope and you're looking at a photograph. You actually get to experience these hotels as they were intended."
Jenny Golding is the founding editor of A Yellowstone Life and writes from her home at the north entrance to Yellowstone in Gardiner, Montana.
For more travel experiences to Beautiful Places on Earth™ available from Xanterra Travel Collection and its affiliated properties, visit xanterra.com/explore.

Want to experience Yellowstone in-depth? See what makes Yellowstone National Park a great place to work for a season or longer!
---