Dos and Don'ts of Reservations [Infographic]
Yellowstone Lodge Reservations
Staying in Yellowstone is the best way for visitors to experience everything the park has to offer. There are over 2,300 rooms in the park when everything is open. The room types range from very basic (with shared bathrooms) to historically elegant. Prices range as widely as the room types, from around $100/night to over $600/ night, with suites drawing a higher rate still. This quick infographic guide offers a few tips for making reservations in Yellowstone.
Do's
Do book lodgings inside the park. Yellowstone is huge-3,500 square miles! Stay inside and you'll save hours. You'll also be able to enjoy Twilight on the Firehole, or the magic of an Old West Dinner Cookout under the stars
Do reserve your dining in advance inside the park (where available). Some restaurants book up for dinner reservations.
Do book your tours in advance. We're a busy place!
Do discover our activities. Horseback trail rides, stagecoach adventures, fishing and more in the summer. Skiing, snowshoeing and snowcoach tours in the winter.
Do pack a lunch. If your day calls for being away from the lodge, you can order a deli lunch or grab-and-go items available at all lodging outlets.
Do book your lodge ASAP. We book up quickly, and you might get lucky if someone cancels, but why risk it? Reservations can be made 13 months in advance.
Do be flexible with dates. You'll have a better chance to secure a reservation.
Don'ts
Don't wait to book. Some of our lodges fill up months in advance!
Don't assume your room's amenities. Our lodges run the gamut, from rustic, traditional cabins with shared bathrooms, to modern ADA suites with wet bars. There's even hot tub cabins at Mammoth Hotel.
Don't pay unnecessary fees. Book lodging and activities directly with us to avoid paying third-party booking fees.
Don't book the wrong spot by accident. Some online booking sites feature lodging outside the parks and are paid commissions for doing so. Watch out!
Don't try to do it all in one day. Give yourself time to get around while enjoying the sights.
Don't hesitate to ask us questions. We're here to help you experience this amazing park. Give us a call 307-344-7311!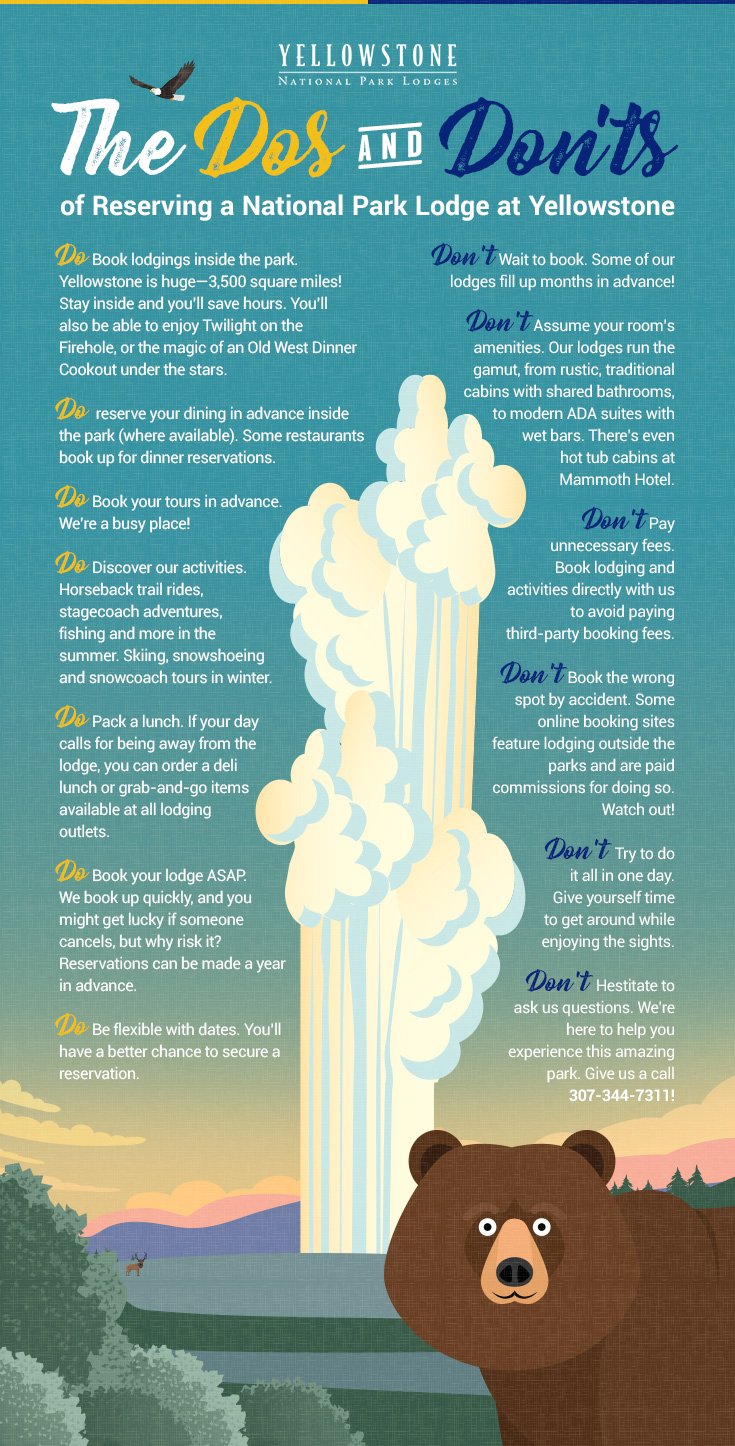 For more travel experiences to Beautiful Places on Earth™ available from Xanterra Travel Collection® and its affiliated properties, visit xanterra.com/explore.

Want to experience Yellowstone in-depth? See what makes Yellowstone National Park a great place to work for a season or longer!
---