Insider Tips for Hiking in Yellowstone
Hiking in Yellowstone
Looking for a leisurely meander through sagebrush-covered valleys or coniferous forests? Maybe a descent to the bottom of a canyon or a strenuous trek up to a mountain peak? Perhaps a long walk to a backcountry lake or waterfall? With so much to choose from, it can be hard to know what trail to add to your itinerary. We talked to some of Yellowstone's most prolific hikers on staff to point you in the right direction and help you prepare for a day on the trail.
For many employees, if they weren't a hiker before coming to Yellowstone, they become one by the end of a season. One of the most popular programs offered by the Yellowstone Co-Op Employee Recreation Program (YCERP) is the 100 Mile Hiking Club which challenges employees to hike 100 miles within the Greater Yellowstone Ecosystem in a single summer season. Many employees blast past 100 miles and work towards the 500 mile club. Returning employees aim for 1,000 or 5,000 mile milestones over several seasons. The six employees interviewed have covered nearly eight thousand miles on Yellowstone's trails!
Meet the Experts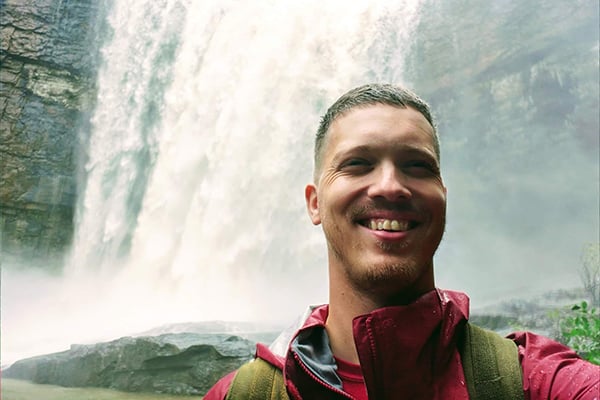 Jared Oliver (Chattanooga, TN): YCERP Recreation Supervisor at Canyon Village, 1st season
Favorite trail: So far his favorite trail has been Bunsen Peak "because the view at the top is spectacular." Although this is only his first season in the park, he has already hiked nearly 200 miles!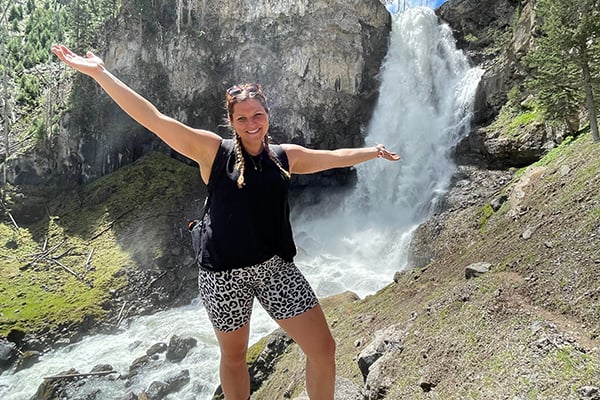 Brittany Kinney (Arcanum, OH): YCERP Recreation Supervisor at Old Faithful, 2nd season
Favorite trail: 7 Mile Hole. While the views are amazing, she says "I love this trail because it is super hard. It is one that actually challenged me…once it is all over, you feel so accomplished!" Her goal is to reach the 500 trail miles by the end of this summer and she is more than halfway there.
Sean Kelley (Murrells Inlet, SC): YCERP Recreation Coordinator at Lake Village, 2nd season
Favorite trail: Electric Peak. "I worked in Mammoth my first season and spent most of my time waiting and planning to reach that peak since the snow doesn't melt until July…I would always look to the top of Electric, that peak was practically begging me to come up there to uncover its secrets. When July finally came around, I successfully scrambled to the top." So far he has hiked about 170 miles in Yellowstone.
Ginger Beatty (Greenawalt Gap, WV): YCERP, 5th season
Favorite trail: Yellowstone River Trail, starting at the Hellroaring trailhead and hiking into Gardiner. "The river and canyon are so beautiful, plus there are always great elk sheds to see." After 5 seasons in the park, Ginger has covered almost 600 miles of trails.
Huy Banh (Florida): Mammoth at the Accounting office, 12 seasons
Favorite Trail: His favorite trail in the park is Pebble Creek because "when you've reached the meadow section the views are stunning." He stopped counting after five thousand miles hiked in Yellowstone!
Andrew Coghill (Seattle, WA): Bell Hop at the Old Faithful Inn, 12 seasons
Favorite Trail: He enjoys hiking in the Northern Range and says Slough Creek is hard to beat for scenery and wildlife. "the beauty and peace of the landscape keep me coming back." He currently has trekked 1,800 miles on Yellowstone trails.
If You Only Have Time for One Hike
With so many trails to choose from, it can be hard to narrow down the options. But if someone only had time to do one hike in Yellowstone, Mount Washburn is the number one recommendation. Andrew calls it "a classic YNP hike: wildflowers, wildlife, a mountain summit, lookout tower, and panoramic views," while Huy says "it has relatively easy access to a peak above 10000 feet." Ginger sums it up as "a lot of bang for your buck…on a clear day, the iconic views of the mountains, the Grand Canyon, and Yellowstone Lake are unparalleled!"
Brittany, Jared, and Sean have some other suggestions. Brittany suggests the Fairy Falls Trail while Jared mentions Bunsen Peak. Sean recommends Slough Creek because "it's a great hike for people of any skill level, it's mostly flat, isn't normally crowded, and has incredible views."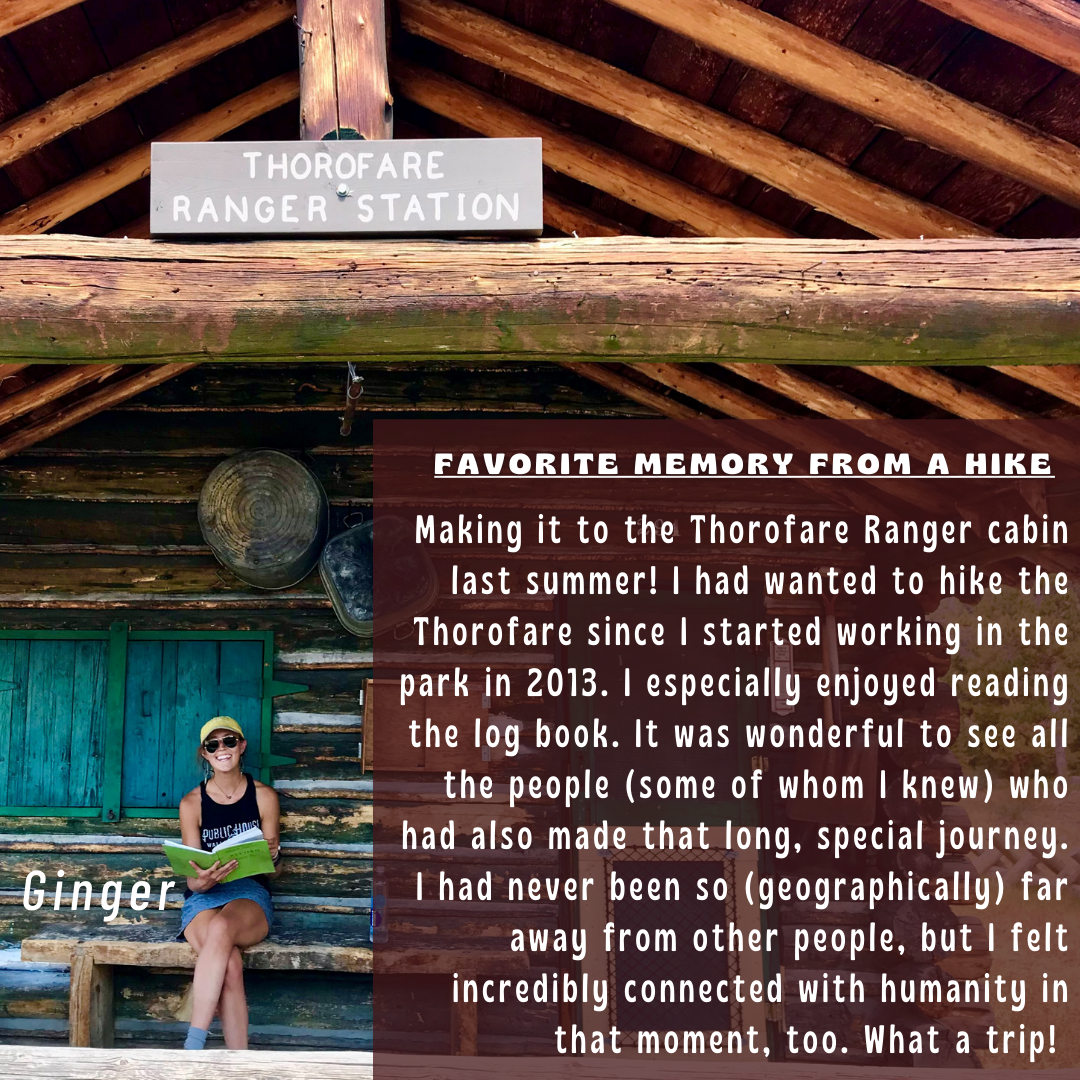 What to Expect
Hiking in Yellowstone is no walk in the park (pun intended). At an average elevation of about 8,000 feet, snow can be found on some trails through May, June, and even the end of July. When that snow melts, trails that have water crossings can be deep, cold, and swift. Not to mention the entirety of the park is in bear country (both grizzly and black). Despite all these conditions, or perhaps because of them, many are enticed to hit the trail and cover some of Yellowstone's more than 900 miles (1,449 km) of hiking trails.
What to Pack
When it comes to packing for a day hike, all emphasize that bear spray is essential for traveling safely in bear country. All our experts also recommend plenty of water. And not just bottles of water – think in terms of 2-3 liters for a day hike. As Jared relates, he takes "more water than I'll need and a filter just in case." Due to the high and dry climate in the park, several also suggest packing sunscreen and lip balm to protect from sun exposure. Yellowstone's ever-changing climate and terrain also means being prepared with rain gear, extra layers, and a first aid kit. Sean also recommends always bringing a good friend along to enjoy the trail with you. "Not only is it safer if something were to happen, but I've found that the best experiences I've had are the ones that I shared with someone else."
Hiking Resources
When it comes to hike planning, the NPS Backcountry Office is a great resource. When she has a hike in mind, Ginger says, "I head to the backcountry office to check out their maps and trail conditions." Brittany finds these maps helpful as they have "[information] for each section of the Park that gives multiple day hikes with their length, time estimation, difficulty, and directions to the trailhead." These maps can also be found on the Yellowstone website.
If you prefer an app on your phone NPS Yellowstone, National Geographic Maps, Hiking Project, or Alltrails are recommended. Although lots of information is online, don't forget to talk to people! Employees cover a lot of ground in the park so just ask a ranger at the visitor center, a server in a restaurant, a housekeeper at the hotel, or a retail employee in the gift shop. As Andrew says, "fellow employees provide hiking stories and the inspiration to get out there." Jared echoes this sentiment: "[employees] are usually more than happy to tell me about their favorites."
Thanks to Andrew, Brittany, Ginger, Jared, Huy, and Sean for sharing their Yellowstone hiking expertise. Happy trails!
For more travel experiences to Beautiful Places on Earth™ available from Xanterra Travel Collection® and its affiliated properties, visit xanterra.com/explore.

Want to experience Yellowstone in-depth? See what makes Yellowstone National Park a great place to work for a season or longer!
---